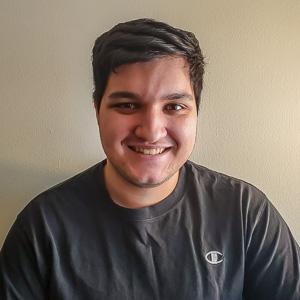 Anthony Barricelli
R&D Engineer
Anthony Barricelli is an R&D engineer on Kitware's Computer Vision Team located in Clifton Park, New York. He focuses on cyber-physical projects, working with a multitude of cameras and drones that cooperate in a system to identify threats in a given area based on appearances and actions.
Prior to joining Kitware full-time, Anthony interned with Kitware's cyber-physical team for a total of 16 months over the course of two years. He really enjoyed his time at Kitware, so he was excited to join full-time.
Anthony received his bachelor's degree in computer science from the Rochester Institute of Technology.
Education
B.S. in computer science from the Rochester Institute of Technology
Get to Know Anthony
What made you want to become a Kitwarean? What made me first take interest in Kitware was that their company description listed that they worked with computer vision, which is something I became interested in back in high school on my Robotics team. I was head of the computer vision team and it was a lot of fun to work with. Back when I first interviewed with Keith Fieldhouse in 2019, what he described as his role on Kitware reminded me much of my time on my old Robotics team which is exactly what I wanted from a job. Luckily I was offered an intern position and now I've been here ever since.
What do you love most about what you do? I love solving problems and making things work. It is very gratifying when you figure something out. I'll be honest, I don't always know what to do when tackling a problem. But as I solve more and more, I start learning so much and become a better programmer, which also makes it more gratifying.
Share something interesting about yourself that is not on your resume. I enjoy playing golf a lot. I was even a "security guard" for the 2018 Golf U.S. Open. I enjoy playing video games with my friends back home, it helps us all stay friends and video games are the reason I took an interest in programming in the first place.