Kitware will be presenting at this year's Military Sensing Symposia (MSS) Joint Conference in San Diego, CA, October21-24. We have actively participated in this conference each year as it is dedicated to military sensing technologies. Kitware's Computer Vision Team is a leader in creating cutting edge capabilities supporting this community focused on military sensing. We create unique and robust solutions to address challenging image and video analysis problems in multiple domains: air, sea, ground, and space.
Event Details:
Join Dr. Matt Leotta and Dr. Chris Funk from Kitware's Computer Vision Team as they present the following at this year's MSS Conference:
Danesfield: Integrating Deep Learning and Classical Methods for Multiview Semantic 3D Modeling (Presentation): Dr. Matt Leotta will discuss the importance of up-to-date 3D models of urban environments, as they are very important in providing global situational awareness with uses in military, intelligence, and humanitarian planning. Kitware has worked with the IARPA CORE3D program and developed and open source toolkit, known as Danesfield, to address this need for 3D models, pushing it beyond just point clouds by semantically segmenting building and bridges from the terrain and fitting simplified surface models to each object. They also explore material segmentation providing more robust situational awareness and knowledge of scene. Come check out Dr. Leotta's discussion to learn more or visit our Github to check it out.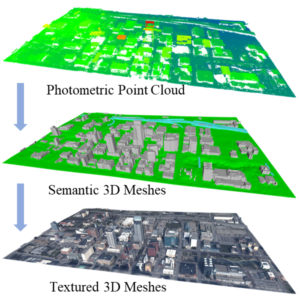 Explainability for Content-Based Image Retrieval (Poster): Make sure to also check out Dr. Leotta's poster in the poster sessions and hear him discuss Kitware's methods for content-based image retrieval and where our expertise and past projects have contributed to robust and explainable solutions supporting the military sensing community.
WEFT Feature Detection and Mensuration for Airplane Classification in Satellite Imagery (Presentation): Dr. Chris Funk, a member of the computer vision team, will discuss our work building upon state-of-the-art techniques object classification, which overcomes hurdles particular to airplane classification. It consists of classifying by first detecting intermediate WEFT features and measuring and fusing those features together. This allows for detection of airplanes in satellite imagery, not in the training data, and avoids class imbalance. Kitware's efforts have been supported by multiple, ongoing efforts funded by the DoD and Intelligence Community (IC).
Training Deep Networks for Patch-Based Search in Satellite Imagery (Poster): Dr. Funk will also be presenting Kitware's extensive research in the area of content-based image retrieval. He will discuss specific challenges of retrieving relevant results from large, high-resolution imagery based on arbitrary queries at a range of scales. It presents significant complications beyond common image retrieval tasks and this discussion will offer a working end-to-end description of a system for this kind of extensive patch-based search on real-world satellite imagery.
Contact:
Please reach out to computervision@kitware.com to schedule meetings throughout this event. Matt Leotta and Chris Funk will be on-hand for in depth conversations. We are looking forward to engaging with this community and sharing information on Kitware's ongoing research and capability development in computer vision and deep learning as well as our cutting-edge open source vision software, KWIVER.
About the event:
The Military Sensing Symposia is a set of conferences dedicated to military sensing technologies and serving the community of people working in those fields.