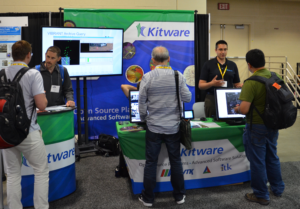 This year's Computer Vision and Pattern Recognition (CVPR 2017) Conference is "the premier annual computer vision event", drawing thousands of attendees with ties to academia, industry, and the government to Honolulu, Hawaii July 21-26. As a conference organizer, silver sponsor, exhibitor, and selected academic paper presenter, Kitware's Computer Vision team will be available to discuss and share information on its cutting-edge open source software toolkit, KitWare Image and Video Exploitation and Retrieval (KWIVER), including ongoing research and development (R&D) in deep learning and computer vision.
Two of Kitware's Computer Vision team leaders have been actively contributing to organizing and planning CVPR 2017. The Senior Director of Computer Vision, Dr. Anthony Hoogs, is a General Chair and responsible for overseeing the Expo, the conference center and the Program Chairs. Of the three GC's, he is the only one representing a small business. His active participation in CVPR organization over the years has provided a wealth of knowledge and support to the CVPR planning process and has continually pushed computer vision professionals to get involved in CVPR for future growth internationally. Kitware's Director of Computer Vision, Dr. Matt Turek, serves as a Corporate Relations Chair, greatly benefitting the CVPR Expo through his experience as Corporate Relations Chair for the Winter Conference on Applications of Computer Vision 2016 and many years working with government and industry partners in computer vision.
One of Kitware's researchers will present a main conference paper presentation titled 'Correlational Gaussian Processes for Cross-Domain Visual Recognition,' based on his dissertation research at Stevens Institute of Technology. Lead author and a member of Kitware's Computer Vision team, Dr. Chengjiang Long will share experimental results of a new probabilistic framework, known as Correlational Gaussian Processes Classifier (CGPC), for joint visual recognition in a collection of images across multiple domains based on co-occurrence statistics of different instances across those domains. This presentation will be on Monday, July 24 in the 10:00-12:00 Poster 3-1 Session, number 19, under Machine Learning, located in the Kamehameha I room.
On July 26th, CVPR will hold a Media Forensics workshop focused on "the role of computer vision and pattern recognition in forensic applications, with special emphasis on media forensics." Kitware's Dr. Long will give an oral presentation in Session 4 at 16:30 on 'A C3D-based Convolutional Neural Network for Frame Dropping Detection in a Single Video Shot.' Dr. Long will discuss frame dropping as a type of video manipulation where consecutive frames are deleted to omit content. In the current era of fake news, manipulation of digital images and video is growing dramatically and steps utilizing computer vision and pattern recognition are being explored to mitigate it. Please check the most recent programs when attending in order to re-confirm date, time, and locations.
During the main conference and exhibition, Kitware's computer vision team members including Dr. Hoogs, Dr. Turek, Dr. Long, Dr. Matt Leotta, Dr. Arslan Basharat, and Dr. Eran Swears will be available at Kitware's booth 242 to engage with CVPR participants. Computer vision and deep learning techniques and capabilities will be shared and demonstrated, such as KWIVER, Kitware's open-source software toolkit containing an advanced collection of computer vision tools to perform object detection and tracking; activity, event, and threat detection; scene understanding; social multimedia analysis; and 3D reconstruction.
Kitware is actively recruiting for vision researchers and software engineers. In particular, Kitware looks to hire for the following positions: computer vision software developer, computer vision researcher and 3D computer vision researcher. Kitware also looks to add to its list of collaborators. With expertise in social multimedia analysis, object detection, point cloud and depth image processing, event and activity recognition, scene understanding and deep learning, Kitware has worked on a wide range of research and development projects throughout the field of computer vision.
Be sure to reach out to us at computervision@kitware.com to schedule a more detailed conversation during the conference, or just stop by our booth during the Expo. We want to speak with you!
Stevenson Center 5326
1225 Stevenson Center Ln, Nashville, TN 37240