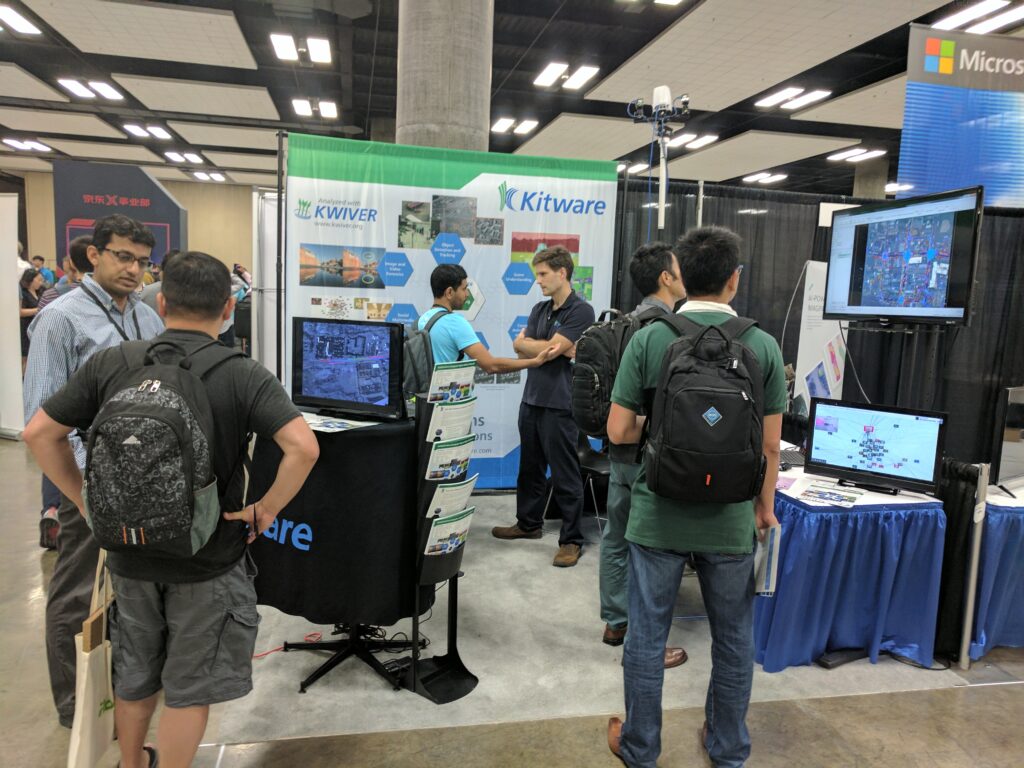 Kitware will be actively participating in this year's Computer Vision and Pattern Recognition (CVPR) Conference, being held in Salt Lake City Utah from June 18-22. The Computer Vision team has had a long-term commitment to CVPR and this year many Kitware representatives will be in attendance including the Senior Director of Computer Vision, Anthony Hoogs, Ph.D., and the Director of Computer Vision, Matt Turek, Ph.D. Our extensive experience in utilizing deep learning and computer vision to develop tools for image and video scene recognition, object detection and tracking, and image enhancement in various domains including aerial video, ground-level video, underwater video and satellite imagery, will be addressed in invited talks at workshops and a tutorial. Kitware staff will continue their high-level of participation as workshop chairs, organizers, silver sponsors, invited speakers, and presenters. We will also have a booth in the exhibit to share and discuss Kitware's computer vision and deep learning techniques supporting the open source software community and our customers and collaborators. Be sure to check out the full details below for Kitware's participation in CVPR 2018 so you don't miss this great opportunity to meet with our team.
Event Details:
CVPR 2018 is "the premier annual computer vision event" attracting an "international community of scholars whose collective efforts are embodied in one of the finest conferences in all of Computer Science". This event includes the main program with 979 accepted papers covering state-of-the-art work in computer vision. In addition to the main program, 21 tutorials, 48 workshops, CVPR's annual doctoral consortium, and an exhibition of over 115 companies provides an exceptional venue and value to industry researchers, academics, and students. The event will provide information relevant to computer vision technology applicable to industry, academia, and government; providing a venue that promotes collaboration, research and development, and insight into computer vision applications and technology. Make sure to keep an eye on the event schedule as more information is published and solidified so as not to miss out on opportunity to contribute to this cutting edge and ever evolving community.
Kitware Participation:
Kitware is a Silver Sponsor at this year's CVPR 2018. Kitware sponsors this conference each year to support this community, recruit computer vision professionals, and to continue collaboration and engagement. Anthony Hoogs, Ph.D., the Senior Director of Computer Vision, was an Area Chair providing his extensive expertise in computer vision and deep learning to ensure the selection of the highest quality papers.
Dr. Hoogs is a Co-Chair and the primary organizer of the CVPR Workshop and Challenge on Automated Analysis of Marine Video for Environmental Monitoring. This workshop is scheduled for Friday, June 22, and will include "experts and researchers interested in learning about the challenges, current work, and opportunities in marine video analytics, including video captured from both under and above water". Monitoring fish, shellfish, marine mammals, coral reefs, bottom habitats, and other wildlife has become of great interest to oceanographers, biologists, and others. Maritime video collection is expanding exponentially as professionals work to determine new ways to utilize this data for marine science and oceanography. The challenges in this environment are vast and many experts and researchers are diligently working to overcome these challenges to enable increased automated video processing. Currently, marine video is annotated manually, resulting in a tremendous bottleneck to studying marine biological problems such as fish population estimates. Under NOAA funding, Kitware is developing an open-source framework and toolkit, Video and Imagery Analytics for the Marine Environment (VIAME), to integrate analytics algorithms from the community into an operational capability for NOAA.
In addition to four invited talks and four selected papers, this Workshop will feature a data challenge in this domain. Large amounts of image data from a variety of underwater cameras and environments has been provided and annotated by the National Oceanic and Atmospheric Administration (NOAA). Challenge entries must detect and classify fish and shellfish in the imagery. Results will be scored and ranked by Kitware, and the top three entries will present their solutions at the workshop. Check out the Challenge website for more information and access the training and test data.

Dr. Hoogs will be one of three keynote speakers at the CVPR Workshop on Bridging the Gap between Computational Photography and Visual Recognition: the UG2 Prize Challenge on June 18. This Challenge will bring together a variety of computer vision experts to address general applications related to computational photography and scene understanding. Anthony will share Kitware's long history of research in super-resolution using 3D models and, more recently, deep learning for modality transfer. See the Vision Team webpage for more information on Kitware's efforts in this area.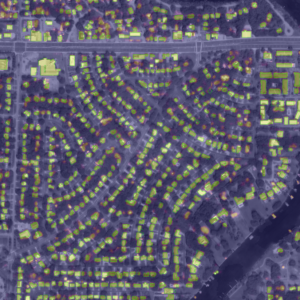 Matt Leotta, Ph.D., a Technical Lead within Kitware's Computer Vision team, is a member of the DeepGlobe Technical Team for the CVPR Workshop on DeepGlobe: A Challenge for Parsing the Earth through Satellite Images and Kitware is a gold sponsor. This workshop is being held on June 18 and HakJae Kim, the IARPA Program Manager for the CORE3D program will be one of the keynote speakers. Satellite imagery is a powerful source of information that is now receiving increased attention in the vision research community due to increased availability of public datasets and the commercial interest in extracting information from satellite images. This Satellite Challenge is an opportunity to "bring together a diverse set of researchers to advance the state-of-the-art in satellite image analysis" and garner more attention. The Challenge will focus on three tracks: (1) road extraction; (2) building detection; and (3) land cover classification. Researchers will utilize novel computer vision techniques, approaches under review, and already published methods on available datasets to learn the expected urban elements for each track. Make sure to keep an eye on this workshop to attend and contribute to the evolving computer vision applications for satellite imagery across different industries.
Matt Turek, Ph.D., the Director of Computer Vision will present at the CVPR Tutorial on Software Engineering in Computer Vision Systems. This tutorial will be held on June 22. Make sure to check out the Tutorial Program for updates on times and other valuable information.
During the main conference and exhibition, Kitware's computer vision team members including Anthony Hoogs, Ph.D., Matt Turek, Ph.D., Matt Leotta, Ph.D., Eran Swears, Ph.D., Chengjiang Long, Ph.D., Eric Smith, Ph.D., and Libby Rose will be available at booth number 1036 to discuss and demonstrate Kitware's computer vision expertise.. You will have the opportunity to see the KitWare Image and Video Exploitation and Retrieval (KWIVER) toolkit, Kitware's open source software toolkit that contains advanced computer vision tools to perform object detection and tracking; activity, event, and threat detection; scene understanding; and social multimedia analysis. In addition, our work on the Video and Image Analytics for a Marine Environment (VIAME) toolkit will be demonstrated as we are continuously working with NOAA to develop open source software for fish monitoring.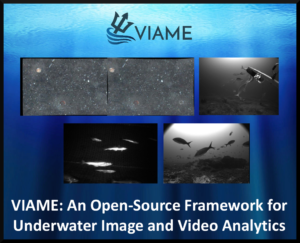 Kitware's Computer Vision team recognizes how valuable advancing computer vision and deep learning is in order to greatly improve and push capabilities beyond their limits supporting Academia, Industry, and the DoD and Intelligence Communities. Our main focus areas include deep learning, object detection and tracking, image and video scene understand, image and video forensics, social multimedia analysis, complex activity, event, and threat detection, 3D vision, and super resolution; however we are not limited and continuously explore and participate in other research and development for our customers and our partners. We partner with many academic institutions such as Harvard, Massachusetts Institute of Technology, Cornell University, University of California, Berkley, and Texas A&M University. We have worked with various agencies, such as the Defense Advanced Research Project Agency (DARPA), Air Force Research Laboratory (AFRL), the Office of Naval Research (ONR), Intelligence Advanced Research Projects Activity (IARPA) and the U.S. Air Force. Kitware has developed and deployed an operational Wide Area Motion Imagery (WAMI) tracking systems for Intelligence, Surveillance, and Reconnaissance (ISR) in theatre, providing analysts with exploitation capabilities that fuse sensors, platforms, and people. Our work with DARPA on Squad-X has led to extensive research, development, and deployment of robust methods to more accurately identify and track objects and people, delivered straight to the soldier on the ground. Our work on the Visual Global Intelligence and Analytics Toolkit (VIGILANT), funded by the Air Force Research Laboratory (AFRL) via the Small Business Innovation Research (SBIR) program is a collaborative effort with Rochester Institute of Technology's (RIT's) Digital Imaging and Remote Sensing (DIRS) and Real Time Vision and Image Processing (RTVIP) Labs and the Middlebury Institute of International Studies at Monterey, James Martin Center for Nonproliferation Studies to develop object and object-based change detection and unstructured change detection in satellite imagery. In addition, Kitware is continually improving their KitWare Image and Video Exploitation and Retrieval (KWIVER) toolkit, which is an open source framework for video and image analytics built from Kitware's years of experience developing analytic systems for various customers in multiple domains. Please visit our computer vision and KWIVER webpages for more information into our key focus areas and experience.
Contact:
Please reach out to computervision@kitware.com to schedule meetings throughout this event. We are looking forward to engaging with this community and sharing information on Kitware's ongoing research and capability development in computer vision and deep learning as well as our cutting-edge open source vision software, KWIVER and VIAME.
Calvin L. Rampton Salt Palace Convention Center
100 S W Temple, Salt Lake City, UT 84101

Institute of Electrical and Electronics Engineers (IEEE)