Next week, Jean-Christophe Fillion-Robin will attend the first Western Slicer Project Week held in London, Ontario, Canada. Kitware is proud to be a sponsor and have our tools featured at this event!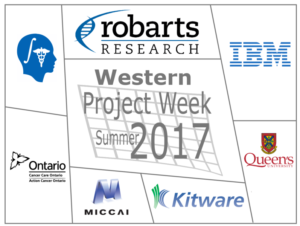 Slicer Project Week is a hands-on activity in which medical image computing researchers and students create solutions using the image computing platform, 3D Slicer, and its CMake , VTK, and ITK components. It is intended for novices as well as experienced users, focusing on learning the basics, developing programs, and interacting with world experts in this exciting field. This is the first extension Slicer project week. Originally proposed as a small Slicer hackfest, it has quickly grown into a full blown project week with an additional meeting in conjunction with SPWW to discuss and develop goals specific to image-guided therapy, making it the inaugural Slicer IGT Project Week as well.
This event is endorsed by the MICCAI Society.
Robarts Research Institute
1151 Richmond St. N., London, Ontario, Canada\