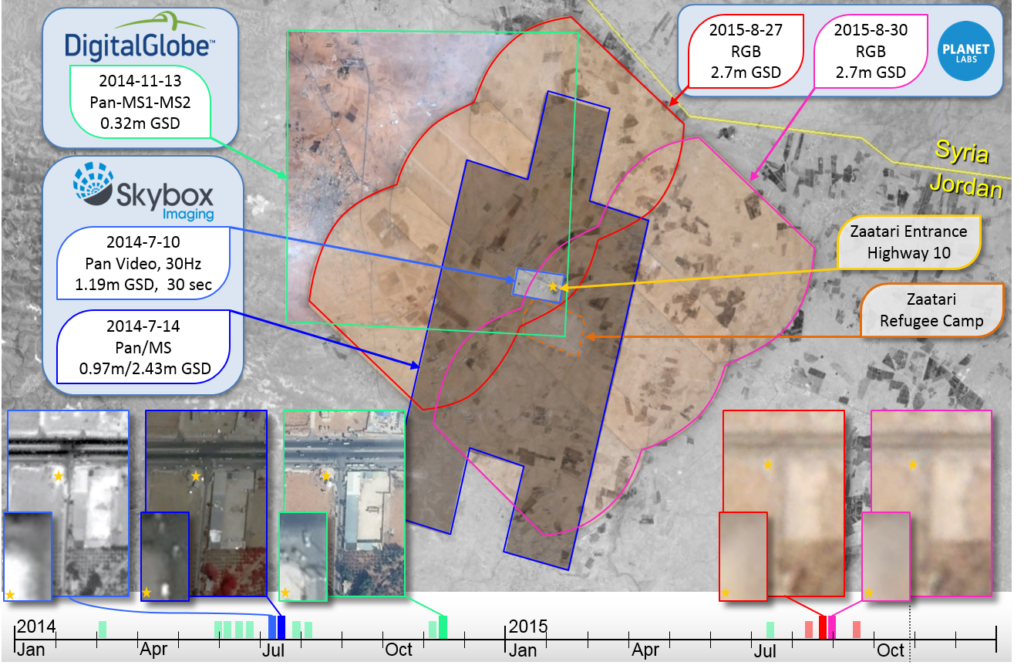 Kitware will be attending and presenting at GEOINT 2018, being held April 22-25 in Tampa FL. This year, both Dr. Anthony Hoogs, Senior Director of Computer Vision, and Dr. Matt Turek, Director of Computer Vision, will be in attendance and available for in-depth discussions related to Kitware's GEOINT efforts. We have been selected to brief at the highly competitive Lightning Talk session occurring April 24 between 3:20-4:10 pm, where Dr. Turek will discuss our work on the Visual Global Intelligence and Analytics Toolkit (VIGILANT), funded by the Air Force Research Laboratory. Be sure to check out our talk as he will provide details on object and object-based change detection using deep learning on satellite imagery to provide accurate, actionable intelligence.
Event Details:
GEOINT is hosted and produced by the United States Geospatial Intelligence Foundation (USGIF), which is a non-profit non-lobbying educational organization. According to the GEOINT 2018 website, this Symposium is the nation's largest with industry, academia, and government to include Defense, Intelligence and Homeland Security Communities as well as commercial, Fed/Civil, State and Local geospatial intelligence stakeholders. This large event will include more than 4,000 attendees from all over the world and it features more than 250 exhibiting organizations. It offers 50 hours of training sessions, and provides countless opportunities for this community to learn, exchange ideas, and network with one another. GEOINT 2018's theme is "Driving Data to Decisions and Action"; providing educational content, access to speakers, technology displays, and visibility and networking across the Intelligence Community. It is expected that attendees will include but are not limited to Special Operations Forces, Military Intelligence Officers, Defense, Intelligence, and Homeland Security Personnel, Emergency Management and Public Safety Agencies, Military Intelligence Officers, University and College Educators and Researchers, Contractors and Businesses utilizing GEOINT, and high level decision makers focused on GEOINT. The combination of special events, keynotes, panels, lightning talks, and breakout tracks is strategically designed to bring together this community to collaborate, educate, and network. Make sure to review the GEOINT 2018 agenda to remain up to date on what is going on at this one of a kind symposium.
Details:
Kitware has been chosen to provide one of the 28 Lightning Talks at this year's GEOINT 2018, following a highly competitive selection process. The talk provides an opportunity for Kitware to educate colleagues on Kitware's work related to GEOINT's theme "Driving Data to Decisions and Action". Kitware's topic will focus on the Visual Global Intelligence and Analytics Toolkit (VIGILANT), funded by the Air Force Research Laboratory (AFRL) via the Small Business Innovation Research (SBIR) program. The VIGILANT program is a collaborative effort with Rochester Institute of Technology's (RIT's) Digital Imaging and Remote Sensing (DIRS) and Real Time Vision and Image Processing (RTVIP) Labs and the Middlebury Institute of International Studies at Monterey, James Martin Center for Nonproliferation Studies to develop object and object-based change detection and unstructured change detection in satellite imagery.
On the program, the team is developing state-of-the-art deep learning techniques for object and object-based change detection in multiple sources including commercial satellite imagery. Object and object-based change detection in satellite imagery is a very challenging problem and Kitware has found that deep learning-based object detectors significantly improve performance beyond the previous state-of-the-art techniques. To reduce the need for manually labelled training data, RIT has been simulating training data with DIRSIG and Kitware has been exploring techniques such as autoencoders and generative adversarial networks.
The VIGILANT system is a scalable, web-based system implemented with Kitware's open-source computational platform Girder for visualization and data management. During this talk, Matt Turek, Ph.D., the Director of Computer Vision, will discuss several aspects of the effort, including approaches for training with limited labeled data. The talk will occur on the afternoon of April 24, located in the Exhibit Hall so make sure to be in attendance as it will provide a wealth of information to consider and further explore throughout this event. You can locate the agenda at The Innovation Corner.
Kitware's Computer Vision team will be well represented, with the Senior Director of Computer Vision, Anthony Hoogs, Ph.D., and the Director of Computer Vision, Matt Turek, Ph.D. in attendance. Both Anthony and Matt have a wealth of experience and knowledge in computer vision and deep learning for Department of Defense (DoD) and Intelligence Community problems.
Kitware's Computer Vision team recognizes how valuable advancing computer vision and deep learning is to advance the technical capabilities of the GEOINT Community and to provide actionable information to the soldier on the ground. Our core technical areas include deep learning; object detection and tracking; image and video scene understanding; image and video forensics; social multimedia analysis; complex activity, event, and threat detection, 3D vision, and super resolution. We use state-of-the-art algorithms to build advanced tools and capabilities for the war fighter and intelligence analyst, helping drive data to decisions and enabling action on this intelligence. We have worked with various agencies, such as the Defense Advanced Research Project Agency (DARPA), Air Force Research Laboratory (AFRL), the Office of Naval Research (ONR), Intelligence Advanced Research Projects Activity (IARPA) and the U.S. Air Force. Our work with DARPA on Squad-X has led to extensive research, development, and deployment of robust methods to more accurately identify and track objects and people, delivered straight to the soldier on the ground. Kitware has developed and deployed an operational Wide Area Motion Imagery (WAMI) tracking systems for Intelligence, Surveillance, and Reconnaissance (ISR) in theatre, providing analysts with exploitation capabilities that fuse sensors, platforms, and people. In addition, Kitware is continually improving their KitWare Image and Video Exploitation and Retrieval (KWIVER) toolkit, which is an open source framework for video and image analytics built from Kitware's years of experience developing analytic systems for various customers in multiple domains. Please visit our computer vision and KWIVER webpages for more information into our key focus areas and experience.
Contact:
Please reach out to computervision@kitware.com to schedule meetings throughout this event. Anthony Hoogs and Matt Turek will be on-hand for in depth conversations. We are looking forward to engaging with this community and sharing information on Kitware's ongoing research and capability development in computer vision and deep learning as well as our cutting-edge open source vision software, KWIVER.
Tampa Convention Center
333 S/ Franklin St.