About • Dates • Organizers • Workshop Program • Paper Submission Instructions
The premise of this half-day MICCAI workshop is that for the full potential of point-of-care ultrasound (POCUS) to be realized, POCUS systems must be approached as if they were new diagnostic modalities, not simply as inexpensive, portable ultrasound image systems.
Building on the highly successful MICCAI 2017 POCUS Workshop, this workshop is dedicated to the research and clinical evaluations of the technologies specific to POCUS. POCUS involves automated data analyses, rugged hardware, and specialized interfaces to guide novice users to properly place and manipulate an ultrasound probe and interpret the returned ultrasound data. In particular, the output of a POCUS system should typically be quantitative measures and easy-to-understand reformulations of the acquired data, not b-mode images; it should be assumed that the expertise needed to interpret b-mode images will not be readily available at the points of care.
Image analysis algorithms as well as tracking and systems engineering are essential to POCUS applications. Example applications include detection of intra-abdominal bleeding by emergency medical services (EMS) personnel for patient triage at the scene of an accident, diagnosis of increased intra-cranial pressure by medics using computer-assisted measurement of optic nerve sheath diameter, and monitoring of liver tissue health in the homes of at-risk patients. At the workshop, attendees will learn from leaders in POCUS research via oral presentations as well as via live demonstrations and a panel discussion.
---
About
The workshop aims to support and grow the community of POCUS researchers at the Medical Image Computing and Computer Assisted Intervention (MICCAI) conference. Accordingly, the workshop represents a blending of MIC and CAI.
Topics of interest include the following:
self-contained or easy-to-setup probe tracking systems for in-field use;
three-dimensional ultrasound reconstruction from imprecisely tracked two-dimensional probes;
clinical studies of in-field POCUS applications;
adaption of advanced ultrasound protocols to low-cost probes;
ultrasound guidance algorithms and interfaces for novice users;
automated ultrasound image quality assessment;
tissue characterization in POCUS applications;
longitudinal registration of POCUS data;
>workflows and interfaces for novice POCUS users, including augmented reality (AR) and virtual reality (VR) displays;
hardware packaging for rugged, in-field ultrasound applications; and
simulation strategies for rapid training of EMS personnel and medics for POCUS applications.
The organization of this workshop is supported, in part, by NIH/NIBIB and NIH/NIGMS via 1R01EB021396-01A1: Slicer+PLUS: Point-of-Care Ultrasound
---
Dates
June 11 – Submission Deadline – If you need additional time, please email stephen.aylward@kitware.com and provide a title and abstract as a preliminary submission. Completed submissions must be received by June 18th.
July 7 – Notification of Acceptance
July TBD – Camera-Ready Papers Due, with Confirmed Workshop Registration
August 1 – Final Program Published
September 16 – Half-Day Workshop
---
Organizers
The workshop organizers represent academic, industry, and clinical leaders in the field of POCUS. InnerOptic is a medical device innovator for ultrasound applications. The clinical leaders from Washing University, Children's National medical Center, and Duke University Hospitals include emergency medicine physicians, trauma surgeons, and pediatric orthopedic surgeons. Queens University, Johns Hopkins University (JHU), Brigham and Women's Hospital (BWH), and Kitware have open-source packages that are being adopted to POCUS applications.
The workshop organizers are as follows:
Stephen Aylward, Kitware
Emad Boctor, JHU
Kevin Cleary, Children's National Medical Center
Gabor Fichtinger, Queens University
Bradley Freeman, MD, Washington University
Deborah Kane, MD, Washington University
Luv Kohli, InnerOptic
Sean Montgomery, MD, Duke University
Matt Oetgen, MD, Children's National Medical Center
Sonia Pujol, BWH
---
Workshop Program
(Download MICCAI POCUS Workshop Program-v2.pdf)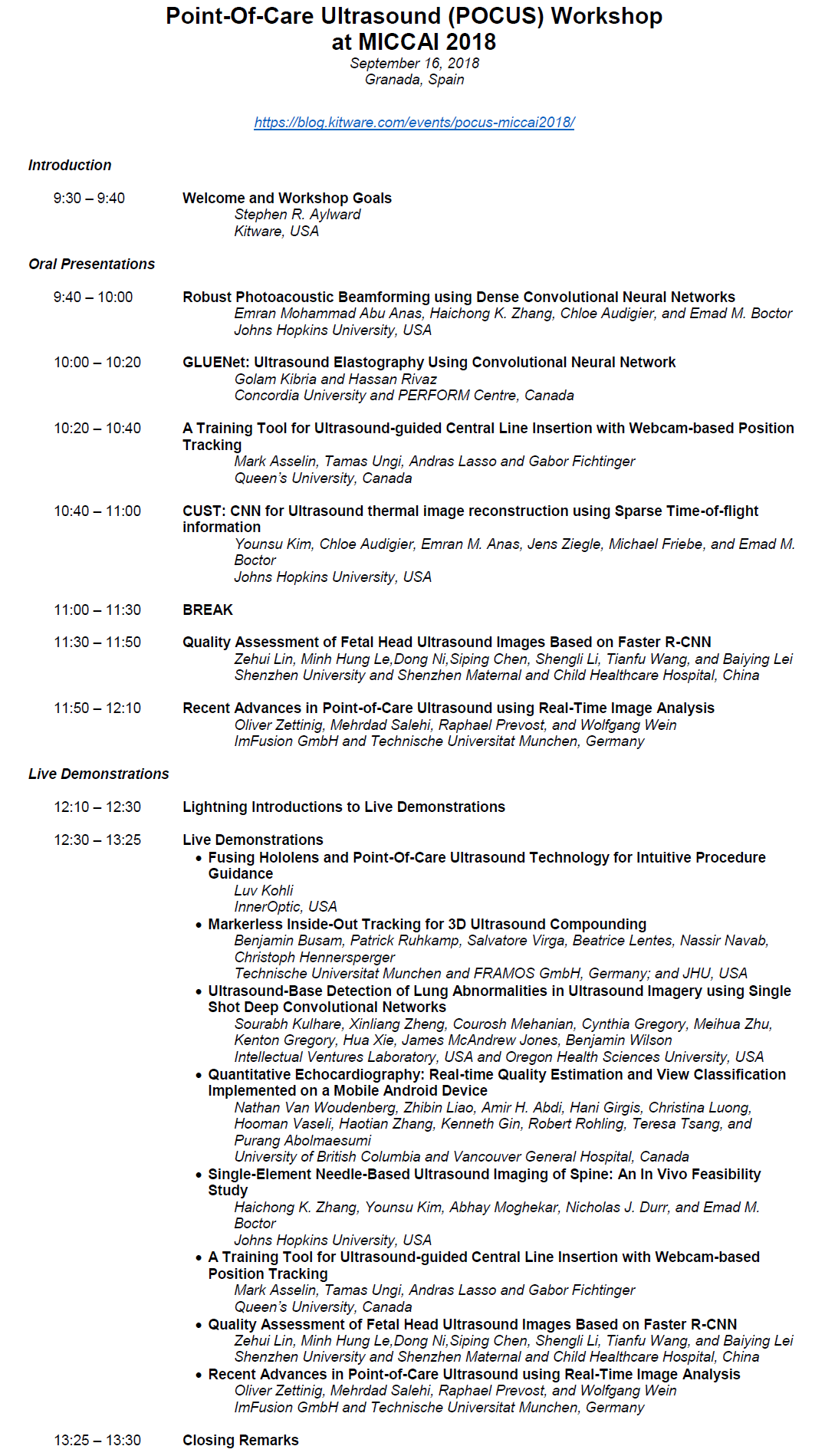 ---
Paper Submission, Live Demonstrations, and Paper Publications
Submission Deadline
June 11, 2018 Midnight ET (GMT-4)
Submissions Instructions
The organizing committee will judge the papers based on potential impact on patient care, innovation, and methodological soundness. MICCAI standards regarding conflicts of interest during review, duplicate publications, and scientific/human-subject ethics will be maintained.
Each paper should be submitted via email to stephen.aylward@kitware.com and should include the following:
In the body of the email, please provide

Title
Responsible author, affiliation, and email address
Brief description of the associated live demonstration or an indication that there is no associated live demonstration.
Preference for oral presentation and/or live demonstration

Attached to the email, please provide a PDF of the submitted full paper in MICCAI format

Papers should be a MAXIMUM of 8 pages (i.e., papers short than 8 pages are allowed, and papers are judged by content, not length)
The 8-page limit holds for papers intended for oral presentation and live demonstration
Papers are encouraged to include references to open-access data and software repositories
Live Demonstrations
In addition to oral presentations, the workshop will feature live demonstrations. Papers accepted for oral presentation are automatically eligible for live demonstrations. Additionally, papers can be submitted and/or chosen specifically for live demonstrations. The live demonstrations are anticipated to include not only image analysis demonstrations but also POCUS probes connected to laptops to demonstrate innovations for 1) embedded tracking systems, 2) open-APIs and toolkits for creating mobile applications for POCUS, and 3) Hololens for ultrasound intervention guidance.
Publication
Springer has agreed to publish our papers as part of the MICCAI workshop proceedings. Papers will appear in a volume in Springer's Lecture Notes in Computer Science (LNCS) series.

Granada Exhibition and Conference Centre
Palacio de Congresos de Granada, S/N, Paseo del Violón, 18006 Granada, Spain