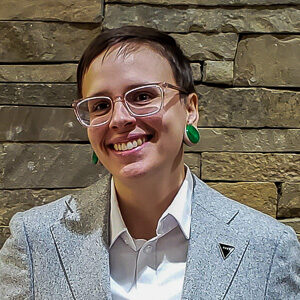 Kelsey Smith
Annotation Specialist
Kelsey Smith is an annotation specialist working remotely on Kitware's Computer Vision Team.  Kelsey is responsible for annotating various image and video datasets for training data or for scoring deep learning and other computer vision algorithms.
Kelsey also works part-time for a leasing software company writing dialogue and training bot functions for their artificial intelligence chatbot. Prior to this, Kelsey was an organizer for state employees in both Colorado and Texas, as well as social justice nonprofit groups in the Denver metro area. 
Kelsey received a bachelor's degree in social justice and community engagement from the Metropolitan State University of Denver.
Education
Bachelor of Arts in Social Justice and Community Engagement, Metropolitan State University of Denver
Get to Know Kelsey
What made you want to become a Kitwarean? I'm ecstatic to work at a 100% employee-owned company that has built a business model on creating open source software. I have much respect for a company that prioritizes its quality product and its customers over profits.
What do you love most about what you do? I love working with cutting-edge technology and machine learning. I'm amazed at the innovation that humans can create and it motivates me to continue to do quality work every day.
Share something interesting about yourself that is not on your resume. I love being on wheels! My parents owned and operated a roller skating rink when I was in middle school so I grew up on skates. I enjoy riding my bicycle (custom-built Surly Cross Check) and hope to get a dual-sport motorcycle in the summer.