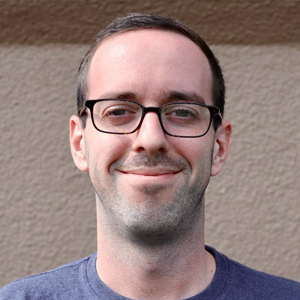 Matt Covalt is an R&D engineer on Kitware's Data and Analytics Team located in Carrboro, North Carolina. His projects generally focus on web development.
Prior to joining Kitware, Matt was a software developer for General Dynamics Information Technology (GDIT). He was primarily involved in a project funded by the U.S. Environmental Protection Agency (EPA). His contributions included making performance improvements and ushering in standards adoption. Matt also acted as the in-person liaison between GDIT and EPA scientists.
Matt received his bachelor's degree in petroleum engineering from the University of Wyoming.
Education
B.S. in petroleum engineering from the University of Wyoming
Get to Know Matt
Why did you want to become a Kitwarean? I enjoy writing software that enables scientists to make discoveries.
What do you love most about what you do? Contributing to the knowledge-base of the world.
Share something interesting about yourself that is not on your resume. I enjoy the mountains: I'm writing this about an hour before I climb into Glacier National Park in Montana and camp for the week.
D. Thayer, A. Parsekian, K. Hyde, H. Speckman, D. Beverly, B. Ewers, M. Covalt, N. Fantello, T. Kelleners, N. Ohara, T. Rogers, and W. Holbrook, "Geophysical Measurements to Determine the Hydrologic Partitioning of Snowmelt on a Snow‐Dominated Subalpine Hillslope,"

Water Resources Research

, vol. 54, no. 6, Apr. 2018.