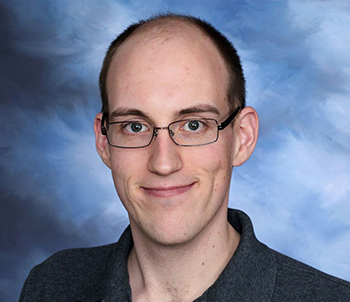 Robert Maynard
Principal Engineer
Robert Maynard is a principal engineer who joined Kitware in 2010. He currently manages the release process for CMake. His efforts have helped to implement support for the CUDA language, improve support for OBJECT targets, enhance user documentation, and add support for MSVC and Intel compiler feature detection in CMake.
Robert is also a primary developer of VTK-m. His work on the open source toolkit focuses on finely-threaded visualization algorithms that run on GPUs and other accelerators. Along with VTK-m, Robert has contributed to numerous projects such as ParaView, the Visualization Toolkit (VTK), and Computational Model Builder (CMB).
Robert received his B.S. in computer science from Laurentian University. In his free time, he is an avid curler. He plays out of a club in Upstate New York.
M. Kim, J. Kress, J. Choi, N. Podhorszki, S. Klasky, M. Wolf, K. Mehta, K. Huck, B. Geveci, S. Phillip, R. Maynard, H. Guo, T. Peterka, K. Moreland, C. Chang, J. Dominski, M. Churchill, and D. Pugmire, "In Situ Analysis and Visualization of Fusion Simulations: Lessons Learned," in

High Performance Computing

. Springer International Publishing, 2018, pp. 230-242. [URL]
D. Pugmire, A. Yenpure, M. Kim, J. Kress, R. Maynard, H. Childs, and B. Hentschel, "Performance-Portable Particle Advection with VTK-m," in

Proceedings of the Eurographics Symposium on Parallel Graphics and Visualization

, 2018. [URL]
D. Thompson, S. Jourdain, A. Bauer, B. Geveci, R. Maynard, R. Vatsavai, and P. O'Leary, "In Situ Summarization with VTK-m," in

Proceedings of the Workshop on In Situ Infrastructures for Enabling Extreme-Scale Analysis and Visualization

, 2017. [URL]
K. Moreland, C. Sewell, W. Usher, L. Lo, J. Meredith, D. Pugmire, J. Kress, H. Schroots, K. Ma, H. Childs, M. Larsen, C. Chen, R. Maynard, and B. Geveci, "VTK-m: Accelerating the Visualization Toolkit for Massively Threaded Architectures,"

IEEE Computer Graphics and Applications

, vol. 36, no. 3, pp. 48-58, May 2016. [URL]
B. Lessley, R. Binyahib, R. Maynard, and H. Childs, "External Facelist Calculation with Data-Parallel Primitives," in

Proceedings of the Eurographics Symposium on Parallel Graphics and Visualization

, 2016. [URL]
W. Schroeder, R. Maynard, and B. Geveci, "Flying edges: A high-performance scalable isocontouring algorithm," in

Proceedings of the IEEE Symposium on Large Data Analysis and Visualization

, 2015. [URL]
R. Hovden, M. Hanwell, U. Ayachit, Y. Jiang, R. Maynard, and D. Muller, "Repeatable and Transferable Processing for Electron Tomography: An Open Platform for Visualization and Reconstruction of 3D Materials,"

Microscopy and Microanalysis

, vol. 21, no. S3, pp. 2407-2408, Aug. 2015. [URL]
K. Martin and B. Hoffman,

Mastering CMake: a cross-platform build system

. Kitware Inc, 2015.
R. Maynard, K. Moreland, U. Atyachit, B. Geveci, and K. Ma, "Optimizing threshold for extreme scale analysis," in

IS&T/SPIE Electronic Imaging

, 2013. [URL]
K. Moreland, B. Geveci, K. Ma, and R. Maynard, "A classification of scientific visualization algorithms for massive threading," in

Proceedings of the International Workshop on Ultrascale Visualization

, 2013. [URL]
K. Moreland, B. King, R. Maynard, and K. Ma, "Flexible Analysis Software for Emerging Architectures," in

SC Companion: High Performance Computing, Networking Storage and Analysis

, 2012. [URL]
C. Sewell, J. Meredith, K. Moreland, T. Peterka, D. DeMarle, L. Lo, J. Ahrens, R. Maynard, and B. Geveci, "The SDAV Software Frameworks for Visualization and Analysis on Next-Generation Multi-Core and Many-Core Architectures," in

SC Companion: High Performance Computing, Networking Storage and Analysis

, 2012. [URL]