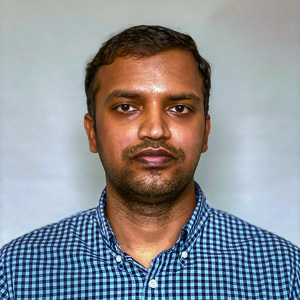 Sreekanth Arikatla
Technical Leader
Sreekanth Arikatla is a technical leader on Kitware's medical computing team in Carrboro, North Carolina. His primary areas of interest include numerical methods aimed at physics-based real-time simulations, computational mechanics, virtual reality, and computer graphics. He currently leads the real-time simulation efforts at Kitware. For example, he is the architect and lead developer of Interactive Medical Simulation Toolkit.
While at Kitware, Sreekanth has worked on various National Institutes of Health (NIH) funded medical simulation projects that involve virtual fundamentals of laparoscopic surgery, orthognathic surgery, and virtual kidney biopsy. He also spends time exploring new ideas for grant writing and fostering collaboration with research groups from academia and industry.
Prior to joining Kitware in May 2015, Sreekanth was a postdoc at the Center for Modeling, Simulation and Imaging in Medicine (CeMSIM) at Rensselaer Polytechnic Institute (RPI). He received his M.S. and Ph.D. in mechanical engineering from RPI in 2009 and 2014, respectively. During his Master's work, he developed and validated a virtual skill trainer for peg transfer. For his doctoral dissertation, he developed multigrid algorithms aimed at enhancing the update rates of physics-based deformation simulations in interactive virtual environments. He also worked on cost-effective predictor-corrector-based approaches to simulate frictional effects with arbitrary (frictional) models. Potential applications include game engines and surgical simulators.
S. Horvath, V. Arikatla, K. Cleary, K. Sharma, A. Rosenberg, and A. Enquobahrie, "Towards an advanced virtual ultrasound-guided renal biopsy trainer," in

Medical Imaging 2019: Image-Guided Procedures, Robotic Interventions, and Modeling

, 2019. [URL]
A. Enquobahrie, S. Horvath, S. Arikatla, A. Rosenberg, K. Cleary, and K. Sharma, "Development and face validation of ultrasound-guided renal biopsy virtual trainer,"

Healthcare Technology Letters

, vol. 6, no. 6, pp. 210-213, Dec. 2019.

Winner, Outstanding Paper Award.

[URL]
V. Arikatla, S. Horvath, Y. Fu, L. Cavuoto, S. De, S. Schwaitzberg, and A. Enquobahrie, "Development and face validation of a virtual camera navigation task trainer,"

Surgical Endoscopy

, Oct. 2018. [URL]
Y. Fu, L. Cavuoto, D. Qi, K. Panneerselvam, G. Yang, V. Artikala, A. Enquobahrie, S. De, and S. Schwaitzberg, "Validation of a virtual intracorporeal suturing simulator,"

Surgical Endoscopy

, Oct. 2018. [URL]
V. Arikatla, M. Tyagi, A. Enquobahrie, T. Nguyen, G. Blakey, R. White, and B. Paniagua, "High fidelity virtual reality orthognathic surgery simulator," in

SPIE Medical Imaging

, 2018. [URL]
V. Arikatla, T. Nguyen, G. Blakey, R. White, Jr, A. Enquobahrie, and B. Paniagua, "Virtual reality osteotomy trainer for orthognathic surgery," in

Submitted to 10th National Image-Guided Therapy Workshop

, 2018.
D. Qi, K. Panneerselvam, W. Ahn, V. Arikatla, A. Enquobahrie, and S. De, "Virtual interactive suturing for the Fundamentals of Laparoscopic Surgery (FLS),"

Journal of Biomedical Informatics

, vol. 75, pp. 48-62, Nov. 2017. [URL]
L. Potter, S. Arikatla, A. Bray, J. Webb, and A. Enquobahrie, "Physiology informed virtual surgical planning: a case study with a virtual airway surgical planner and BioGears," in

SPIE Medical Imaging

, 2017. [URL]
P. Tabrizi, H. Sang, H. Talari, D. Preciado, R. Monfaredi, B. Reilly, S. Arikatla, A. Enquobahrie, and K. Cleary, "Temporal bone dissection simulator for training pediatric otolaryngology surgeons," in

SPIE Medical Imaging

, 2017. [URL]
K. Brady, B. Wu, S. Sim, A. Enquobahrie, R. Ortiz, and S. Arikatla, "Modeling Reduced User Experience Caused by Visual Latency," in

Advances in Ergonomics Modeling, Usability & Special Populations

. Springer International Publishing, 2017, pp. 267-277. [URL]
S. Sim, B. Wu, K. Brady, A. Enquobahrie, R. Ortiz, and S. Arikatla, "Quantifying the Effects of Reduced Update Rate on Motor Performance and User Experience," in

Advances in Ergonomics Modeling, Usability & Special Populations

. Springer International Publishing, 2017, pp. 255-265. [URL]
V. Arikatla, R. Ortiz, S. De, and A. Enquobahrie, "A Unified Framework for Haptic Interaction in Multimodal Virtual Environments,"

Studies in Health Technology and Informatics

, vol. 220, pp. 19-24, 2016.
V. Arikatla, R. Ortiz, T. Halic, S. Radigan, D. Thompson, S. De, and A. Enquobahrie, "An Approach for Automated Scene Management in Real-Time Medical Simulation Framework,"

Studies in Health Technology and Informatics

, vol. 220, pp. 25-28, 2016.
V. Arikatla and S. De, "An iterative predictor–corrector approach for modeling static and kinetic friction in interactive simulations,"

Graphical Models

, vol. 82, pp. 29-42, Nov. 2015. [URL]
S. Dargar, R. Kennedy, W. Lai, V. Arikatla, and S. De, "Towards immersive virtual reality (iVR): a route to surgical expertise,"

Journal of Computational Surgery

, vol. 2, no. 1, Dec. 2015. [URL]
V. Arikatla, R. Ortiz, D. Thompson, D. Sasaki-Adams, A. Enquobahrie, and S. De, "A hybrid approach to simulate tissue behavior during surgical simulation," in

International Conference on Computational & Mathematical Biomedical Engineering

, 2015.
V. Arikatla, W. Ahn, G. Sankaranarayanan, and S. De, "Towards virtual FLS: development of a peg transfer simulator: Development of VBLaST-PT© simulator,"

The International Journal of Medical Robotics and Computer Assisted Surgery

, vol. 10, no. 3, pp. 344-355, Sep. 2014. [URL]
Z. Lu, V. Arikatla, Z. Han, B. Allen, and S. De, "A physics-based algorithm for real-time simulation of electrosurgery procedures in minimally invasive surgery: Algorithm for real-time electrosurgery simulation,"

The International Journal of Medical Robotics and Computer Assisted Surgery

, vol. 10, no. 4, pp. 495-504, Dec. 2014. [URL]
V. Arikatla, G. Sankaranarayanan, W. Ahn, A. Chellali, S. De, G. Caroline, J. Hwabejire, M. DeMoya, S. Schwaitzberg, and D. Jones, "Face and construct validation of a virtual peg transfer simulator,"

Surgical Endoscopy

, vol. 27, no. 5, pp. 1721-1729, May 2013. [URL]
V. Arikatla, G. Sankaranarayanan, W. Ahn, A. Chellali, C. Cao, and S. De, "Development and validation of VBLaST-PT© : a virtual peg transfer simulator,"

Studies in Health Technology and Informatics

, vol. 184, pp. 24-30, 2013.
V. Arikatla and S. De, "A multilevel framework for linear projection constraints," in

SIGGRAPH Asia

, 2013. [URL]
A. Maciel, G. Sankaranarayanan, T. Halic, V. Arikatla, Z. Lu, and S. De, "Surgical model-view-controller simulation software framework for local and collaborative applications,"

International Journal of Computer Assisted Radiology and Surgery

, vol. 6, no. 4, pp. 457-471, Jul. 2011. [URL]
S. De, D. Deo, G. Sankaranarayanan, and V. Arikatla, "A Physics-Driven Neural Networks-Based Simulation System (PhyNNeSS) for Multimodal Interactive Virtual Environments Involving Nonlinear Deformable Objects,"

Presence: Teleoperators and Virtual Environments

, vol. 20, no. 4, pp. 289-308, Aug. 2011. [URL]