Trusted R&D partners at the intersection of computer vision, deep learning, AI and high-performance computing.
Over the past decade, we've been proud to support DARPA's efforts as leaders developing and advancing state-of-the-art technologies and capabilities to save the lives of our warfighters.
Image and video data is being collected at an unprecedented rate. The need to extract relevant information is critical to our national security. We are plagued with challenges working with countless cameras, sensors, platforms, and hardware to answer questions such as:
How do I discover what I don't know to look for?
What is happening in this video?
How can I find the right intelligence in all of these videos?
How soon can we extract the right information?
This data becomes a frustration and a burden without the development, test and evaluation, and transition of robust tools and techniques to understand and extract actionable information. It takes up the time of analysts and soldiers who need real-world information right now.
Kitware is dedicated to pushing technology advancement through algorithm and software development. We focus on automated image and video analysis to serve our nation now and into the future.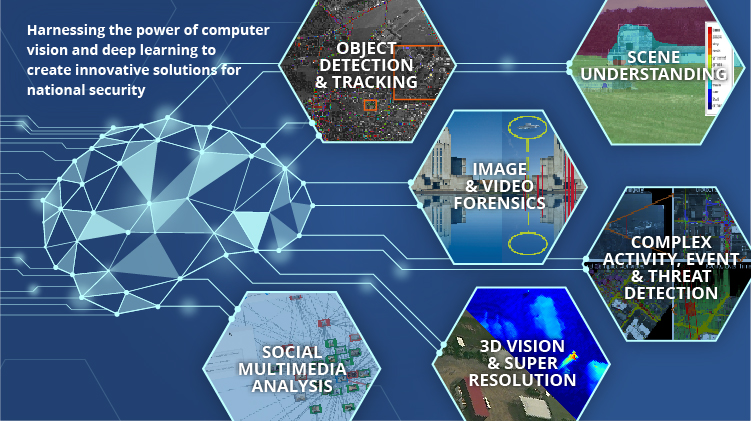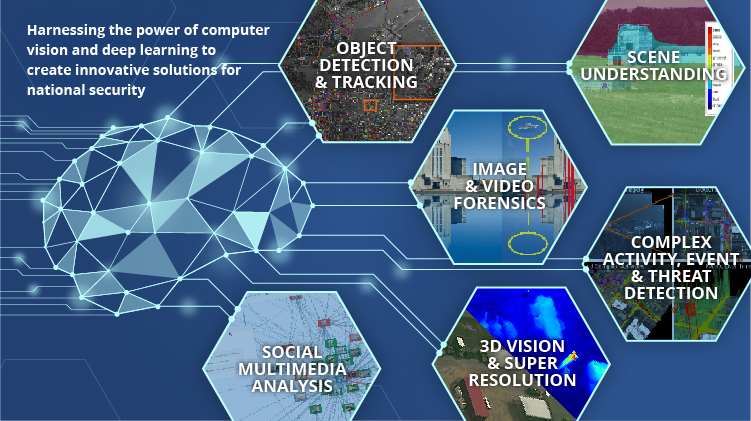 Our computer vision team has a long-standing history in computer vision and deep learning. An early convert to deep learning, we have been developing expertise and tools to support deep learning technologies and techniques for years. We work from source (sensors) to solution (answers), successfully creating advances to drive technology development in areas such as image recognition, object detection and tracking, scene understanding and recognition. Our strengths include learning from small training sets through unsupervised learning, transfer/domain adaptation, incorporating synthetic data, and leveraging user feedback for interactive learning.
We incorporate these techniques, algorithms and solutions into our R&D programs to build unified, open-source software tools with unlimited rights to the government. This permits our algorithms and advances on one project to be integrated and applied to future projects; progressing technology and capabilities. When working with our partners, we are forward thinking to ensure the development of useful and relevant tools. Our extensive expertise in our core focus areas provide us the framework to continue to advance scientific understanding; benefiting our partners and our nation.
Check out our technology demos
Object Detection & Tracking; Complex Activity, Event & Threat Detection; Scene Understanding
Object Detection & Tracking; Complex Activity, Event & Threat Detection; Scene Understanding
Social Multimedia Anlaysis
Object Detection & Tracking
Driving innovative algorithm and software creation through our R&D programs. Equipping our partners with real-world, relevant solutions that advance technology and save lives.
Come visit us at our D.C. Office
4100 N. Fairfax Suite, 302
Arlington, VA 22203