Virtual Training Session: 3D Reconstruction from Overhead Imagery using Open Source Software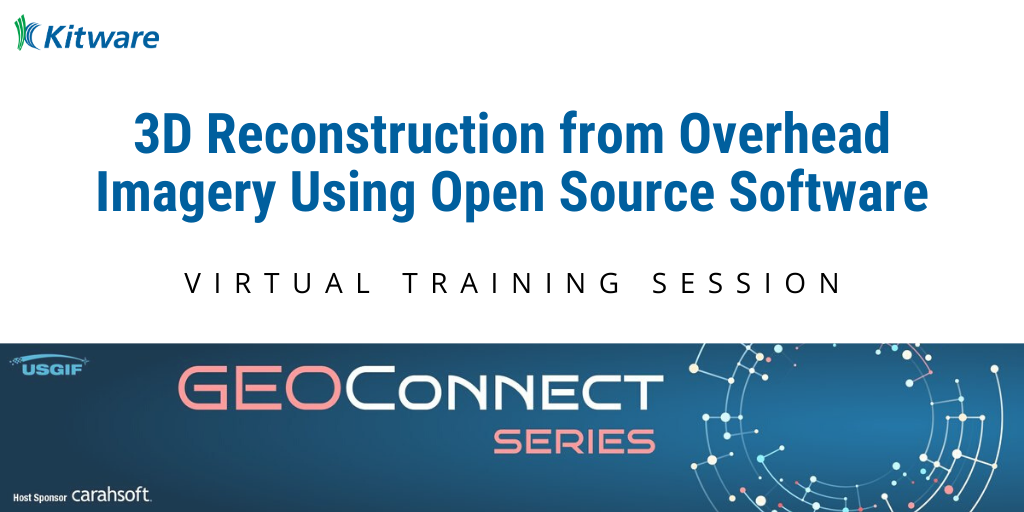 Kitware was pleased to have our training session proposal accepted for GEOINT 2020! Though GEOINT was canceled due to COVID-19, the USGIF extended us an invitation to conduct our training virtually as part of the GEOConnect Series Training. This session is available to anyone, and registration is free!
3D Reconstruction from Overhead Imagery using Open Source Software
Held Virtually on Tuesday, June 23 from 1-2 PM EDT – Register Now!
This training session is for anyone interested in learning how to build 3D models from aerial imagery and video. If you're an end-user aware of 3D reconstruction from imagery but don't have much hands-on experience, we encourage you to attend this virtual session. You will also find this training helpful if you have only been using proprietary software since we will be covering some of the available open-source options.
This session will include the following topics:
An overview of 3D reconstruction algorithms. Learn the terminology and gain a high-level understanding of how 3D reconstruction pipelines work.
Data collection. Guidance on how (and how not) to collect imagery to obtain the best results.
Survey of software. Learn what 3D reconstruction software is available with an emphasis on open source software.
Demo of TeleSculptor. Learn some of the features of Kitware's open source TeleSculptor software for 3D reconstruction from FMV.
Why 3D Reconstruction?
3D models have numerous applications, which is why 3D reconstruction from overhead imagery is a growing area of importance to the GEOINT community. However, most people are familiar with using expensive proprietary tools to construct models from images. Also, these proprietary tools are often a "BlackBox" and how they work is kept secret. At Kitware, we feel it's essential for users to understand how these algorithms work and that they are aware of the free open source solutions.
TeleSculptor: Open Source 3D Reconstruction
TeleSculptor is an open source, cross-platform desktop application for photogrammetry. It focuses on aerial videos, such as videos collected from UAVs, and georeferences the resulting 3D models using either sensor metadata or user-selected ground control points. TeleSculptor can directly read and use metadata stored in a video as KLV (key-length-value) using the MISB 0601 standard. However, the software can also work with collections of images or videos that have no geospatial metadata. TeleSculptor uses Structure-from-Motion techniques to estimate camera parameters (pose, focal length, etc.), as well as a sparse set of 3D landmarks. It uses Multiview Stereo techniques to estimate dense depth maps on keyframes. It then fuses these depth maps into a consistent surface mesh that can be colored from the source imagery. To download TeleSculptor, visit the GitHub page.