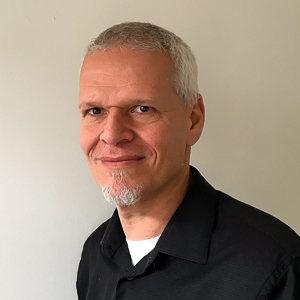 Harald Scheirich
Staff R&D Engineer
Harald Scheirich is a staff R&D engineer on Kitware's Medical Computing Team located in Arlington, Virginia. He has more than 20 years of experience practicing and managing software engineering under a variety of platforms and programming languages. He has a long history of applying technical expertise in architecting and developing for multiple platforms, including desktop, mobile applications, and web-based applications.
Harald is currently involved in a variety of medical software projects. He collaborates with others on the Medical Computing Team to design, develop, and improve medical image analysis, visualization, and simulation software. He also assists with extending and maintaining Kitware's Pulse Physiology Engine, an open source human physiology simulator.
Prior to joining Kitware, Harald was a principal software engineer for SimQuest. He was the lead for SimQuest's Medical Simulation and Training Architecture (MSTA), shepherding the standards process from design to a first proof of concept implementation. He was also the lead software architect for the open-source open surgery simulator (OpenSurgSim, OSS) project. For OpenSurgSim, he combined scientific research efforts with sound software engineering and crafted an advanced open-source platform that is well-engineered and widely accessible. He also implemented and maintained SimQuest's Surface Wound Mapping™ software suite, the Exsanguinating Limb Simulator (ElSim™) hemorrhage-control system, the Pandemic Response and Rapid Trauma Training serious games, and worked on a variety of other pertinent projects. During his years at SimQuest, he was responsible for creating technological concepts and overseeing, implementing, and delivering multiple Phase I and II Small Business Innovation Research (SBIR) grants.
Harald received his Master of Engineering degree in computer science from the Technical University of Vienna.
Education
M.Eng. in computer science from the Technical University of Vienna
Get to Know Harald
Why did you want to become a Kitwarean? I wanted to work at a company that is a great steward of open source software. I had worked with the medical software group before and really enjoyed the cooperation.
What do you love most about what you do? I love the puzzle-solving and creative aspect of programming and the engineering task of making disparate pieces fit into one cohesive unit so that coworkers and others can utilize what you have created.
Share something interesting about yourself that is not on your resume. I love trail running and participating in trail racing. I still enjoy playing all kinds of video games, mostly on the console. I recently treated myself to a racing wheel and am trying to get into sim racing.
Professional Associations & Service
Member of the Association of Computing Professionals (ACM)

Member of the C++ Meetup in Washington D.C.
Publications
Harald's publication list is below. To see all of Kitware's medical computing publications, please visit the Medical Computing Publications page.
H. Scheirich, J. Beaubien, R. Metoyer, G. De Novi, and T. Kelliher, "Toward the Development of a Medical Simulation Training Architecture (MSTA)," in

nterservice/Industry Training, Simulation and Education Conference (I/ITSEC)

, 2019.
R. Beasley, H. Wang, H. Scheirich, W. Turner, G. Sathyaseelan, P. Novotny, J. Lenoir, and T. Kelliher, "Accelerating Surgical Simulation Development via OpenSurgSim: Burr Hole Trainer," in

MMVR

, 2016.
T. Kelliher, J. Lenoir, P. Novotny, and H. Scheirich, "Open Surgical Simulation (OSS)-A Community Resource.," in

MMVR

, 2014.
R. Waddington, T. Reeves, E. Kalin, W. Aggen, M. Moreau, H. Scheirich, J. Heneghan, and S. Cattrell, "Value of a Ludic Simulation in Training First Responders to Manage Blast Incidents,"

International Journal of Gaming and Computer-Mediated Simulations (IJGCMS)

, vol. 5, no. 2, pp. 60-72, Apr. 2013.
H. Scheirich, "Stereoscopics: principles and techniques," Technical University Vienna, 1994.