ITK 5.3 Release Candidate 3 available for testing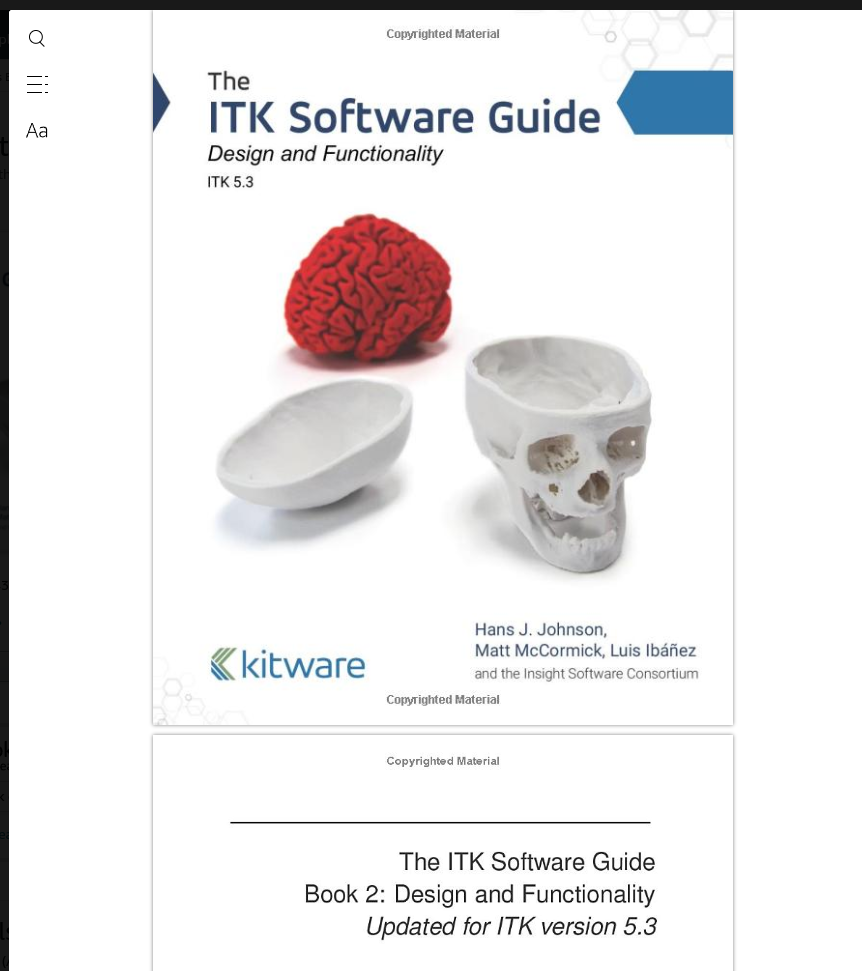 We are happy to announce the Insight Toolkit (ITK) 5.3 Release Candidate 3 is available for testing! ITK is an open-source, cross-platform toolkit for N-dimensional scientific image processing, segmentation, and registration.
ITK 5.3 is a feature release that accelerates performance, provides new segmentation and shape analysis algorithms, improves documentation, among many more improvements. For more information about performance improvements, see the 5.3 RC 1 Release Notes. For more information about new segmentation and shape analysis algorithms, see the 5.3 RC 2 Release Notes.
ITK 5.3 RC 3 highlights documentation improvements. The ITK Software Guide has been updated for ITK's modern C++ improvements. The guide now also includes a helpful primer for debugging native Python extension modules across platforms. The PDF's remain available for free download (links below), and an updated hardcopy can be purchased from Amazon. ITK's Sphinx Examples were updated to the latest ITK and Sphinx. Join us for a hackathon to work on the examples on Friday, May 20th. Doxygen API documentation now uses MathJax and SVG, and Doxygen HTML archives are significantly smaller.
ITK 5.3 RC 3 also includes FFT backend registration through the object factory, Python wrapping for more registration methods, metrics, and registration of point sets, and new remote modules to facilitate rendering of meshes and ITK filtering with CUDA. And, there any many more improvements and fixes detailed in the log below.

In addition to the PDF's below, the ITK Software Guide for ITK 5.3 is available in hard copy form on Amazon. Book 1, Book 2.
Download
Python Packages
Install ITK Python packages with:
pip install --upgrade --pre itk
Guide and Textbook
Library Sources
Testing Data
Unpack optional testing data in the same directory where the Library Source is unpacked.
Checksums
Features
Python
Python packages now include oneTBB support for improved performance.
Following CPython's deprecation schedule Python 3.6 is no longer supported.
Python packages added for Python 3.10
Initial Python wrapping is available for the Video modules.
TransformToDisplacementField is now available in Python.
Pythonic IO functions itk.imread understands pathlib.Path's
New repr for itk.Matrix
np.asarray works on itk.Matrix
DCMTKImageIO wrapping addressed
GradientDifferenceImageToImageMetric wrapped
SynImageRegistrationMethod, BSplineSynImageRegistrationMethod wrapped
ConjugateGradientLineSearchOptimizerv4 wrapped
Wrap ImageRegistrationMethodv4 for itk.Mesh
Wrap PointSetToPointSetMetric, PointSetToPointSetRegistrationMethod
Wrap ANTSNeighborhoodCorrelationImageToImageMetricv4
C++
C++14 is now required.
The minimum CMake version required is now 3.16.3.
New functions: MakePoint, MakeVector, MakeIndex, MakeSize.
Targets in Visual Studio and other IDE's are now organize hierachically by ITK Group and Module
Most of itk::mpl meta-programming functions replaced by C++14 equivalents
Performance accelerations for b-spline interpolation, Mattes mutual information metric computation
Improved modern C++ adoption, e.g. additional adoption of constexpr, auto
itk::ReadMesh, itk::WriteMesh simple reader functions available, similar to itk::ReadImage, itk::WriteImage
FFT backends are now registered through the object factory mechanism
New filters
itk::TransformGeometryImageFilter: applies a rigid transform to an Image's metadata.
1D FFT classes

Interface classes for forward, inverse transformations
Vnl implementations
FFTW implementations

itk::TriangleMeshCurvatureCalculator – Gaussian curvature calculator for itk::Mesh
Remote module updates
New remote modules:
Updated modules: AdaptiveDenoising, AnisotropicDiffusionLBR, BSplineGradient, BoneEnhancement, BoneMorphometry, Cuberille, GrowCut, HASI, HigherOrderAccurateGradient, IOFDF, IOScanco, IsotropicWavelets, MinimalPathExtraction, Montage, MorphologicalContourInterpolation, RTK, SimpleITKFilters, SkullStrip, SplitComponents, Strain, TextureFeatures, Thickness3D, TotalVariation, TubeTK, and Ultrasound.
Third party library updates
eigen
expat
fftw
gdcm
googletest
hdf5
kwsys
kwiml
minc
metaio
niftilib
vxl
zlib migrated to zlib-ng
Congratulations
Congratulations and thank you to everyone who contributed to this release.
Of the 59 authors who contributed since v5.2.0, we would like to specially recognize the new contributors:
Michael Kuczynski, Tim Evain, Tomoyuki SADAKANE, Mario Emmenlauer, Andreas Gravgaard Andersen, Ebrahim Ebrahim, josempozo, Wenqi Li, Genevieve Buckley, Oleksandr Zavalistyi, Jose Tascon, Pranjal Sahu, ambrozicc1, Vagrant Cascadian, MrTzschr, Philip Cook, Tihomir Heidelberg, Jason Rudy, Kian Weimer, z0gSh1u, Darren Thompson, Darren, and Jose M Pozo.
What's Next
We anticipate an additional release candidate following community testing before the 5.3.0 release. The following release candidate will provide an opportunity to test contributions for packaging, distributed computation, and GPU acceleration. Please try out the current release candidate, and discuss your experiences at discourse.itk.org. Contribute with pull requests, code reviews, and issue discussions in our GitHub Organization.
Enjoy ITK!
ITK Changes Since v5.3rc02
Bradley Lowekamp (20):
Enhancements
Platform Fixes
Bug Fixes
Style Changes
Use recursive FFT registration for N to 1 (8350f9c8f9)
Dženan Zukić (31):
Enhancements
Documentation Updates
Platform Fixes
Bug Fixes
Style Changes
Simplify GradientMagnitudeRecursiveGaussianFilterTest (83d2379ea2)
Standardize parameter names to argc and *argv[], replace ac/av (103e0a9329)
Eigen Upstream (1):
Miscellaneous Changes
Genevieve Buckley (1):
Enhancements
pickle serialization for itk images (issue 1091) (27242f4aa5)
HDF5 Maintainers (1):
Miscellaneous Changes
Hans Johnson (40):
Enhancements
Allow users to have a CMakeUserPresets.json file (e32e05ac31)
Use build tree working directories (9e41a45038)
Removing circular header includes (836210b23e)
Documentation Updates
Add project documentation supported by mordern cmake (0d9fdf455c)
Platform Fixes
Bug Fixes
Style Changes
James Butler (1):
Documentation Updates
Jon Haitz Legarreta Gorroño (52):
Enhancements
Documentation Updates
Platform Fixes
Fix abs method not being found (b655b02ce8)
Use and move ITK_DISALLOW_COPY_AND_MOVE calls to public section (ac1d0aa1ef)
Fix testing macro call and array initialization errors (7e37b19646)
Fix spline order return type in getter macro (8683d4254e)
Fix variable type and syntax errors (109047a2e9)
Fix missing initialization braces warning (98bc61493f)
Bug Fixes
Style Changes
Jose M Pozo (3):
Enhancements
Add test for inverse Jacobian of AffineTransform. (7c7233f0b3)
Bug Fixes
ComputeInverseJacobianWithRespectToPosition didn't do inversion (9111b93afa)
Style Changes
auto declarator when initializing with New() (dd7d0d6cf0)
KWSys Upstream (1):
Miscellaneous Changes
Kian Weimer (5):
Enhancements
Generate stub-files to support type hints (faa3ab0a7e)
Platform Fixes
Bug Fixes
Generate itk-stubs file before running igenerator.py. (8bfd35bb4a)
Corrected .pyi output file names in custom command. (d8fa6abc35)
Prevented duplicate pyi definition generation in igenerator.pyi. (3820b1cb00)
Lee Newberg (3):
Performance Improvements
Use binary search for threshold in ThresholdLabelerImageFilter (340f6f4064)
Platform Fixes
Fix unsigned<0 warning for itkSetClampMacro. (b11a9981b9)
Style Changes
Removing extraneous colons from '::itk' and '::std'. (24e7b452b4)
Lucas Gandel (1):
Enhancements
Mario Emmenlauer (1):
Enhancements
Added template parameter for texture mask type (9273616e19)
Matt McCormick (13):
Enhancements
Platform Fixes
Bug Fixes
Create CellData when requested in Mesh::GetCellData (3474342014)
Provide consistent shape on Fortran-order np.ndarray views (a4419d8259)
Style Changes
Use keyword style for HeaderTest target_link_libraries (1a599f4d2f)
Move type declaration into itkMeshCellDataTest function (fa2a3a2f3b)
Remove old FFT 1D implementation includes (6eaa4623e1)
Mihail Isakov (14):
Enhancements
JPEG IO: check integer overflow (de5f8e8513)
add a test for verifying a JPEG image is corrupted and throws (4f770cb6bd)
Bug Fixes
Style Changes
updated error message, improved size check (bb759349a2)
OpenJPEG: removed outdated comment (9da82ba301)
NIFTI Upstream (1):
Miscellaneous Changes
Niels Dekker (23):
Enhancements
Make Parameters empty, do not warn in Transform default-constructor (20249ece00)
Test BuildInformation GetValue, GetDescription for an l-value key (d6778a3d22)
Performance Improvements
Use the faster TransformPhysicalPointToIndex overload in filter (eb6ac88c82)
Use the faster TransformPhysicalPointToContinuousIndex overload (6a8569ef11)
Platform Fixes
Bug Fixes
Add missing single argument ImageAdaptor Transform member functions (2d06a6a583)
Style Changes
Pablo Hernandez-Cerdan (3):
Enhancements
Platform Fixes
Disable Eigen3 warning Wused-but-marked-unused (9d9b4165c3)
Miscellaneous Changes
Revert "ENH: Updated script for Eigen third party update" (f3d7c99d77)
Pranjal Sahu (23):
Enhancements
Platform Fixes
Bug Fixes
Sean McBride (21):
Enhancements
Platform Fixes
Bug Fixes
Simon Rit (2):
Enhancements
Platform Fixes
Stephen R. Aylward (3):
Enhancements
Adding test for Index member var of SpatialObjectToImageFilter (f09f575480)
Platform Fixes
Eliminate unnecessary complexity of logic for setting Index. (4fb006b0fe)
Bug Fixes
SpatialObjectToImageFilter didn't use reference image's index (7c2cd637cc)
Steve Robbins (1):
Bug Fixes
Do not unconditionally assume SSE2 when building on i386. (1a3c66ee05)
Tihomir Heidelberg (1):
Enhancements
Add UTF-8 support for ImageSeriesReader when reading series of images (3fb1dec607)
Tim Evain (1):
Platform Fixes
Add cmake clause when DCMTK_USE_ICU is OFF overwriting DCMTK config (209f2056b8)
Tom Birdsong (25):
Enhancements
Documentation Updates
Remove lingering Ultrasound dependency (4b95bcfc2c)
Platform Fixes
Add ITKImageIntensity as a test dependency for ITKFFT (d856379505)
Bug Fixes
Miscellaneous Changes
Revert "BUG: Make FFT factories available across Python modules" (263c603e6a)
VXL Maintainers (3):
Miscellaneous Changes
Vagrant Cascadian (1):
Enhancements
Vladimir S. FONOV (1):
Miscellaneous Changes
Wenqi Li (2):
Enhancements
GetMatrixFromArray to accept ArrayLike sequences (a89145bccd)
Ignore Distributed import errors (5f1af152ba)
josempozo (5):
Enhancements
Added non-trivial (time-varying) test (36850a19f8)
TimeBounds' normalization made optional (7ae8a4ec19)
Modified time-varying test switching off time normalization (b668ce6192)
Bug Fixes
Runge-Kutta wrong TimeBounds implementation (1d705b4879)
Style Changes
z0gSh1u (1):
Documentation Updates
Add comment for SetNumberOfWorkUnits to correct documentation. (28763032ee)
ITK Sphinx Examples Changes Since v5.3rc02
Andinet enquobahrie (1):
Enhancements
Turn off Git protocol by default. (8132a8d2)
Dženan Zukić (5):
Enhancements
require C++14 for examples (079d8826)
use new version of super linter (a9e11bd1)
use CMake version 3.16.3 as new required minimum (345b1d0d)
Platform Fixes
fix compile errors by aggressive code cleanup (4927d96e)
Style Changes
fix lint errors by applying clang-format (1bb21249)
Hans Johnson (9):
Platform Fixes
Style Changes
Jon Haitz Legarreta Gorroño (11):
Enhancements
Add const smart pointer type alias (4aba13d6)
Platform Fixes
Use and move ITK_DISALLOW_COPY_AND_MOVE calls to public section (fc34c701)
Mark class destructors with override (b9974602)
Bug Fixes
Style Changes
Kian J Weimer (1):
Bug Fixes
Switched incorrect 'image_to_vtk_image' function calls to 'vtk_image_from_image'. (7acdc497)
Matt McCormick (6):
Enhancements
Platform Fixes
Sphinx warning node class 'meta' is already registered (550f3b92)
Address unused SPHINX_HTMLHELP_OUTPUT in superbuild (4255ef27)
Tom Birdsong (19):
Enhancements
Bug Fixes
Miscellaneous Changes
ITK Software Guide Changes Since v5.3rc02
Dženan Zukić (2):
Enhancements
Jon Haitz Legarreta Gorroño (12):
Documentation Updates
Julien Jomier (3):
Enhancements
Style Changes
Lee Newberg (4):
Documentation Updates
clang-format of code samples and other minted changes (dd10e33)
Style Changes
Format Python code with black (b041051)
Format c++ code with clang-format (061225e)
Use Python f" formatting (cc3bbfc)
Matt McCormick (2):
Enhancements
Niels Dekker (2):
Enhancements
Add "Trailing Return Types" section (c64b23b)
Style Changes
Do not use void in empty function parameter list (c4d9284)
Tom Birdsong (2):
Documentation Updates
Add section on debugging Python wrappings (891fff6)
Bug Fixes
Use https protocol for superbuild CI (6cc25d0)
Remote Module Changes Since v5.3rc02
BoneEnhancement:
Matt McCormick (1):
Enhancements
MGHIO:
MeshToPolyData:
Montage:
Dženan Zukić (1):
Platform Fixes
avoiding deprecated itkGetStaticConstMacro (c5f9214)
Jon Haitz Legarreta Gorroño (1):
Platform Fixes
Fix initializer list lifetime warning (2fd431a)
PerformanceBenchmarking:
Dženan Zukić (4):
Enhancements
use C++14 and CMake 3.16.3 for compatibility with ITK 5.3 (b8c92d0)
use a recent commit of ITK to avoid build errors and warnings (6a27b32)
Platform Fixes
Jon Haitz Legarreta Gorroño (4):
Enhancements
Bump ITK to latest commit in master (f960087)
Documentation Updates
Remove deprecated shell script reference from README (adac509)
Add Python to requirements list in README (5940c80)
Style Changes
Use double backticks for inline literals in README (0b75ca7)
RTK:
Andreas Gravgaard Andersen (1):
Bug Fixes
Fix varian reader memory bugs (16e97605)
MrTzschr (1):
Bug Fixes
Fixed CudaFDKConeBeamReconstructionFilter not using GPU default projection subset size (7ba9a51c)
Simon Rit (23):
Enhancements
Documentation Updates
merge double entry for Module_RTK_GIT_TAG in INSTALLATION.md (1ccea89b)
Platform Fixes
Bug Fixes
Style Changes
remove backward compatibility with ITK v5.1 (a025c810)
Replace itkStaticConstMacro with static constexpr (b54a188c)
Miscellaneous Changes
SimpleITKFilters:
Bradley Lowekamp (2):
Miscellaneous Changes
Strain:
Tom Birdsong (5):
Enhancements
Ultrasound:
Matt McCormick (2):
Enhancements
Tom Birdsong (7):
Enhancements
Bug Fixes