Kitware Announces Three New Appointments to Board of Directors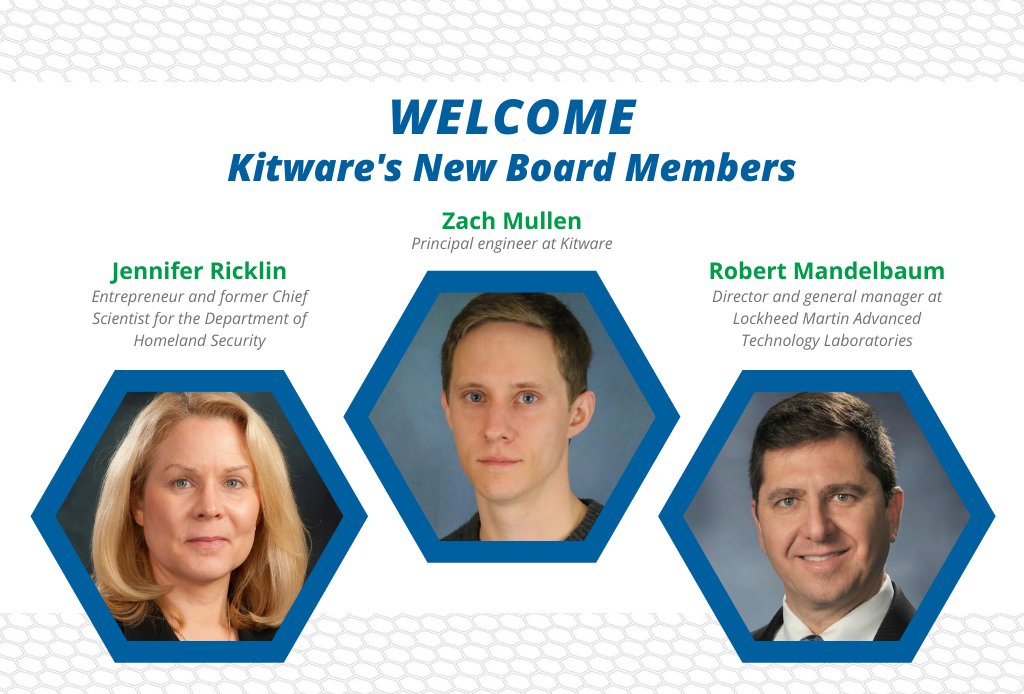 Company aims to enhance board composition as it adds two independent directors, one mid-management level employee to its roster
Clifton Park, New York. (June 10, 2021) – Kitware, Inc., a leader in artificial intelligence and scientific computing software, is pleased to announce the appointment of three new members to its board of directors. For the first time in the company's history, the board is expanding to include two external directors: Jennifer Ricklin, an entrepreneur and former Chief Scientist for the Department of Homeland Security and CTO for the Air Force Research Lab, and Robert Mandelbaum, director and general manager at Lockheed Martin Advanced Technology Laboratories. The company also appointed Zach Mullen, a principal engineer at Kitware, who will serve as Kitware's first employee outside the senior management team to join the board.
"As Kitware continues its strategic growth, we are honored to have Jennifer and Robert join our board to share fresh perspectives based on tremendous industry insights they have gained throughout each of their impressive careers," said Bill Hoffman, Kitware founder, CTO and Chairman of the Board. "Additionally, as an employee-owned and long-time employee-centered company, we are eager to ensure we have representation from employees going beyond the ranks of senior management. Zach is a loyal employee whose tenure and experience demonstrate the value he brings to Kitware, and we're thrilled to now gain his perspective as one of our directors."
Broadening Strategic Oversight with Independent Perspectives
Kitware identified Jennifer Ricklin as an ideal external candidate to join the board as she brings a strong technical background and deep experience serving government, industry, and academia. She spent 22 years as a bench scientist at the Army Research Lab, earning her Ph.D. in electrical engineering at Johns Hopkins University during that time. Later, she served as a Defense Advanced Research Projects Agency (DARPA) program manager and went on to hold senior leadership positions in both the Departments of Defense and Homeland Security. In addition to her government experience, she has also provided strategic advice and support to private companies and academic institutions such as Lockheed Martin, the Georgia Tech Research Institute, and Carnegie Mellon University. More recently, Jennifer has been focused on investment in emerging high-tech business and technology transition.
Like Jennifer, Robert Mandelbaum was an appealing choice to help Kitware broaden its board as he brings a strong technical background in AI and robotics, 20+ years leading projects and teams at larger peer companies like Sarnoff and Lockheed Martin, and experience as a successful DARPA program manager. At Sarnoff, Robert gained experience with software platform-based R&D and first-hand experience with spin off companies. At DARPA he led the well-known Big Dog program in robotics and started a series of programs in robotic manipulation. Most recently, at Lockheed Martin, Robert leads a research team within the larger production-focused Lockheed organization. Robert holds a Ph.D. in computer science from the University of Pennsylvania and a B.S. in electrical engineering from the University of the Witwatersrand. He has also worked as an adjunct faculty member at Drexel University and the University of Pennsylvania.
Board Positions Shift to Create New Opportunities Within Kitware
Zach Mullen joined Kitware in 2009 after receiving his B.S. in computer science from The University of North Carolina at Chapel Hill. He has been a developer for the CMake and CDash open source quality software process tools, and continues to be instrumental in pioneering web technology and architecture at Kitware. Prior to joining Kitware, Zach worked as a co-op at IBM where he developed the Common Launchpad, a framework for abstracting cross-platform development issues. Zach, who will serve a board term of three years, was chosen for the role based on his long tenure at Kitware, his strong technical contributions in software development, and the solid relationships he has developed both within the company and with Kitware customers.
These changes come as two long-standing members, Ken Martin and Charles Law, step down from their board positions to pursue other areas of focus. "We're so grateful for the contributions and oversight Ken and Charles have provided throughout their board tenure," said Hoffman. "We're excited for this next chapter and look forward to watching our company grow and evolve under this new, diversified board."
---
About Kitware Inc.
Kitware collaborates with customers to solve the world's most complex scientific challenges through customized software solutions. Kitware delivers innovation by focusing on advanced technical computing, state-of-the-art artificial intelligence, and full-spectrum software solutions. Since its founding in 1998, Kitware has developed a reputation for deep customer understanding and technical expertise, honest interactions, and open innovation. We are proud to be a 100% employee-owned company. For additional information, please visit kitware.com. You can also follow us on Twitter, LinkedIn, and Facebook.
###