Kitware at the 2021 Supercomputing Conference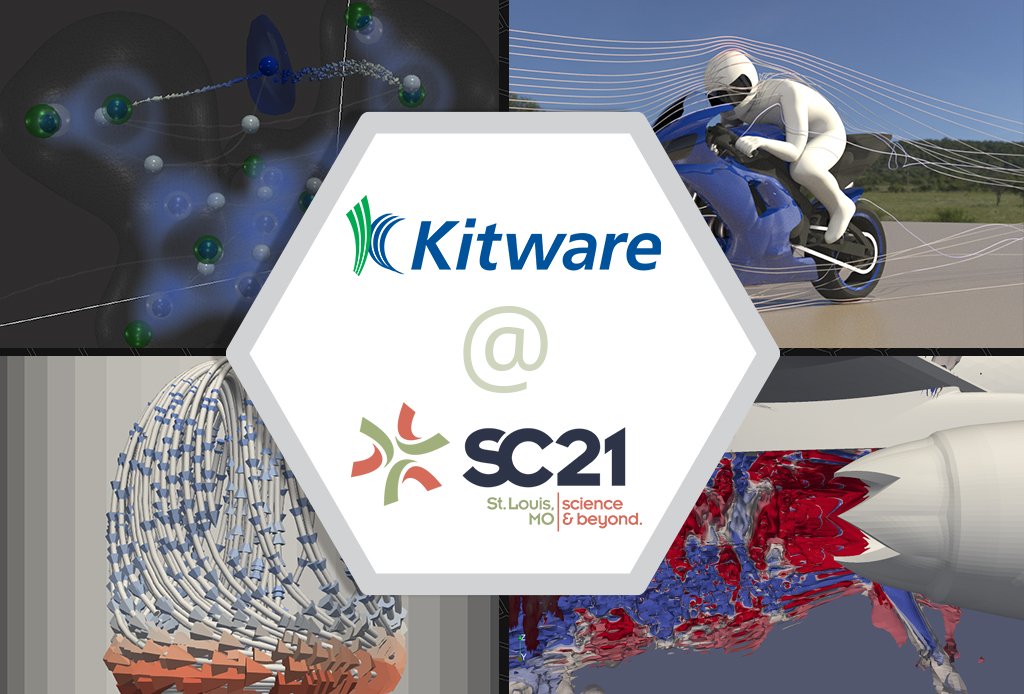 The International Conference for High Performance Computing Networking, Storage, and Analysis (SC21) is one of the largest gatherings of the international high performance computing (HPC) community. Kitware is dedicated to supporting and being involved in this community. Since 1998, we have been delivering advanced scientific computing and visualization technology to the world. Our team develops custom software to solve complex scientific challenges powered by our open source platforms. During SC21, we look forward to connecting with the HPC community.
We will be participating in SC21 virtually this year, so if you're attending the conference be sure to visit our virtual booth! If you are not attending the conference and still would like to learn about what's new with Kitware, our platforms, and the exciting work we are doing in the HPC space, you can visit our SC21 landing page on our website. We have a robust series of sessions scheduled in our SC21 zoom room throughout the conference. Recordings will be made available on our landing page after the conference. Please see below for more information about our involvement in the conference and how you can connect with us.
Zoom Room Schedule
Kitware will be hosting the following sessions in our private zoom room, which is accessible through our SC21 virtual booth. Please visit our booth for links to our room and full details regarding each of these sessions. For those who are not registered SC21 attendees, we will be making the recordings of these live sessions available on our Kitware conference landing page after the conference.
Collaborator Videos
Kitware is proud to work with our collaborators who use our open source platforms, such as ParaView, for their visualization needs. We are excited to share videos showcasing some of the most interesting projects from these collaborators. Visit our Collaborator Video Showcase to see the full list of collaborator videos for SC21.
About Kitware's Scientific Computing Team
Our expertise in HPC and data processing began when Kitware was founded in 1998 to bring advanced visualization technology to the world through the Visualization Toolkit, or VTK. Since then, VTK has become the standard for visualization software development with thousands of active users.
We work with our customers to create custom solutions to solve complex scientific challenges, from simulating blood flow within the body to evaluating trends in global climate data to analyzing LIDAR sensor data. Our areas of expertise include visualization and analysis, in situ computing, end-to-end HPC workflows, and web-based computing. We also offer sophisticated software process services to the HPC community. To learn more about Kitware's scientific computing capabilities, email us at kitware@kitware.com.
Kitware is Hiring
If you are a computer scientist looking for a new career opportunity, consider joining Kitware. We were recently voted a Great Place to Work® thanks to our positive workplace culture, exciting technical projects, generous benefits packages, and more! Kitware is also a 100% employee-owned company, meaning all of our employees have a vested interest in the company in addition to our 401(k) matching program. Visit our Careers page to learn more about what it's like to work at Kitware and view our current openings. Your future starts here!