Kitware at the MORS Emerging Techniques Forum

Kitware will be participating in the Emerging Techniques Forum hosted by the Military Operations Research Society (MORS). The event takes place on December 7-9 from 8 AM – 5 PM ET at the Hilton Mark Center in Alexandria, Virginia. This is the first time Kitware is participating in this forum, and we are looking forward to presenting the defense community with our latest technological developments.
Kitware's vice president of artificial intelligence, Anthony Hoogs, Ph.D., is presenting an unclassified session, "Do-It-Yourself Artificial Intelligence (DIY-AI) Supporting the DoD and the IC." This presentation will be on Tuesday, December 7 at 10:10 AM. Anthony will explain how DIY-AI enables end-users to rapidly build, test, deploy, and adapt customized AI solutions at the pace and scale of future conflicts, without any expertise in deep learning.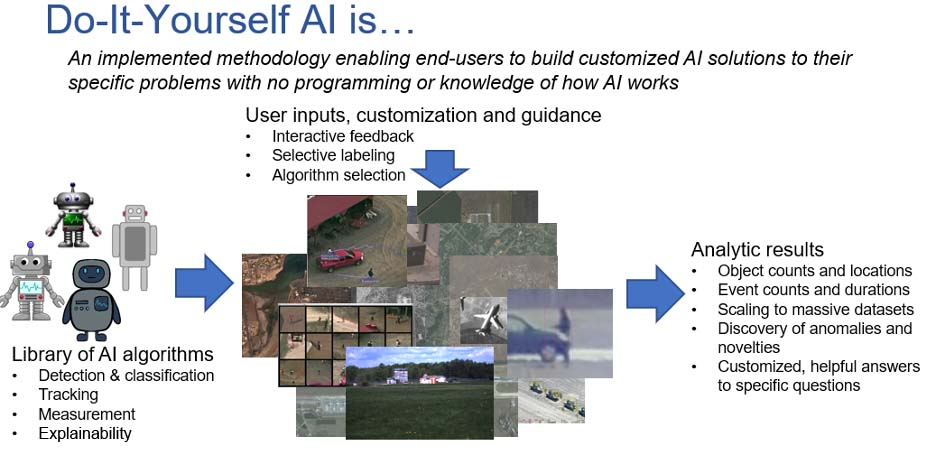 In addition, he will be presenting a classified session, "Accessible AI and Learning with Less Labeling," on Wednesday, December 8 at 3:20 PM. During this presentation, Anthony will discuss the burden of requiring large amounts of labeled data and Kitware's solution based on interactive, content-based search. When using this solution, users can find and label data much more efficiently using this iterative search methodology.
Anthony has also been invited to sit on the Panel Discussion, "Innovation in Practice," on Thursday, December 9 at 2:45 PM. He will be able to describe what innovation looks like over time as an enduring effort and partnership between research and development teams and DoD/National Security groups.
To learn more about Kitware's Computer Vision Team, visit kitware.com/computer-vision.