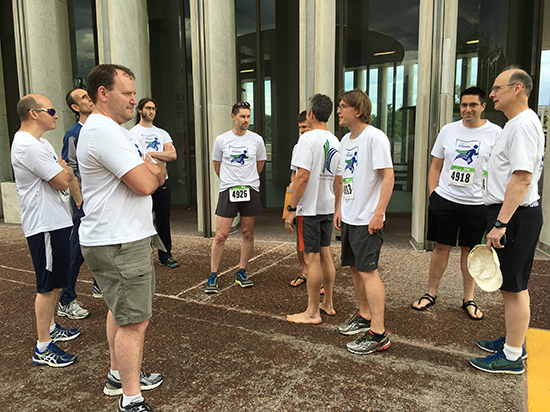 Conference Seeks Proposals
In a post on the Kitware blog, Stephen Aylward, the senior director of operations – North Carolina at Kitware and an International Symposium on Biomedical Imaging (ISBI) grand challenges chair, advocated for teams to submit proposals for grand challenges for ISBI. The grand challenges aim to advance the field of medical image analysis. Kitware has helped to coordinate the solicitation and the execution of proposals for several years. Aylward noted that the chairs will accept proposal submissions until September 15, 2016.
Among other areas of interest, proposals can address the pursuit of new ideas for challenges, the repetition of previous challenges, or the contribution of data. For more information on the proposal-submission process, please read "ISBI 2017: Call for Challenge Proposals" at https://blog.kitware.com/isbi-2017-call-for-challenge-proposals.
Kitware Runners Finish in Top 10
On May 19, 2016, members of Kitware participated in the CDPHP® Workforce Team Challenge. The challenge consisted of a 3.5-mile course. Over 8,000 people gathered in the Governor Nelson A. Rockefeller Empire State Plaza in Albany, New York, for the event.
For the challenge, Jake Stookey, Matt Turek, Bill Hoffman, and Jacob Becker once again represented Kitware in the "Male Team" category. With a time of 1:28:55, they improved their placement from last year and came in 10th. Over 550 teams registered in the category.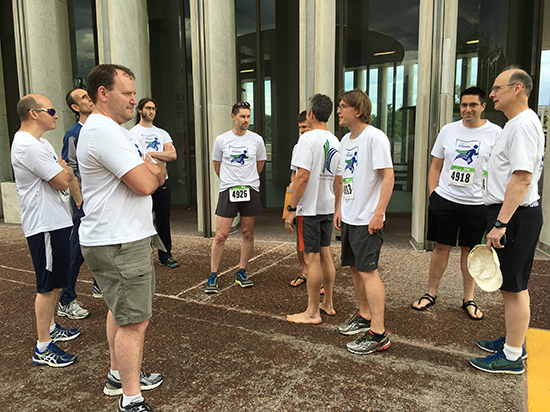 Project Aims to Make Big Strides in Data Management
Kitware announced plans to kick off development on a Phase II Department of Energy (DOE) Small Business Innovation Research project to simplify Big Data management. For the project, Kitware looks to extend GoBig, its open-source software system that provides Big Data analysts with access to a range of computing resources through a unified interface.
"The computational power of the current technological landscape is unprecedented, and Big Data is more complex than ever," Jeff Baumes, an assistant director of scientific computing at Kitware, said. "GoBig offers analysts in academic, governmental, and commercial settings with a flexible and extensible solution for managing Big Data."
GoBig enables analysts to employ today's most advanced tools and libraries, yet it does not require that analysts learn several programming languages. The modular design of the system streamlines installation and significantly reduces the costs that come with maintaining multiple computing environments.
"GoBig is a self-contained system, so it is easy to set up and configure," Baumes said. "In addition, as GoBig is open source, it does not impose licensing fees."
GoBig leverages high-performance computing (HPC) and high-throughput computing (HTC) resources, and it builds on components of the Resonant environment. These components include Girder, which provides GoBig with accesses to data from multiple storage systems, and Romanesco, which allows GoBig to manage workflows with different programming languages and computing engines.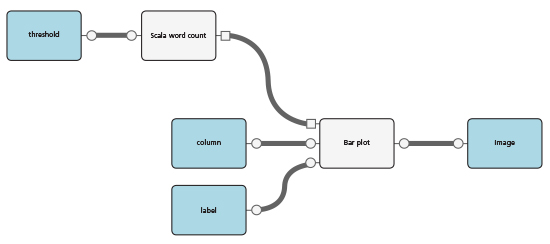 "With GoBig, analysts no longer need to stick to just one type of data across their respective workflows," Baumes said. "They are free to harness the power of multiple systems regardless of whether or not these systems share a common technology stack."
During Phase I, the development team at Kitware created the GoBig code repository, which is available on GitHub. The team also tested the GoBig system on use cases in climate analysis and business intelligence. These tests demonstrated the successful execution of GoBig as an end-to-end system.
For Phase II, the team will equip GoBig to deploy on the Web. The team will also integrate new technologies with GoBig such as ParaViewWeb, which can run parallel visualization jobs. This integration will widen the scope of GoBig to fields such as simulation and modeling.
"The performance of GoBig is encouraging," Baumes said. "We found that a major advantage of the system is that it uses both HPC and HTC resources, as some scenarios may favor one type of resource over the other."
In developing GoBig through open practices, Kitware is furthering its commitment to promote collaboration and scientific discovery. Since 1998, Kitware has created and supported open-source solutions including CMake, the Visualization Toolkit (VTK), ParaView, and the Insight Segmentation and Registration Toolkit (ITK).
This material is based upon work supported by the U.S. Department of Energy, Office of Science, Office of Acquisition & Assistance, under Award Number DE-SC0013252. This report was prepared as an account of work sponsored by an agency of the United States Government. Neither the United States Government nor any agency thereof, nor any of their employees, makes any warranty, express or implied, or assumes any legal liability or responsibility for the accuracy, completeness, or usefulness of any information, apparatus, product, or process disclosed, or represents that its use would not infringe privately owned rights. Reference herein to any specific commercial product, process, or service by trade name, trademark, manufacturer, or otherwise does not necessarily constitute or imply its endorsement, recommendation, or favoring by the United States Government or any agency thereof. The views and opinions of authors expressed herein do not necessarily state or reflect those of the United States Government or any agency thereof.
Collaborator Presents Joint Work on In Situ Methods
E. Wes Bethel from Lawrence Berkeley National Laboratory presented a paper at EuroVis 2016 that Andrew Bauer, Berk Geveci, and Patrick O'Leary from Kitware co-wrote. The paper details how in situ methods can aid in extreme-scale high-performance computing.
Bethel discussed the paper in the session on distributed visualization on June 8, 2016. To familiarize EuroVis attendees with the paper, Kitware published the abstract to the work at https://blog.kitware.com/paper-on-in-situ-methods-accepted-for-publication.
This work was supported by the Director, Office of Science, Office of Advanced Scientific Computing Research, of the U.S. Department of Energy under Contract No. DE-SC0012387, through the grant "Scalable Analysis Methods and In Situ Infrastructure for Extreme Scale Knowledge Discovery," program manager Dr. Lucy Nowell.
Kitware Ranks on Internships List
The "Albany Business Review" published "The List: Internships," which includes Kitware. The list organizes companies by the number of interns they welcomed in 2015. Kitware tied for 17th on the 2016 list with Daily Gazette Co. Inc. With plans to continue to recruit throughout 2016, Kitware looks to add more interns to work alongside experts and gain hands-on experience. Interns help perform foundational research and develop technology across five solution areas: high-performance computing and visualization, computer vision, medical computing, data and analytics, and quality software process.
To apply to intern at Kitware, please submit a resume and a cover letter through the online portal on the Kitware employment website at http://jobs.kitware.com.
Medical Imaging Conference committee Reveals plans for 2017
The planning committee for the 25th Information Processing in Medical Imaging (IPMI) conference recently released details on the event. Stephen Aylward, the senior director of operations – North Carolina at Kitware, is a chair on the committee. On the Kitware blog, he addressed plans for the event as well as deadlines for registering and submitting papers.
Appalachian State University in Boone, North Carolina, will host the conference, which will begin on June 25, 2017. Topics of discussion will include research in data visualization, image-guided surgery, and computational physiology. Following the conclusion of the conference, "Information Processing in Medical Imaging" will feature work from paper and poster presentations.
The last day to register papers is December 10, 2016. For more paper-related dates, please read "Information Processing in Medical Imaging 2017: Call for Papers" at https://blog.kitware.com/information-processing-in-medical-imaging-2017-call-for-papers.
Kitware Welcomes New Team Members
This year, Kitware has expanded its teams in Clifton Park, New York; Carrboro, North Carolina; and Lyon, France. Kitware continues to seek talented, motivated, and creative individuals to join in its mission to develop and deliver cutting-edge software products and services using advanced software quality methods and technologies.
Kitware employees enjoy an award-winning work environment that empowers them to pursue their passions. In addition to an excellent workplace, Kitware offers comprehensive benefits including flexible hours; a computer hardware budget; health, vision, dental, and life insurance; short- and long-term disability insurance; immigration- and visa-processing services; a relocation bonus; tuition reimbursement; and a generous compensation plan. For descriptions of available positions, please see http://jobs.kitware.com/opportunities.html.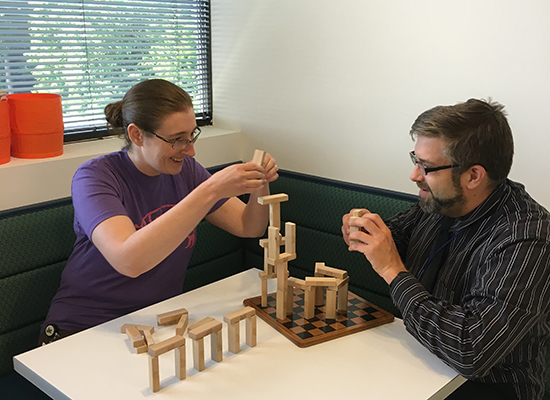 The following team members joined Kitware in May, June, and July.
Aron Helser
Aron became a member of the scientific computing team in Carrboro. Among his past efforts, Aron worked to develop and commercialize nanoManipulator at the University of North Carolina at Chapel Hill.
Libby Rose
Libby came to Kitware as a business development representative. Libby's background includes technical writing, business analysis, and quality assurance.
Florian Chevassu
Florian joined the Lyon office in June. He has expertise in C++ and experience in the development of libraries that apply to thermodynamics and financial risk.
Michael Fogleman
Michael arrived at Kitware in June as part of the scientific computing team. His research interests include computer graphics, data analysis, and visualization.
Maëliss Jallais
Maëliss embarked on a one-year internship in Carrboro. As a student at École Supérieure de Chimie Physique Électronique de Lyon (CPE Lyon), Maëliss studies digital sciences.
Doruk Öztürk
Doruk brought expertise in hydrology and geographic information systems to the Clifton Park office. He has prior experience building applications that utilize remote-sensing techniques and historical weather data.
Matt Burnham
Matt started as a part-time annotation specialist for the computer vision team. Before he joined Kitware, Matt served as a solo practitioner hearing representative at the Department of Labor.
Haocheng Liu
Haocheng became a member of the scientific computing team in Clifton Park. In May, he received his Master of Science in Mechanical Engineering from Carnegie Mellon University.
Mayeul Chassgnard
Mayeul began an internship in Carrboro. Mayeul focuses on computer science, mathematics, electronics, and signal processing at CPE Lyon.
Nicolas Vuaille
Nicolas joined the Kitware team in Lyon. He previously worked for Laboratoire Bordelais de Recherche en Informatique, where his efforts focused on software development for http://www.i-score.org.