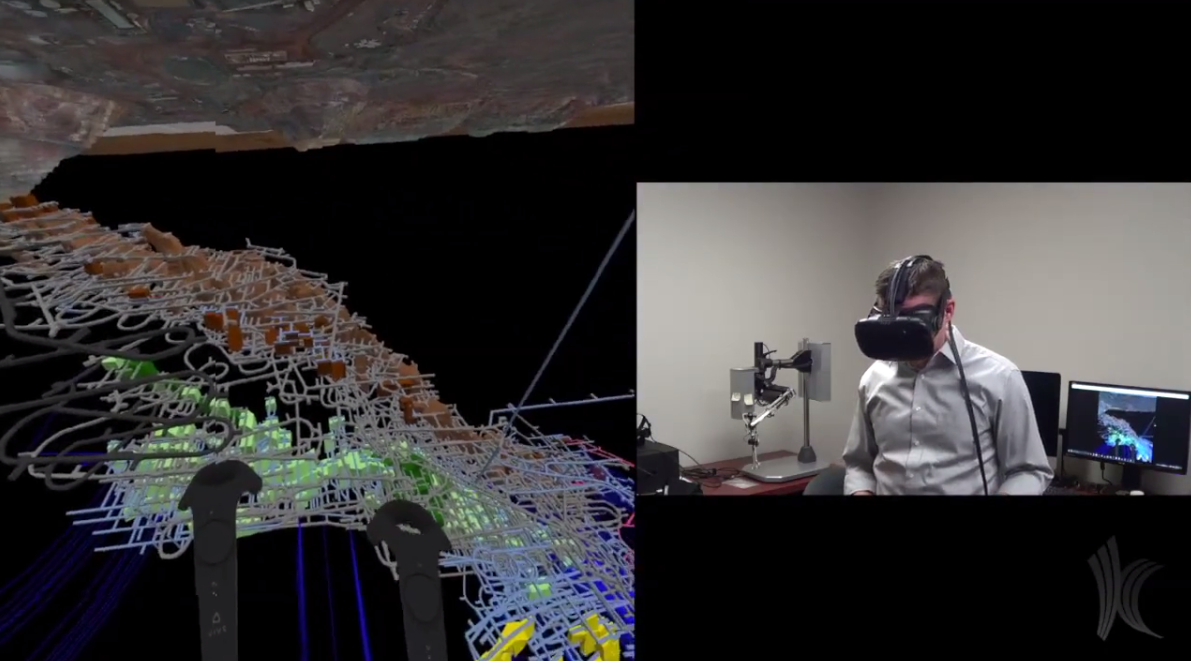 Paper Offers new approaches to Application Development
Kitware introduced two approaches at IEEE Virtual Reality (VR) 2017 that greatly simplify VR application development through the use of the Visualization Toolkit (VTK). The introduction occurred during the presentation of a paper that members of Kitware co-authored with researchers from Indiana University and Idaho National Laboratory.
"Previously, application developers took a significant amount of time to create scientific visualization VR applications, as they had to write their own algorithms and data-reading routines," said Patrick O'Leary, a co-author on the paper and an assistant director of scientific computing at Kitware. "With VTK, developers can access ready-to-use algorithms through a convenient application programming interface.
"These algorithms not only save developers time, but they offer unmatched capabilities for rendering and interacting with data."
In the paper, "Enhancements to VTK Enabling Scientific Visualization in Immersive Environments," O'Leary and co-authors describe OpenGL context sharing and VR toolkit embedding. Respectively, these approaches allow developers to use VTK with consumer-level devices such as Oculus Rift and HTC Vive as well as with immersive environments including CAVE™ systems.
Kitware officially added VR support to VTK in version 7.1 with the integration of two modules. Along with VTK, the modules equip ParaView with VR functionality. ParaView is an open-source software solution that analyzes large datasets and employs VTK as its rendering engine. Kitware cited the inclusion of VR functionality in ParaView as one of the notable achievements that led to recent recognition. In February 2017, the company received the Software Innovation award from Albany Business Review, and in November 2016, Kitware accepted an award from HPCwire for Editor's Choice: Best HPC Visualization Product or Technology on behalf of the ParaView development community.
In future efforts, Kitware plans to bring support for portable, threaded data parallel algorithms to VTK.
"We aim to continue to extend VTK and ParaView to help developers explore data so that they can more easily make scientific discoveries," O'Leary said.
Two of O'Leary's co-authors on the IEEE VR 2017 paper, Sankhesh Jhaveri, a senior research and development engineer at Kitware, and William Sherman, a senior technical advisor and team lead at Indiana University, presented their work on VTK and ParaView during the Systems and Applications session at the conference. The session took place Wednesday, March 22, 2017, from 1:30 to 3 p.m. PST, in Los Angeles, California.
This material is based upon work supported by the Department of Energy under Award Number DE-SC0010119. This report was prepared as an account of work sponsored by an agency of the United States Government. Neither the United States Government nor any agency thereof, nor any of their employees, makes any warranty, express or implied, or assumes any legal liability or responsibility for the accuracy, completeness, or usefulness of any information, apparatus, product, or process disclosed, or represents that its use would not infringe privately owned rights. Reference herein to any specific commercial product, process, or service by trade name, trademark, manufacturer, or otherwise does not necessarily constitute or imply its endorsement, recommendation, or favoring by the United States Government or any agency thereof. The views and opinions of authors expressed herein do not necessarily state or reflect those of the United States Government or any agency thereof.
Research reported in this publication was supported by the National Institute Of Biomedical Imaging And Bioengineering of the National Institutes of Health under Award Number R01EB014955. The content is solely the responsibility of the authors and does not necessarily represent the official views of the National Institutes of Health.
Leadership Transitions Foster Growth
Less than three weeks after it celebrated its 19th anniversary, Kitware made transitions in team management and organizational structure to foster growth and to strengthen its position as a leader in open-source technical computing. The transitions took place at the company shareholders meeting on March 23, 2017.
At the meeting, Kitware named former Vice President of Commercial Operations Lisa Avila, Ph.D., as president and CEO. Avila co-founded Kitware in 1998. Throughout the last two decades, Avila has influenced every aspect of the business from technical development and project management to business development and communications.
"I am proud that our innovative open-source software has advanced scientific research, improved healthcare outcomes, and enhanced our national security," Avila said. "I look forward to maintaining our commitment to our customers, collaborators, communities, and team members while fostering continued growth by expanding into new domains."
Former President and CEO Will Schroeder, Ph.D., another Kitware co-founder, began a new role as opportunity catalyst. In this role, Schroeder will work across the company on mentorship, technical leadership, business development, and customer engagement. He will also continue to provide guidance in designing and implementing advanced algorithms for the many open-source platforms that Kitware develops.
"At Kitware, we produce software that scientists and engineers use to change the world every day," Schroeder said. "We have grown significantly over the past two decades, building a vibrant culture with a collaborative focus that promotes technical excellence."
At the shareholders meeting, Kitware co-founder and current Chief Technical Officer Bill Hoffman accepted the responsibilities of chairman of the board. As chairman, Hoffman will work closely with Avila to guide company growth.
Kitware appointed Claudine Hagen to succeed Kitware co-founder Ken Martin, Ph.D., as chief financial officer. Hagen joined the company as director of finance in January 2013. In this role, she led and coordinated business planning, accounting, financial reporting, and budgeting efforts. Prior to joining Kitware, Hagen spent 13 years in public accounting with KPMG, where she gained extensive experience partnering with senior management teams to develop business strategies and to optimize accounting and finance functions.
For his new title of distinguished engineer, Martin will direct technology initiatives that pertain to rendering, virtual reality, and data visualization. Kitware co-founder Charles Law, Ph.D., who performed the duties of vice president of strategic growth, also became a distinguished engineer. He will help introduce Kitware to new markets that closely align with its areas of expertise in high-performance computing (HPC) and visualization, data and analytics, medical imaging, computer vision, and quality software process.
Brad Davis, Ph.D., who has worked at Kitware for more than 10 years in a variety of technical and business development leadership roles, assumed the position of director of business development. With this change, Kitware consolidated its business development, proposal writing, and communications teams under Davis. The new organization will better align companywide strategic growth, proposal writing, and marketing goals.
Kitware reflected these and other transitions on its website. For inquiries related to Kitware, its leadership, and its technologies, please contact kitware(at)kitware(dot)com.
Kitware and Newmont Guide Mining with Virtual Reality
Through a combined effort, Kitware and Newmont Mining Corporation (Newmont) visualized ongoing expansion of the Tanami mine in virtual reality (VR). For the work, Kitware added functionality to ParaView, its open-source software solution for high-performance computing (HPC).
"We teamed up with Newmont geologists to not only model the existing underground development of the Tanami mine but to map planned activities in accordance with results from exploration drilling," said Ken Martin, who led the visualization effort at Kitware. "The virtual environment in ParaView has helped geologists to investigate whether their expansion plans will allow miners to reach gold in the most effective and efficient manner."
The Northern Territory of Australia holds the Tanami mine. To date, the mine includes around 80 miles of tunnels and reaches over 5,000 feet below the surface of the Earth. According to Newmont's Group Executive for Resource Modeling, Marcelo Godoy, over the next two years, Newmont plans to complete approximately 76 miles of core drilling, aiming to increase estimation confidence and expand the gold reserves.
"The work we do in mining makes intense use of three-dimensional visualization of spatial data, so we have been monitoring advances in VR technology for a few years," Godoy said. "The traditional mining software providers were too slow to include VR into their development roadmaps; therefore, we decided to partner with Kitware to bring the technology to a level where it can be effectively used for resource modeling and mine planning."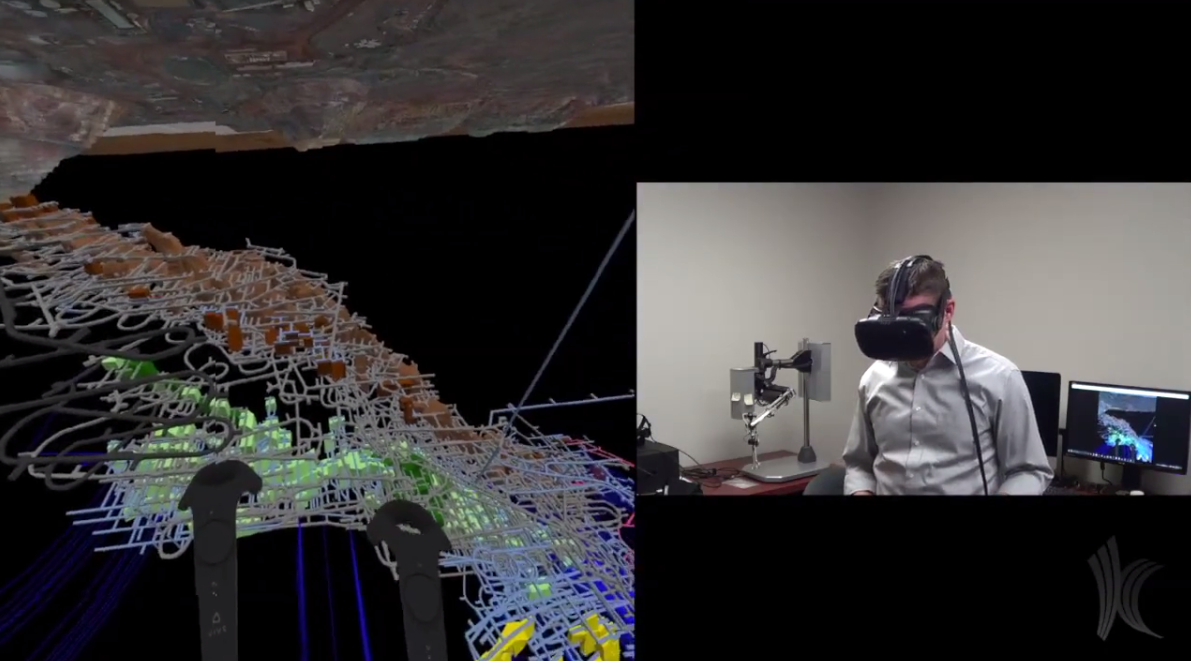 To assist Newmont geologists, a team from Kitware added functionality that grants users control over the exact scale of the virtual world in ParaView. This functionality has encouraged Newmont geologists to easily transition from viewing the entire model of the mine to individually touring life-size tunnels and branches.
"VR provides a unique way for us to interact with our drilling data, geological models, and mine plans," Godoy said. "The ability to visualize huge amounts of data at real-world scale enhances our abilities to recognize mineralization patterns and make better design decisions."
The Kitware team worked with Newmont to create a customized version of ParaView that enables users to virtually travel at scale-appropriate speeds. Further refinements to load and save viewpoints have allowed Newmont geologists to quickly navigate the virtual mine model. Members of Newmont demonstrated such navigation at this year's BMO Capital Markets Annual Global Metals & Mining Conference, where they led attendees through Tanami with VR.
"It has proven to be a powerful communication tool to showcase our operations and projects to investors, analysts, reporters, and Board members," Godoy said.
The Visualization Toolkit (VTK), which provides the rendering engine for ParaView, will gain the enhanced functionality that Kitware worked with Newmont to produce in the 8.0 release cycle.
Kitware Shares Results of Dental Shape Analysis Research
Kitware shared preliminary results of ongoing research at the 95th General Session & Exhibition of the International Association for Dental Research (IADR). Kitware Technical Leader Beatriz Paniagua, Ph.D., presented the results in "Continuous 4D Shape Analysis of Mandibular Changes" at an oral session on temporomandibular joint disorders (TMD). The session, TMD Imaging Advances in Craniofacial Biology and Orthodontics, took place Friday, March 24, 2017, in Moscone West in San Francisco, California.
The research that Paniagua presented aims to help dental scientists characterize the type of structural changes that result in the mandible from orthognathic surgery. This research showcases an example application of shape regression that Kitware and team members plan to incorporate into an open-source software framework in a multi-year initiative. The initiative began in December 2016, when the National Institutes of Health awarded the team with a Research Project (R01) grant. Since this time, team members have worked to integrate existing shape analysis research code into the framework, which they named Slicer Shape AnaLysis Toolbox (SlicerSALT). Once completed, SlicerSALT will become available as a customized version of 3D Slicer.
"SlicerSALT will allow researchers who may not have expertise in shape analysis to evaluate the geometrical properties of different three-dimensional anatomical structures," Paniagua said. "Our team's results demonstrate the usability of SlicerSALT to characterize postsurgical conditions such as temporomandibular joint resorption."
Paniagua presented during the 2:30 to 2:45 p.m. PST time slot. She also participated in the Using CBCT for Measuring Temporo-Mandibular Joint Changes and Tooth Movement workshop, which occurred Saturday, March 25, 2017, from 2 to 3:30 p.m. PST.
Research reported in this publication was supported by the National Institute Of Biomedical Imaging And Bioengineering of the National Institutes of Health under Award Number R01EB021391 and by the National Institute Of Dental & Craniofacial Research of the National Institutes of Health under Award Number R43DE024334. The content is solely the responsibility of the authors and does not necessarily represent the official views of the National Institutes of Health.
Kitware Hires Double Digits in 2017
So far this year, Kitware has recruited 20 new team members. The company has posted information on open opportunities at http://jobs.kitware.com/opportunities.html.
Sam Gerber
Gerber brought experience with fast algorithms and large biological datasets to the medical computing team in Carrboro, North Carolina.
Laura Pascal
Pascal studies image processing and software development at École Supérieure de Chimie Physique Électronique de Lyon (CPE Lyon). She accepted a research and development (R&D) internship at Kitware.
Bo Dong
Kitware welcomed Dong to the computer vision team as a senior R&D engineer.
Wayne Durr
Durr took on the role of contracts administrator at the company headquarters. He holds an MBA.
Brian Wylie
Wylie became a technical leader. His research interests include information security.
Lucas Gandel
Gandel rejoined the team in Lyon, France, as an intern.
Xiaochuan (Matthew) Ma
Ma joined Kitware as an R&D engineer in data and analytics in February 2017.
Jean-Baptiste Vimort
Vimort began an internship in medical computing. He attends CPE Lyon to pursue his master's degree.
Neal Siekierski
Kitware added Siekierski to its Carrboro office. Siekierski's prior work involved convolutional neural networks and retinal image segmentation.
Mmanu Chaturvedi
From Colorado State University, Chaturvedi came to the computer vision team as an intern.
Rachel Clipp
Clipp, whose many areas of expertise emphasize mechanical and biomedical engineering, started in Carrboro as a Staff R&D engineer.
Jeff Webb
Webb commenced his role as an R&D engineer in March 2017. His work at Kitware relates to both medical computing and computer vision.
Aaron Bray
The medical computing team grew with the addition of Bray, who went to Auburn University.