October 2010: Kitware News Part 2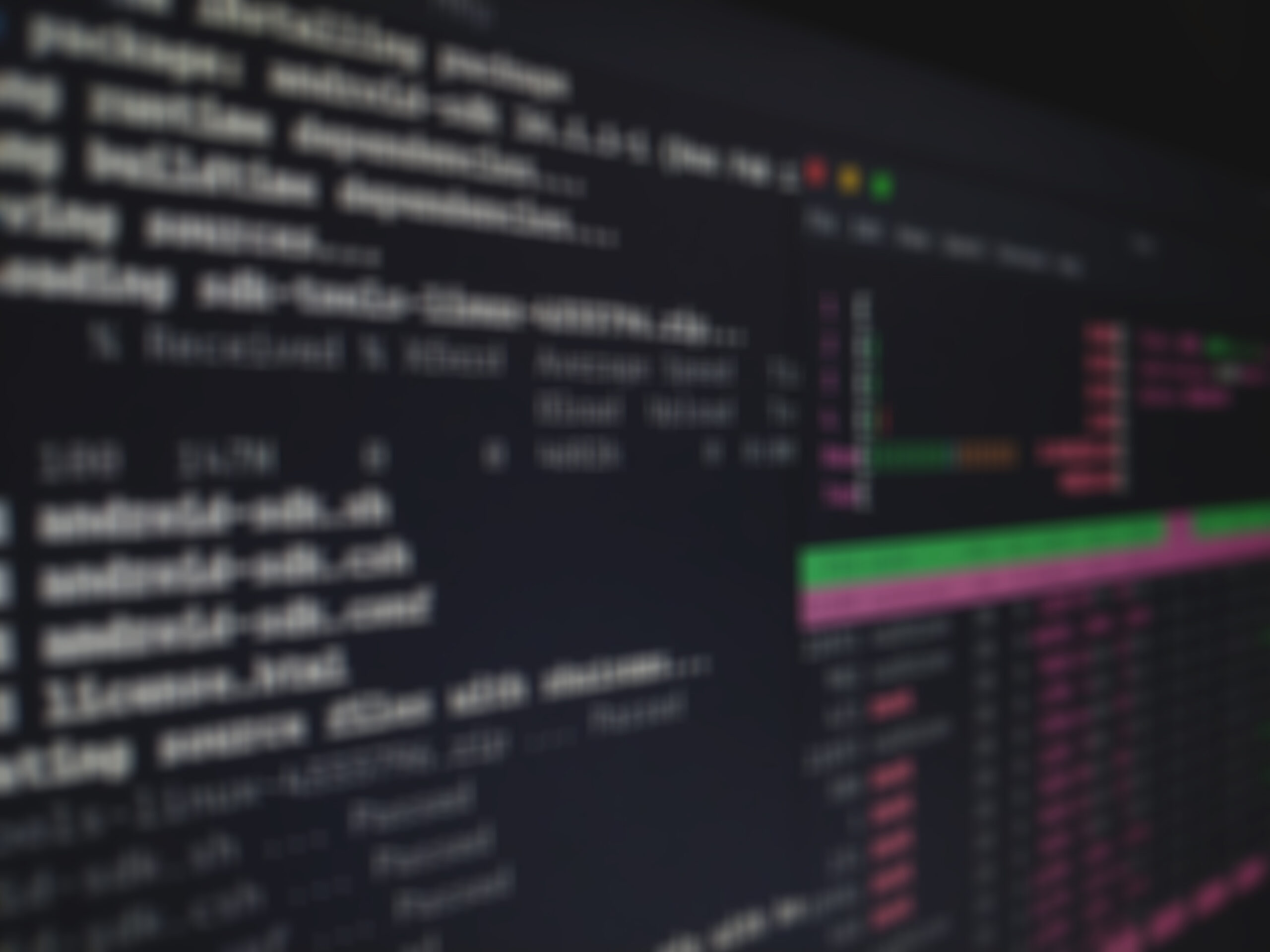 ITKv4
Ten years ago, the National Library of Medicine initiated a software development program to produce an open-source toolkit for the segmentation and registration of medical images, in particular the Visible Man and Visible Woman data. The outcome of that program was the Insight Toolkit (ITK). From those humble beginnings, ITK is now used in basic and applied research, commercial medical image processing and surgical guidance systems around the world.
It is estimated that ITK is contributing to projects in over 45 countries and in nearly every major academic and industry research lab involved in medical image analysis. Applications areas include radiology, neurology, pathology, oncology, neurosurgery and even satellite imagery. Data being processed by ITK includes nearly every medical imaging modality such as electron microscopy, MRI, CT, PET, ultrasound, video and OCT.
This year, ITK will be going through a major refactoring process to ensure its vitality for the next ten years. The main goals of the refactoring process are:
Revise the ITK architecture to support modern algorithms and to adopt a module-based architecture that supports development and distribution of optional extensions and specialization of ITK for specific problem domains (e.g., a "4D confocal microscopy" module for ITK).
Simplify the use of ITK by offering the power of ITK in intuitive packages the seamlessly integrate with Python, Java, and other programming languages.
Accelerate the algorithms of ITK by supporting distributed and GPU-based processing.
Improve DICOM support in ITK so that its use of clinical data and integration into clinical workflows is assured.
The new version of ITK will be designated ITKv4. ITK 3.20 will be the stable and reliable release offered to users during the time ITKv4 is being developed.
In this refactoring, ITK will be improving its support for domain fields beyond radiology. In particular, we will be working closely with application developers in the fields of microscopy, remote sensing and computer vision. Providing better support for these domains will require the need to introduce changes and improvements in ITK for fundamental features such as support for very large images (larger than 4GB), support for multi-channel images and the addition of support for new file formats (i.e., LSM, TIFF variations, JPEG2000, among others).
Information about the modifications to ITK will be disseminated following the "Release Early, Release Often" rule of Open Source software development. We've started with an initial clean up of the toolkit, following the migration plan described on the ITK Wiki and schematically described below. As you can see, one of the first steps was moving from CVS to Git. You can now clone ITK by following the instructions provided on the ITK Wiki.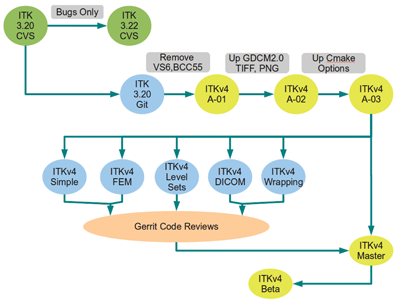 The work in ITKv4 will be performed collaboratively between multiple groups including, but not limited to: GE Research / the Mayo Clinic, the University of Iowa, the University of Pennsylvania, Harvard University, Cosmo and Kitware.
The design and development activities will be coordinated on the ITK developer's mailing list and through an ITK conference call. Both of these venues are open to the public and we encourage all users to join these events and contribute their points of view to the process. In order to coordinate the work of the approximately 30 developers contributing to ITK's redesign, we have also put in place a code review process based on Gerrit, a tool that is also used by the Android community. The current workflow of software patches is summarized in the image below.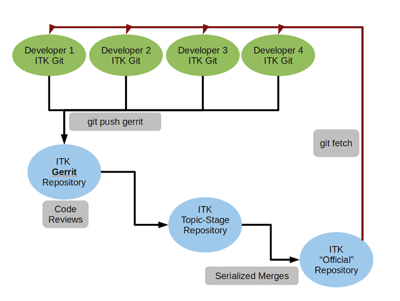 As the development process settles in, this workflow will likely be readjusted in order to better accommodate the needs of the ITK development community. We look forward to working with the larger community of ITK users to make sure that ITKv4 is a useful and powerful resource for many different applications.
Kitware awarded administrative supplement for Neurosurgery Simulation
Kitware was awarded an administrative supplement by the National Institutes of Health (NIH) to fund the purchase of a multi-GPU computer produced by RenderStreams, Inc.
This supplement dovetails on a two-year grant from the NIH, totaling more than $600,000, to focus research efforts on developing approach-specific, multi-GPU, multi-tool, high-realism neurosurgery simulation The computer will enable the computational acceleration of several processes simultaneously in the context of a neurosurgery simulator. This includes an emphasis on multi-grid finite elements for tools that manipulate tissue and multi-grid meshless methods with one GPU assigned per resolution level.
The goal of the research is to work toward an interactive simulator that replicates future neurosurgery cases of young surgeons, enabling hospitals faced with compressed intern schedules to accelerate training and improve skills.
Late Fall/Winter Conferences and Events
ACCV 2010
November 8 – 12, in Queenstown, New Zealand. ACCV 2010 is the tenth Asian Conference on Computer Vision. Amitha Perera will be in attendance. http://www.accv2010.org/
SC10
November 13 – 19, in New Orleans, Louisiana. SC10 is a platform for HPC researchers and developers to demonstrate, debate and discover innovative, cutting-edge advances in computation, networking, storage, and analysis. Andy Bauer, Berk Geveci, Bill Hoffman and Will Schroeder will be in attendance. http://sc10.supercomputing.org/
RSNA 2010
November 28 – December 3, in Chicago, IL. Rick Avila will be presenting at the RSNA 2010 Quantitative Imaging Reading Room during the RSNA annual meeting. Rick and Stephen Aylward will be giving a talk on open source in medical image analysis. Kitware will be exhibiting in Hall D Lakeside Center Level 3. Wes Turner and Brad Davis will also be in attendance. http://rsna2010.rsna.org/
IEEE Winter Vision Meeting 2011
January 5 – 7, in Kona, Hawaii. Anthony Hoogs will be attending the Workshop on Applications of Computer Vision which will include tracks on Biometrics and Motion and Video Computing. http://vision.cs.byu.edu/wvm2011/wvm.php
New Employees
Lynn Bardsley
Lynn joined Kitware as a Program Manager for the Computer Vision Group in July. She received her M.S. in Computer Science from Union College.
Dhanannjay Deo
Dr. Deo joined Kitware as a member of the Scientific Visualization Group in August. He received his B.S. in Mechanical Engineering from the University of Pune, his M.S. from the Indian Institute of Science and his Ph.D. from Rensselaer Polytechnic Institute.
Xiaoxiao Liu
Xiaoxiao joined Kitware as a member of the Medical Imaging Group in September. She received a B.E. in Computer Science and an M.E. in Pattern Recognition and Intelligent Systems from Huazhong University of Science and Technology and her Ph.D. in Computer Science from the University of North Carolina at Chapel Hill.
Danielle Pace
Danielle joined Kitware as a member of the Medical Imaging Group in July. She received her B.CmpH in Biomedical Computing from Queen's University and M.ESc. in Biomedical Engineering from The University of Western Ontario.
Ben Payne
Ben joined Kitware as a member of the Medical Imaging Group in September. He received his B.S. in Applied Science with a focus on Computer Engineering from the University of North Carolina at Chapel Hill and his M.S. in Computer Science from the University of Illinois at Urbana-Champaign.
 
Zhaohui Harry Sun
Dr. Sun joined Kitware as a member of the Computer Vision Group in June. He received his B.E. and M.E. degrees in Electrical Engineering and Information Science from the University of Science and Technology of China, and his M.S. and Ph.D. in Electrical and Computer Engineering from the University of Rochester.
Nicole Wardle
Nicole joined Kitware's as a member of the Computer Vision Group in September. She received her B.S. and M.S. in Computer Science from Rensselaer Polytechnic Institute.
Matthew Woehkle
Matthew joined Kitware as a member of the Computer Vision Group in August. He received his B.A. in Computer Science and Mathematics from Concordia University.
Ted Yapo
Ted joined Kitware as a member of the Computer Vision Group in July. Ted recieved his B.S. and M.S. in Engineering Physics from Rensselaer Polytechnic Institute.
Kitware to Offer Online Paraview course
Starting in November, Kitware will be offering instructor-led online courses covering our open-source products. This will allow our global community to obtain training without the hassle or expense of long distance travel. Each short session will be targeted at a specific topic and topics will be offered frequently, allowing our users to easily fit this productivity-boosting training into their busy schedules. For more information about the new online courses, visit our website and select Training Courses from the Product menu. For information about scheduling a customized course at your location, please contact us at courses@kitware.com.
Kitware goes international
To better serve our international customers and collaborators Kitware is opening two new offices. The first, in Lyon, France, will be lead by Julien Jomier. Julien has been instrumental in developing MIDAS, Kitware's Scientific Data Management system, and has extensive experience in medical imaging and agile software process. The second office, in Bangalore, India, will be led by Karthik Krishnan. Karthik is an expert developer with deep knowledge of both VTK and ITK, as well as medical application development.
These two offices reflect Kitware's growing global presence. Our software is used worldwide in commercial, research, educational and government applications. These offices will enable Kitware to respond rapidly to customer needs, provide cost-effective support and consulting services, hire outstanding talent across the globe and collaborate more closely with our international partners. Please contact Kitware if you would like further information.
Employment Opportunities
Kitware is seeking candidates for the following software development positions: Informatics, Biomedical Imaging, Computer Vision, and HPC Visualization and Data Analysis.
Our comprehensive benefits package includes flex working hours, six weeks paid time off, a computer hardware budget, 401(k), medical insurance, dental insurance, vision insurance, flexible spending account (FSA), life insurance, short- and long-term disability, visa processing, a generous compensation plan, bonus, and free coffee, drinks and snacks.
Interested applicants should forward a cover letter and resume to jobs@kitware.com to ensure their immediate consideration.