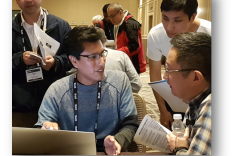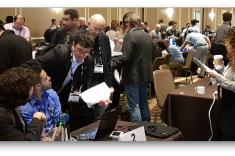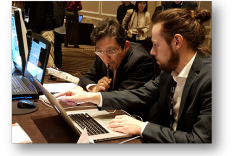 The SPIE Medical Imaging conference is hosting an evening workshop featuring live demonstrations that are complementary to the topics of SPIE Medical Imaging.
Started in 2009, the goal of this annual workshop is to provide a forum for system and algorithm developers to show off their creations. The intent is for the audience to be inspired to conduct derivative research, for the demonstrators to receive feedback and find new collaborators, and for all to learn about the rapidly evolving field of medical imaging.
The Live Demonstration Workshop will be held on Tuesday, 13 February, from 5:00-7:00 pm as part of the 2018 SPIE Medical Imaging Conference (10-15 February, Houston, Texas, USA).
The Live Demonstration Workshop invites participation from all of the conferences that comprise the SPIE Medical Imaging Conference. We encourage the CAD, Digital Pathology, Image Processing, Imaging Informatics, Image Perception, Physics, and all other conferences to participate.
Workshop demonstrations include samples, systems, and software demonstrations that depict the implementation, operation, and utility of cutting-edge as well as mature research. Having an accepted SPIE Medical Imaging paper is not required for giving a Live Demonstration; however, authors of SPIE Medical Imaging papers are encouraged to submit demonstrations that are complementary to their oral and poster presentations.
The session will include a Certificate of Merit Award presented to one demonstration considered to be of exceptional interest. We invite all workshop visitors to vote for three of their favorite demonstrations, with the final winner chosen from the top scorers by a group of appointed judges.
To learn more about the live demonstrations workshop, please visit the SPIE Medical Imaging Technical Event website: