Exonicus and Kitware Collaborate to Develop a Trauma Simulator Using the Pulse Physiology Engine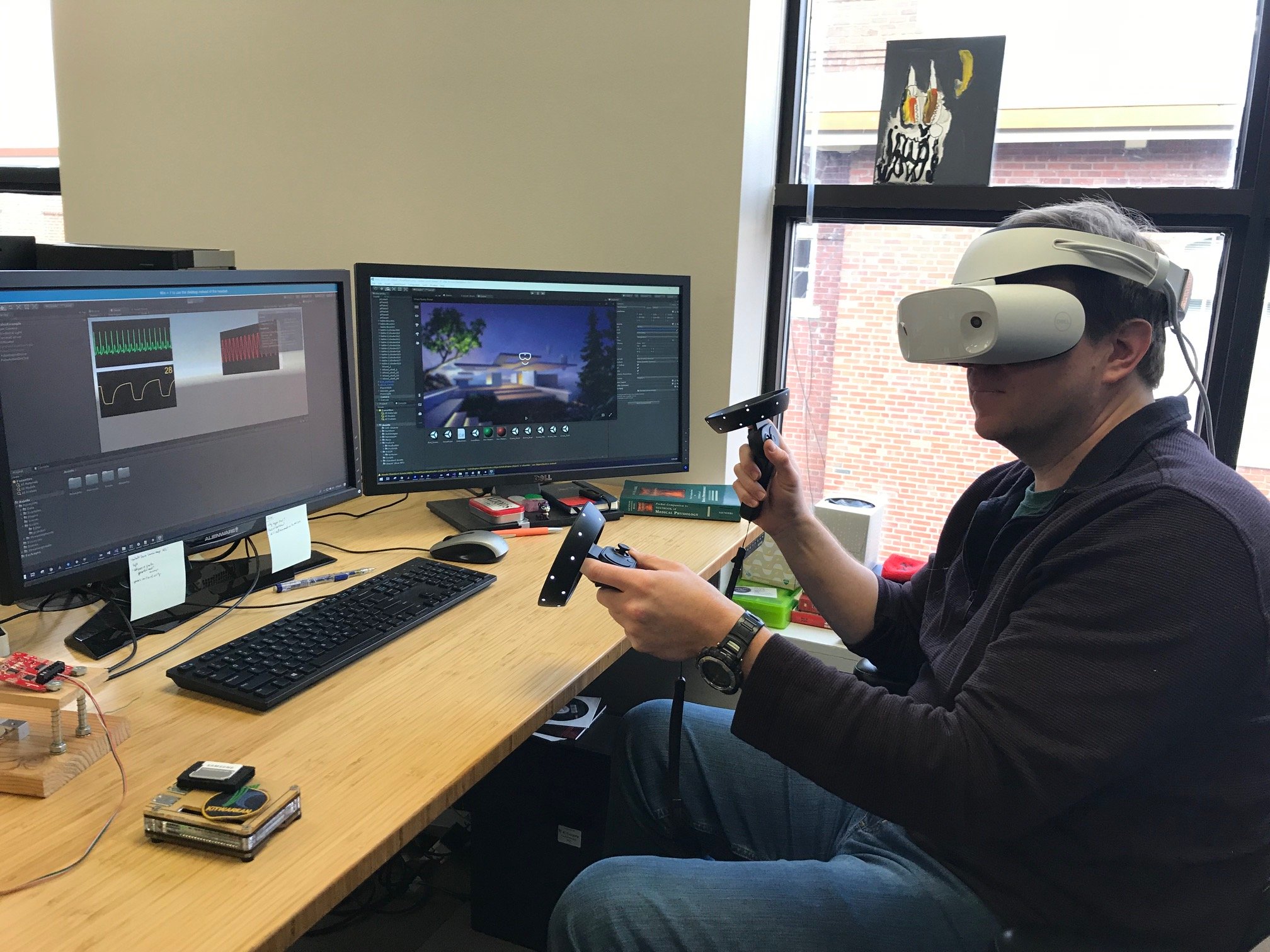 Introduction
The top three causes of preventable death on the battlefield are hemorrhage, tension pneumothorax, and airway trauma. Training to appropriately treat these injuries is key to improving the outcomes associated with traumatic injury. Medical simulation, including virtual reality training, provides immersive content for improving the knowledge and treatment skills of a variety of caregivers for those in both military and civilian life. By coupling a dynamic patient physiology simulation with immersive content, a more reliable, consistent, and effective training solution is produced.


The Company: Exonicus – Anatomy Next
Exonicus, Inc. is a technology company founded in 2015 and headquartered in Seattle, WA. Exonicus is a leader in developing simulation software for medical education and healthcare. Under the Anatomy Next banner, they have developed a suite of 3D medical software tools that captures the human body for accurate simulation of diagnosis and treatment in all phases of medical care.
Need: Why Exonicus Came to Kitware
Exonicus has been creating a virtual reality emergency medicine training simulator for military medical personnel using the Unity game engine. This work is led by Dr. Kyle Couperus at Madigan Army Medical Center and funded by the Telemedicine and Advanced Technology Research Center (TATRC). The team needed to include dynamic physiological feedback on the patient's condition in their training environment. This included the need to represent a wide range of injuries to begin the simulation and account for user actions throughout the training scenario. Pre-scripting the scenarios would prove too limiting and could lead to poor training outcomes. After investigating how to incorporate physiology into their simulation, Janis Kondrats, the co-founder of Exonicus and a project manager for emergency medicine trauma simulations, wrote an article reviewing physiology engines, including the Pulse Physiology Engine. Based on this information, we (Kitware and Exonicus) began collaborating on this development.


Pulse is an open-source physiology engine with a public repository for community use, advancement, and collaboration in human physiology simulation research. Pulse is comprised of adult computational physiology models that can be used for research and education and paired with simulation modalities for a complete user experience.

Solution: Unity Integration of the Pulse Physiology Engine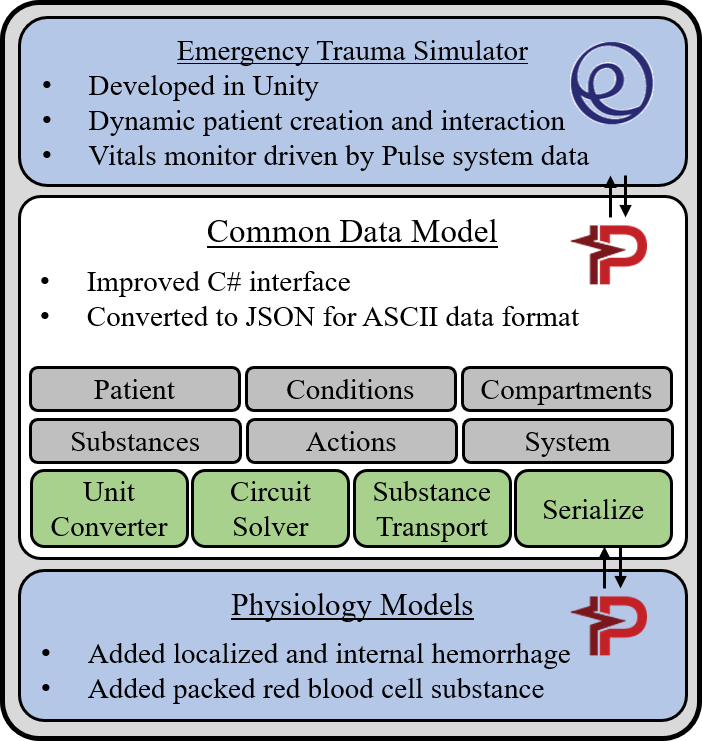 The Kitware Pulse team worked with Exonicus to integrate the Pulse Physiology Engine into their emergency medicine trauma simulator. The trauma simulator is built in Unity, requiring several architectural updates to ensure easy communication between Unity C# scripts and Pulse. We expanded the Pulse Common Data Model to include significant functionality in C# and changed our google protobufs implementation to use JSON as the ASCII data file format.

We also updated the Pulse models to allow for localized hemorrhage and the administration of packed red blood cells.
We developed a vital sign monitor in Unity and populate the monitor with both waveforms and numeric data for dynamic patient physiology updates. The prototype simulator is shown with vital sign feedback based on user interaction with the simulation in the video below.
Summary
This project shows an example of how Kitware partners with medical simulation companies to build innovative and powerful solutions to address significant challenges in the medical community. We will continue to expand the Trauma Simulator with Exonicus in the future. To learn more about how Kitware's collaborative work, please read the "Kitware Customer Highlight" series. To learn more about the Pulse Physiology Engine and how we can help you build a custom application, please visit the Pulse site or contact us at kitware@kitware.com. In addition, visit us at BMES Frontiers in Medical Devices 2019, March 19-21 to see our poster titled "Simulation of Asthma Attack and Inhaler Actuation using the Pulse Physiology Engine" or at the MTEC Annual Meeting, March 20-21.

Disclaimer
This work was supported by the Telemedicine and Advanced Technology Research Center (TATRC) at the US Army Medical Research and Materiel Command. Opinions, interpretations, conclusions and recommendations are those of the author and are not necessarily endorsed by the US Army. This work was funded by the AMEDD Advanced Technology Initiative (AAMTI), through the Telemedicine and Advanced Technology Research Center (TATRC). The Emergency Medicine Department at Madigan Army Medical Center contributed to the content and creation of these products. The views/content are those solely of the authors and do not directly represent Madigan, the US Army, or the DOD.