January 2011: Kitware News Part 2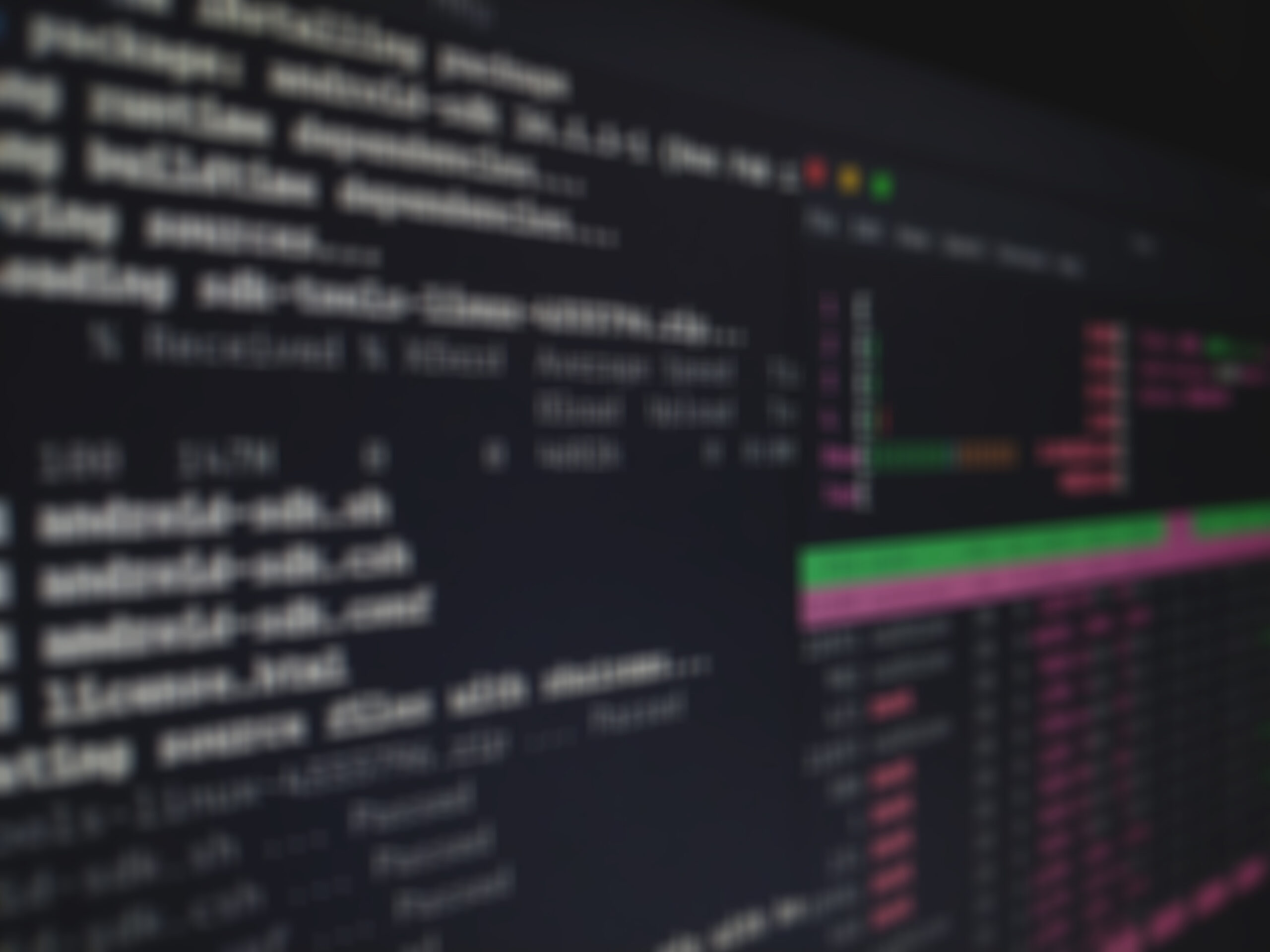 New Offerings for Open Source Courses
Kitware is pleased to announce two new options for training courses. We will be hosting our first course in Europe February 2-4, 2011 in Lyon, France. This course will cover the Insight Segmentation and Registration Toolkit (ITK), the Visualization Toolkit (VTK), CMake and ParaView, and is suitable for developers who would like to learn more about these tools and for project managers looking to integrate these software tools into their team's development environment. The course will be a hands-on experience and attendees can work in the development environment of their choice (Windows, Linux or Mac), allowing them to better focus on the content.
Additionally, Kitware is debuting new online courses. There will be various topics covered on the different toolkits, including ITK, VTK, CMake and ParaView. A variety of instructor-led 90-minute online courses will be offered, covering both introductory and more advanced topics in each open source project.
For a complete course catalog with detailed descriptions, course calendar and registration information, please visit the training page on our website, www.kitware.com. If you would like to arrange a custom course tailored to your precise needs, please email courses@kitware.com or call us at (518) 371-3971.
Kitware Honors Dedicated Employees
In December, Kitware presented Brad King and Berk Geveci with awards commemorating their 10 years at Kitware, a career milestone that speaks to their strong commitment to both Kitware and the greater open source development community.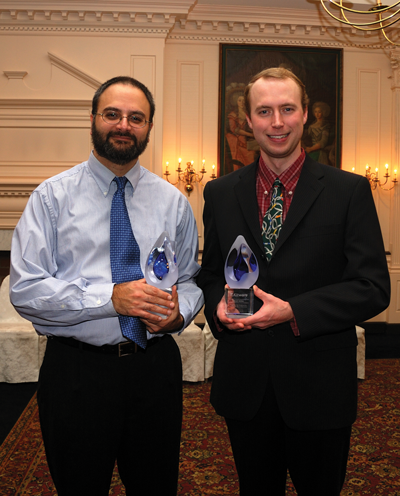 Berk Geveci and Brad King honored for 10 years of dedication
Brad King joined Kitware in June 2000 as a summer intern while pursuing his B.S. at Rensselaer Polytechnic Institute in Troy, NY. Brad continued working at Kitware while completing his undergraduate and graduate education, receiving his Ph.D. in December 2008. Dr. King is an invaluable member of the Kitware software development team, and is a lead contributor to CMake, Kitware's most popular open-source project. Brad is also a major contributor to VTK's advanced pipeline architecture and the ITK wrapping process.
Berk Geveci joined Kitware in September 2000 after completing his Ph.D. at Lehigh University, and a post-doctoral position at the University of Pennsylvania. Dr. Geveci has been instrumental in growing Kitware's scientific visualization business, and now serves as the Director of Scientific Computing for Kitware. Berk is one of the lead developers of both ParaView and VTK, and has extensive expertise in the areas of large scale parallel computing, computational dynamics, finite elements and visualization algorithms. His award-winning efforts have resulted in Kitware's tools being used in numerous government and commercial research labs, and on most of the world's top high-performance computing platforms.
Open Sourcing Microscopy: CSHL Meeting
In December, Luis Ibáñez and Dhanannjay Deo attended the Cold Spring Harbor Lab meeting on High Throughput Image Analysis in Phenotyping. Phenotyping is the study of observable characteristics of an organism resulting from the expression of its genes and their interaction with the environment. The meeting attendees discussed their work in image analysis in phenotyping, some of the challenges and obstacles they face in doing their research and possible methods for improvement.
One of the biggest challenges facing biologists in this field is the massive amount of data produced; it is now common to run experiments whose output amounts to several terabytes of data. Each researcher has several experiments in progress simultaneously and the need for storage and advanced image processing capabilities for this data is of the utmost importance.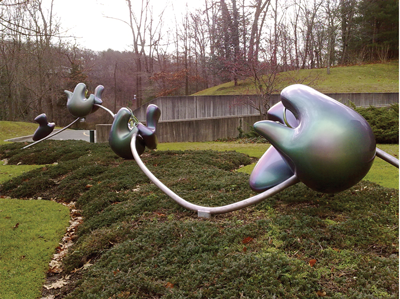 Cold Spring Harbor Lab, where Watson and Crick discovered the double-helix molecular structure of DNA.
Biologists have generally recognized the value of open source in research and helped usher in the open access movement. As such, the discussion on moving the field of microscopy image analysis forward included several references to open source solutions. The key topics included archiving for image storage, standard data formats and interoperability for data sharing, knowledge representation, interfaces and making open source resources interoperable, and funding issues. With open source as a feature of several of these topics, appropriate funding is necessary to develop high-quality maintainable software and an issue that needs to be addressed by funding agencies such as the NSF and NIH.
The talk was attended by representatives from top international labs and the developers of OME, ImageJ, Bio-formats and CellProfiler. The meeting was fruitful and some very interesting projects, such as spectral plant imaging and the use of micro-fluidics in C.Elegans worm phenotyping, were covered. There has been a follow-up meeting scheduled for April 2012.
Books Now Available on Amazon UK
To continue to better serve our European customers, Kitware is pleased to announce the availability of Mastering CMake and The VTK User's Guide on www.amazon.co.uk. This enables our European customers to obtain the books with less expensive and more flexible shipping options.
Mastering CMake is now in its fifth edition and covers CMake, the extensible open-source system that manages build processes in an operating system and compiler independent manner. The VTK User's Guide is in its eleventh edition and covers the Visualization Toolkit, an open-source, C++ toolkit for scientific visualization, informatics and 2D and 3D data processing.
We plan to extend the current offerings by adding more titles and additional Amazon sites in the coming year.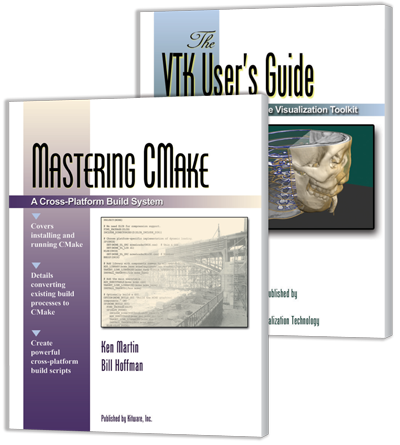 Upcoming Winter Conferences and Events
If you're interested in meeting with a Kitware representative at one of these events, email us at kitware@kitware.com.
IEEE Winter Vision Meeting
January 5-7 in Kona, Hawaii. The meeting is a set of co-located workshops: Applications of Computer Vision, Motion and Video Computing and Person-Oriented Vision. Kitware's Dr. Anthony Hoogs is a program co-chair for the Workshop on Applications of Computer Vision.
http://vision.cs.byu.edu/wvm2011/wvm.php
NA-MIC Project Week
January 10-14 in Salt Lake City, Utah. The project week provides hands-on R&D for image-guided therapy and neuroscience applications. Stephen Aylward, Will Schroeder, Julien Finet, Jean-Christophe Fillion-Robin, Zach Mullen, Danielle Pace and Dave Partyka will be in attendance.
http://www.na-mic.org/Wiki/index.php/2011_
Winter_Project_Week
IS&T/SPIE Electronic Imaging
January 23-27 in San Francisco, California. Arslan Basharat, Amitha Perera and Wes Turner will be presenting a poster "Tracking flow of leukocytes in blood for drug analysis." http://spie.org/x16218.xml
SPIE Medical Imaging
February 12-17 in Lake Buena Vista, Florida. SPIE is the premier conference for medical scientists, physicists, and practitioners in the field of imaging. Stephen Aylward is actively involved in this year's conference, serving as a program committee member for the Computer-Aided Diagnosis (CAD) conference and a co-chair for the CAD workshop. See the CAD workshop website for the call for participation.
http://www.kitware.com/workshops/SPIE_CAD_2011.html
IGSTK User Meeting
February 12, 2011 in Orlando, FL. This user meeting is an opportunity for collaborators and users to gather and discuss their research projects and experiences. Andinet Enquobahrie will be in attendance. http://public.kitware.com/IGSTKWIKI/index.php/IGSTK_User_Group_Meeting%2C_SPIE_2011
NA-MIC Registration Retreat
February 19-23 in San Juan, Puerto Rico. The retreat brings together registration algorithm researchers from NAC, NA-MIC, NCIGT and other organizations, including Kitware. Stephen Aylward, Danielle Pace and Will Schroeder will be in attendance. http://www.na-mic.org/Wiki/index.php/Event:2011_Registration_Retreat
VIZBI 2011
March 16-19 in Cambridge, Massachusetts. Jeff Baumes and Wes Turner will be presenting a tutorial on the fundamentals of VTK and ParaView and how they can be used to construct visualization pipelines used in biological research.
http://vizbi.org/2011/
New Hires
Laura Curthoys
Laura joined Kitware as an Office Assistant in October. Prior to joining Kitware, Laura worked extensively in operations and administrative support positions.

Michael Grauer
Michael joined Kitware as a developer for Digital Libraries and Informatics in our North Carolina office in November. He received his B.A. in computer science and history from the University of Texas at Austin and his M.S. in computer science from Drexel University. Prior to coming to Kitware, Michael worked as a bioinformatics specialist at the Children's Hospital of Pennsylvania.

Deb Howell
Deb joined Kitware as the Office Manager for the Chapel Hill office. Prior to joining, Deb was the office manager for a security company. She graduated from the Architectural Engineering program at Greenville Technical College.

Charles Marion
Charles originally joined Kitware in 2008 as an intern in the Chapel Hill office and is now an R&D engineer. He is working in Kitware's office in Lyon, France, where he is involved in projects in medical imaging, computer vision and data publication. Charles received his Master's degree in electrical engineering and information processing from the University of Lyon.

Katie Osterdahl
Katie joined Kitware as the Communications Specialist in October. Prior to joining Kitware, Katie worked as the marketing and communications assistant for an insurance company in London, England. She received her B.S. in Advertising from Syracuse University in 2008.

Vicki Rafferty
Vicki Rafferty joined Kitware in December as the new Contracts Administrator. Prior to joining, Vicki worked for RPI in their Research Administration and Finance department, most recently as the grant administrator.

Linus Sherrill
Linus joined Kitware in October as an R&D Engineer for the Computer Vision team. He received his B.S. in computer science from the State University at Albany and M.S. in computer science from Union Graduate College. Prior to joining Kitware, Linus worked at Infoscitex as a software architect and developer.
Kitware Internships
Kitware Internships provide current college students with the opportunity to gain hands-on experience working with leaders in their fields on cutting-edge problems. Our business model is based on open source software—an exciting, rewarding work environment.
Kitware Internships can range in duration, from a summer or winter break to a year, enabling the intern to delve into a project and make a contribution toward a real-world solution.
Interns are valuable members of their respective teams and have sometimes continued to contribute to Kitware as employees after the completion of their internship. One of Kitware's early employees, Brad King, started as an intern and recently celebrated 10 years at Kitware. Nikhil Shetty and Charles Marion also started as interns and are now members of the research staff.
If you are interested in applying for a Kitware Internship, please send your resume to internships@kitware.com.
Employment Opportunities
Kitware is seeking talented, motivated and creative individuals to become part of our team. As one of the fastest growing companies in the country, we have an immediate need for software developers, especially those with
experience in computer vision, scientific computing and biomedical imaging.
At Kitware, you will work on cutting-edge research problems alongside experts in the fields of visualization, medical imaging, computer vision, 3D data publishing and technical software development. Our open source business model means that your impact goes far beyond Kitware as you become part of the worldwide communities surrounding our projects.
Kitware employees are passionate and dedicated to innovative open-source solutions. They enjoy a collaborative work environment that empowers them to pursue new opportunities and challenge the status quo with new ideas. In addition to providing an excellent workplace, we offer comprehensive benefits including: flexible hours; six weeks paid time off; a computer hardware budget; 401(k); health, vision, dental and life insurance; short- and long-term disability, visa processing; a generous compensation plan; profit sharing; and free drinks and snacks.
Interested applicants are encouraged to send their cover letter and resume to jobs@kitware.com to ensure their immediate consideration.