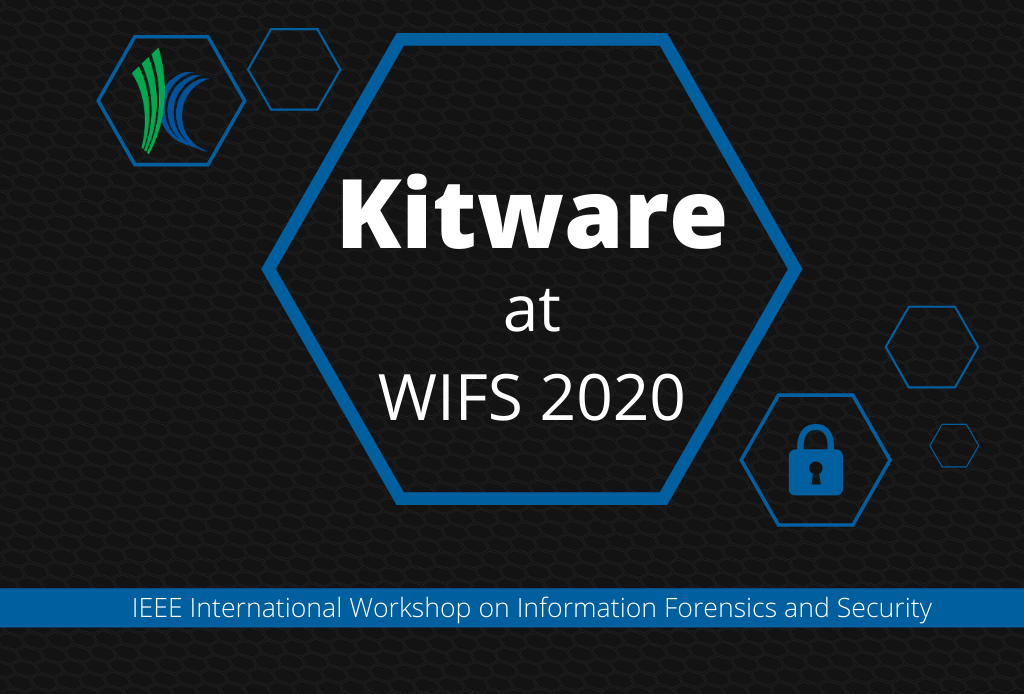 Kitware is looking forward to the upcoming IEEE Workshop on Information Forensics and Security (WIFS) that is being held virtually from Sunday, December 6 – Friday, December 11. This event is organized by the IEEE Information Forensics and Security (IFS) Technical Committee of the IEEE Signal Processing Society and brings together researchers from various disciplines related to information forensics and security.
The theme of WIFS 2020 is "Living in Synthetic Reality." Participants will explore the impact of synthetic content generation on information integrity and discuss its effect on society. Attendees will partake in special sessions, keynote speakers, and hands-on tutorials that discuss emerging challenges, exchange new ideas, and share results and technical expertise.
Each year, Kitware strives to share new ideas and drive innovation and collaboration for new technology development within this community. We are proud to have Anthony Hoogs, senior director of computer vision, representing Kitware at WIFS 2020. He is serving as the general co-chair for this workshop. His vast experience in image and video forensics has earned him this prestigious role.
The WIFS conference is extremely competitive, with the paper acceptance rate slightly below 30%. That's why Kitware was very proud to receive the Best Paper Award in 2019 for SPN-CNN: Boosting Sensor-Based Source Camera Attribution with Deep Learning. Co-authored and presented by principal engineer Matthias Kirchner and R&D engineer Cameron Johnson, this paper explores deep learning methods to advance source camera identification based on sensor noise in a data-driven framework. For more details, read Kitware's Matthias Kirchner and Cameron Johnson Receive Best Paper Award at IEEE Workshop.
Kitware's Computer Vision Team
Our Computer Vision Team specializes in image and video forensics. We continually develop and evolve our algorithms and techniques to automatically detect image and video manipulation, even in large data archives. In addition to exposing fake or altered images and videos, we combine advanced computer vision and deep learning techniques to localize the area of manipulation. Some of our key capabilities include:
Detecting hidden content using overhead imagery forensics.
Identifying dropped frames to uncover video forgery. Our deep learning approach identifies temporal inconsistencies in video.
Detecting object insertion or removal based on inconsistencies in reflections. Kitware assesses reflection integrity by predicting reflection locations and geometry using scene context, then comparing reflections to directly imaged objects.
Kitware's Computer Vision Team is dedicated to advancing research and technology development to better understand and utilize artificial intelligence related to information forensics and security. If you would like more information about our computer vision team, please visit our website.