Kitware Launches MIQA, a New Open System for Medical Image Quality Assurance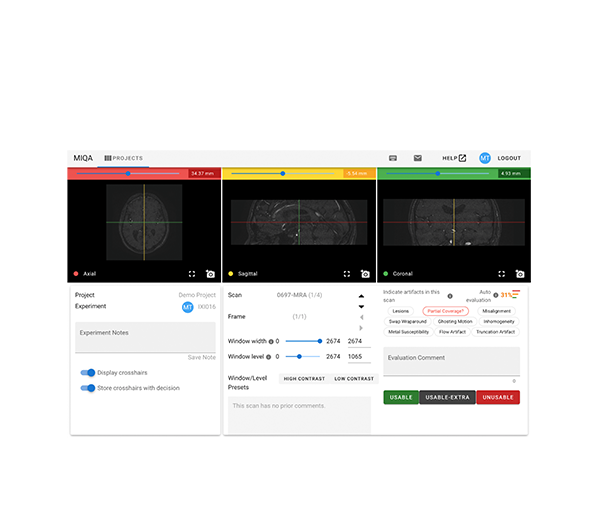 Kitware is excited to launch MIQA, a cloud-based application for medical image quality assurance. It facilitates collaboration and longitudinal studies by geographically diverse teams. We are excited to provide this system as open source with a permissive Apache 2.0 license, so that it can be extended and customized for all kinds of solutions for research or commercial use.
Why should you use MIQA?
You have brain scan data that you need to validate for quality. MIQA includes the most advanced features for this type of medical scan, with support for human workflows augmented by an intelligent AI model. The model, which is also open and available, automatically suggests potential scan deficiencies, such as partial coverage and ghosting artifacts.
You have other types of 3D medical scans that you need to validate. MIQA supports a human-based multi-tier review of these scans. It has permission controls, reviewer roles, recording reasoning for scan decisions, data import and export, and email support for pinging others on scan issues, including screenshots.
MIQA will continue to be extended and customized to add new features and workflows, including:
QA for 2D scans such as DICOM imagery
Building and integrating AI models for other types of medical scans beyond brain scans
More complex annotations, including region selection and multiple annotations per scan
Exporting annotations in standard formats used by imaging research programs
Support for 3D annotations
Kitware can work with you to adapt MIQA for your specific use case. For a guided demo, contact us, and we'll be happy to schedule a time to go through MIQA's features with you.
If you want to try it out on your own, head to miqa.kitware.com and click "Try the demo." Use the "Sign in as the demo user" button to play around with our test data.
---
Acknowledgments
This project is funded by the grant R44 MH119022 of the National Institute of Mental Health and Stanford Institute for Human-centered Artificial Intelligence (HAI) AWS Cloud Credit.