Kitware Receives 2023 Great Place to Work Certification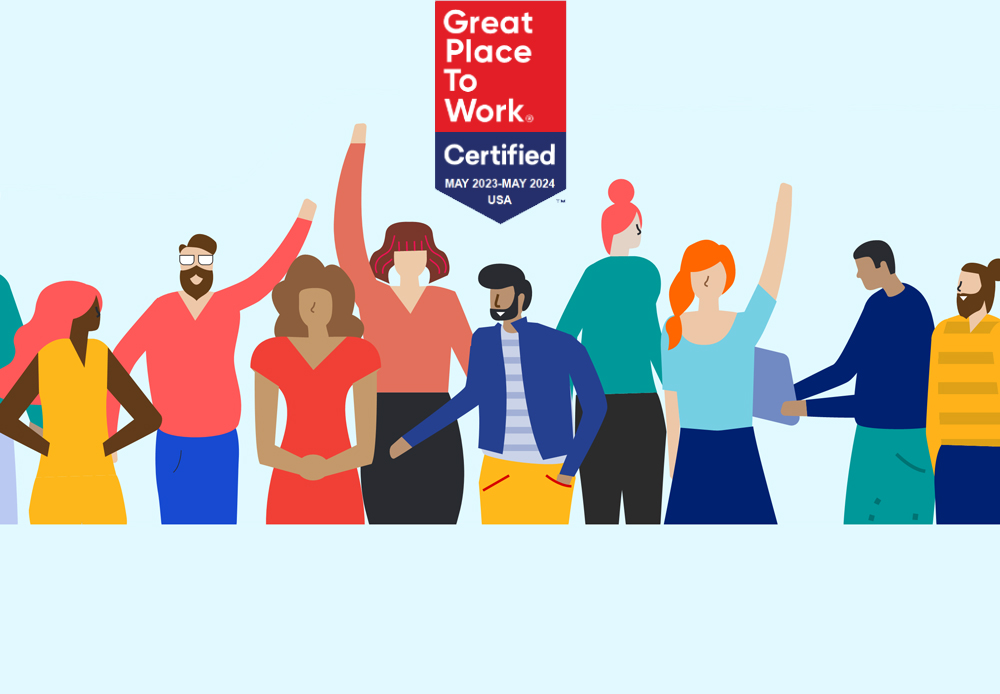 The software R&D company remains on the prestigious, national workplace award list for the third year in a row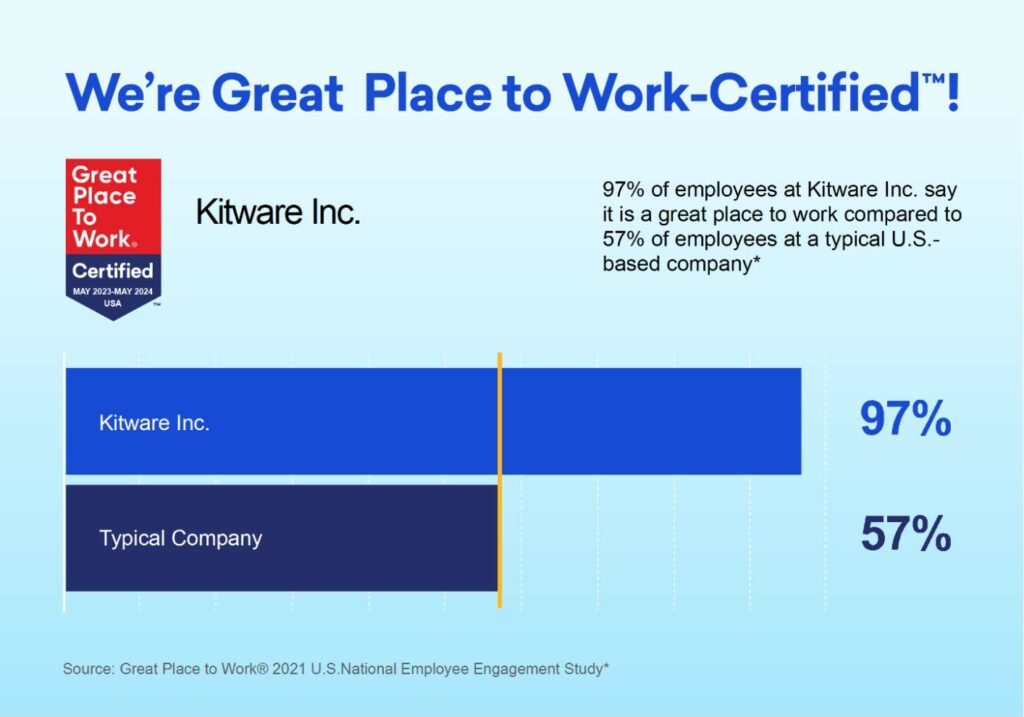 Clifton Park, N.Y. (June 26, 2023) – Kitware, a leader in developing custom software using open source technology and advanced AI, is proud to be Certified™ by Great Place to Work® for the third year in a row. This award is based on what current employees say about their experience working at Kitware. The company is pleased to share that 97% of employees* said they think Kitware is a great place to work – that's 40% higher than the average U.S. company.
The company credits its employees for enabling Kitware to fulfill its mission to positively impact the world by advancing science and technology. "Cultivating a positive work culture where people can thrive and enjoy coming to work every day is what helps Kitware deliver innovative solutions to our customers," said Lisa Avila, co-founder and CEO of Kitware. "It's our priority to recognize that fact and find meaningful ways to demonstrate to our employees how important they are to us."
Great Place To Work® is the global authority on workplace culture, employee experience, and leadership behaviors proven to deliver market-leading revenue, employee retention, and increased innovation. "Great Place To Work Certification is a highly coveted achievement that requires consistent and intentional dedication to the overall employee experience," says Sarah Lewis-Kulin, vice president of global recognition at Great Place To Work. "By successfully earning this recognition, it is evident that Kitware stands out as one of the top companies to work for, providing a great workplace environment for its employees."
According to Great Place To Work® research, job seekers are 4.5 times more likely to find a great boss at a Certified great workplace. Additionally, employees at Certified workplaces are 93% more likely to look forward to coming to work and are twice as likely to be paid fairly, earn a fair share of the company's profits, and have a fair chance at promotion.
Visit kitware.com/careers to learn what it's like to work at Kitware and to see a list of open positions.
*The data collected in this survey reflects Kitware employees in the U.S. and does not include data from Kitware Europe.
---
About Kitware
Kitware delivers innovation to its customers. As a software research and development company, Kitware solves the world's most complex scientific challenges using custom software solutions built on open source technology. In addition to custom software development, the company also offers technical support and training services for its open source tools. Since its founding in 1998, Kitware has developed a reputation for its unparalleled technical expertise and excellent customer service. The company is proud to be 100% employee-owned. For additional information, visit kitware.com or follow them on Twitter, LinkedIn, and Facebook.