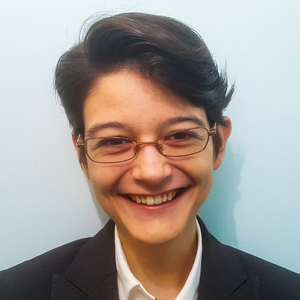 Lou Lawrence
R&D Engineer
Lou Lawrence is an R&D engineer on Kitware's Software Process Team in Clifton Park, New York. Lou assists with the development and maintenance of Kitware's open source platforms.
As part of the Open Source Software Technology Program (OSTP), Lou will be working towards a master's degree in computer science from Clarkson starting in the Fall of 2021.
Prior to joining Kitware, Lou was a marketing intern for Autotask. Lou's primary responsibilities included managing client lead data and creating promotional materials for the Autotask website.
Lou received a bachelor's degree in computer science and electronic arts from Rensselaer Polytechnic Institute.
Education
B.S. in computer science/electronic arts from Rensselaer Polytechnic Institute
Get to Know Lou
Why did you want to become a Kitwarean? Kitware's emphasis on research and open source projects is especially attractive to me. I would like to contribute to something meaningful in this field.
What do you love most about what you do? I like to create, and I find a lot more satisfaction in making something useful to others. There is a tangibility and responsiveness to code that isn't there for other fields, and the applications are practically boundless. It also feels like the field as a whole, places a much heavier emphasis on collaboration and freedom of information than possibly any other area of science.
Share something interesting about yourself that is not on your resume. I enjoy drawing and making hand-drawn animations. I collaborate often with my friends, and I (used to) attend conventions as an artist. I also really like reptiles, and I have two crested geckos, Pico and Xena. I am constantly cultivating tropical plants and reworking the design of their enclosures.