Lumeto Uses Kitware's Pulse Physiology Engine to Incorporate Real-Time Patient Feedback into InvolveXR Healthcare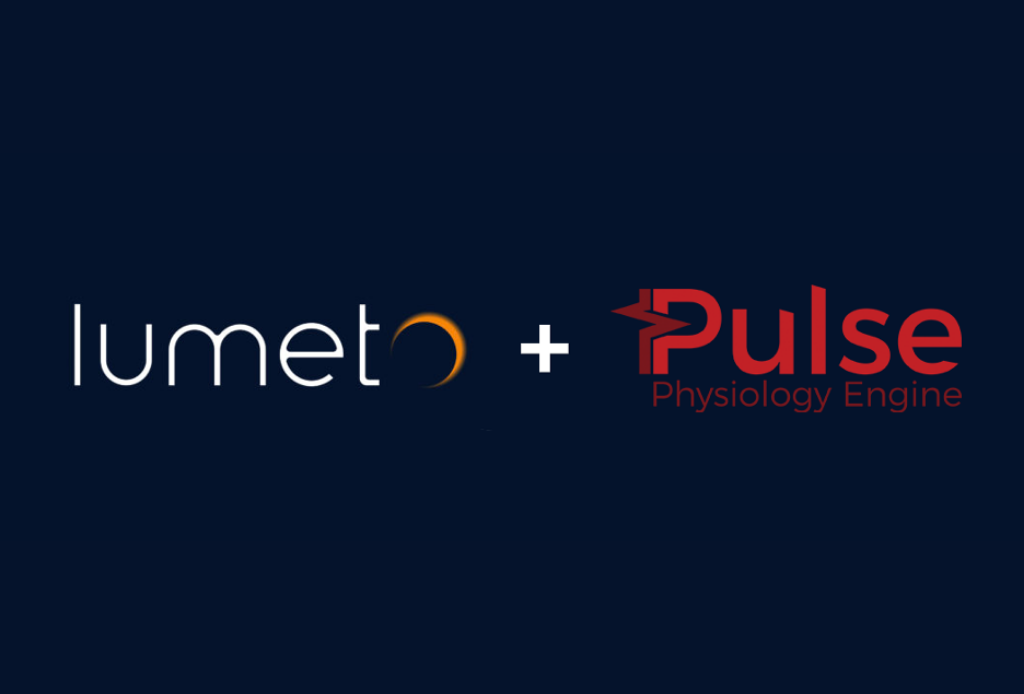 InvolveXR is an advanced immersive simulation platform developed by Lumeto, a health-tech metaverse company. A critical component of this immersive simulation lab is the ability to provide real-time and realistic patient feedback to students. Lumeto investigated multiple physiology engines and ultimately selected the Pulse Physiology Engine.
InvolveXR is currently in Beta development and will be launched at IMSH in Jan 2022. The Difficult Airway Management lesson by CHEST built on the InvolveXR platform was put through a pilot study across three institutions – Mayo Clinic, NYU Grossman School of Medicine, and Wake Forest – to test usability and efficacy. This pilot study results showed a significant impact on learning. This synchronous instructor-led lesson on InvolveXR enables multiple learners to enter the virtual ICU in real-time with full agency and telepresence (virtual reality ) or via a flatscreen as an Observer. The initial release was built around a virtual and functional ICU environment, complete with physiologically-accurate intelligent patient avatars, interactive equipment, and life-like drug interactions. Pulse was able to provide the human physiology feedback required to improve the realism of training to enhance the training experience. Using a series of numerical models that are physics-based, calculate in real-time, and respond to user-interaction, Pulse dynamically calculates patient response to trauma, disease, and treatment.
Since the initial project kick-off in April 2021, Kitware has been actively collaborating with Lumeto. We worked with the Lumeto development team and subject matter experts from the American College of Chest Physicians to add a bag-valve-mask model to Pulse, add Etomidate, Lorazepam, Norepinephrine, and Phenylephrine to the Pulse drug library, and develop custom patient scenarios for their application. Our other ongoing work is focused on the Advanced Cardiac Life Saving (ACLS) algorithm, which will include the addition of arrhythmias, such as ventricular tachycardia and fibrillation, pulseless electrical activity, and pulseless ventricular tachycardia. We are also thoroughly testing the cardiopulmonary resuscitation feature in Pulse by integrating it into InvolveXR.
"Realism in immersive simulation to enable enhanced learning and retention is a key goal for us at Lumeto. We are glad to have partners such as Kitware, who help us in delivering this realism with top-notch scientifically validated physiology through Pulse. Because of their open source business model, we were able to quickly evaluate the software at a low level and via their sample tools easily understand the wealth of features the library would add to our product. I'm confident that our spatial capabilities with the Pulse Physiology Engine can truly bring realistic and effective simulation to the learners", affirms Ben Unsworth, CTO, and Cofounder of Lumeto.
The video below demonstrates the InvolveXR Healthcare Platform with Pulse. As the user interacts with the headset and controls, Pulse applies the treatments to the patient, provides vital sign feedback for the monitor(s), and other key values to inform patient movement, palor, and appearance.
To try this system or learn more about InvolveXR and Pulse, visit us in person at the International Meeting of Simulation in Healthcare (IMSH) in Los Angeles from January 15-19. You can speak with us and see live demos at the Kitware (#714) and Lumeto (#812) booths.
For those not attending IMSH, you can learn more about the Pulse Physiology Engine and how we can help you build a custom application by contacting us at kitware@kitware.com. You can also learn more about some of our other collaborative work by visiting our "Kitware Customer Highlight" series. Our Medical Computing Team is composed of computer scientists, software engineers, and imaging experts who love taking on new challenges. We provide collaborative research, development, and technology integration services for medical and biomedical research centers, universities, and commercial companies. Our team looks forward to the opportunity to collaborate with you.