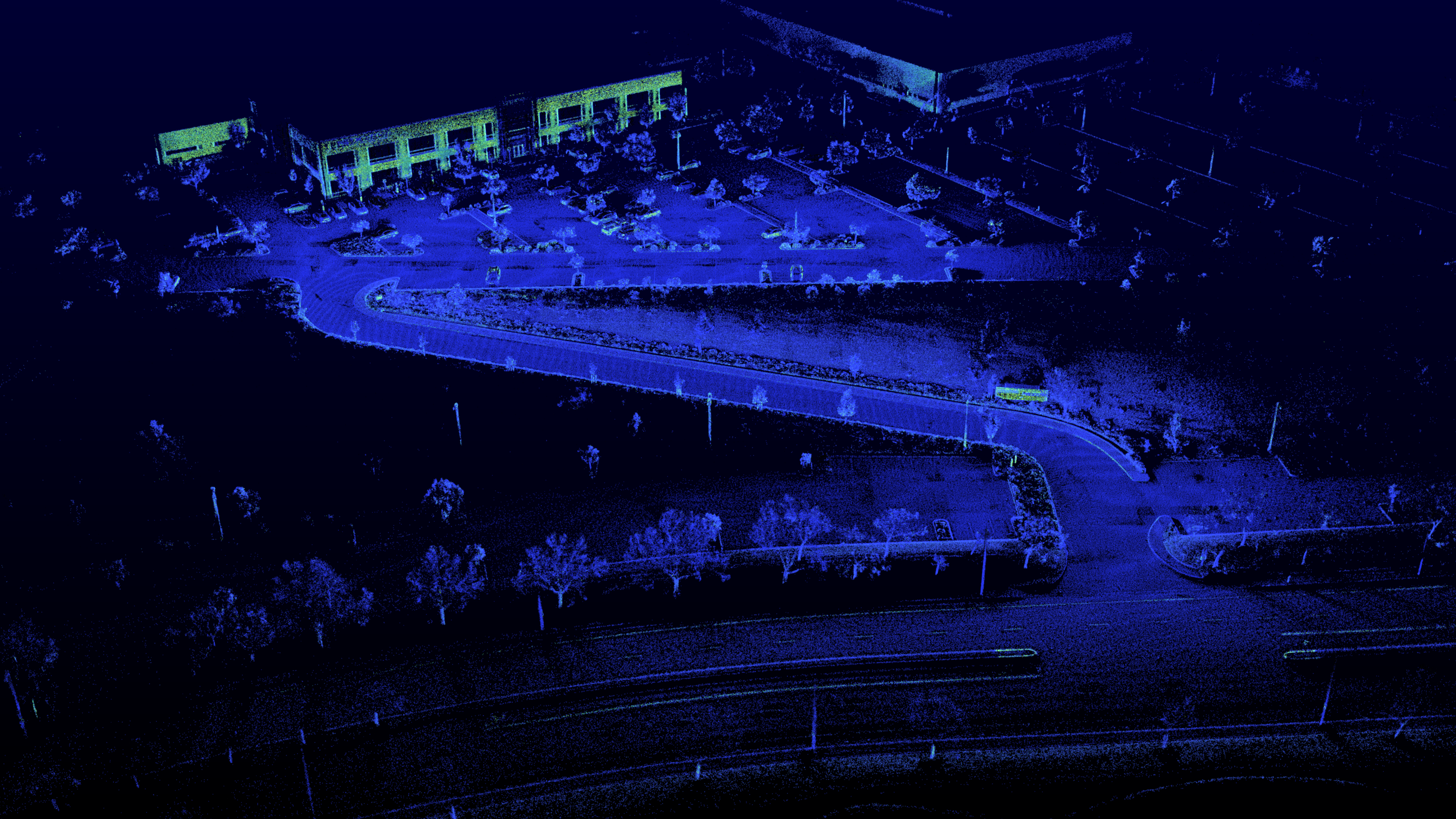 Kitware and Velodyne are pleased to announce the release of VeloView 5.1.
VeloView is a free open-source application built on ParaView technology. It is designed for the visualization and analysis of point cloud data generated by Velodyne Lidar sensors. In addition to performing real-time 3D visualizations of live laser data streams, VeloView can capture the data to pcap files, and playback pre-recorded data from the pcap files.
It can now handle Velarray M1600 sensors and Alpha Prime APF (Advanced Packet Format) streams, on top of previously supported sensors.
Take a look at some M1600 data captured by VeloView:
New in version 5.1 is the ability to display multiple sensors at the same time. A live transform tool comes with that functionality to be able to manually calibrate the sensors in real time.
Below is an example realigning 3 Vellaray M1600 sensors of the same scene as above using it
We may also mention other additional features in version 5.1 :
The ability to export to LAS / PCD / PLY file formats
The possibility to start a recording with an arbitrary initial time stamp. This can be used to force a synchronization of multiple recordings that are not inherently synchronized with UTC timestamps, and/or force different recordings to start at the same time even if they weren't recorded simultaneously.
Save different camera viewpoints
For example, in the video below we mounted 3 Velodyne sensors on a car: one VLP-16 (Puck), one VLP-32c, and one Alpha Prime (notice the high range and details of the point cloud).
We then re-adjusted their relative position with the same live transform tool as shown previously, and displayed them all together from the same pcap file (each recorded on different UDP ports so that Veloview can tell the sensor streams apart).
More information about new features and download links may be found here: https://www.paraview.org/VeloView.
For questions regarding support for the M1600 and Alpha Prime APF, please use the Contact Technical Support form at https://velodynelidar.com/contact-us/. Please make sure to include your sensor's Serial Number in the form.
VeloView also comes with a built-in user guide; hit the F1 key from the program to view it.