Kitware's Shared Ventilator Project Shows Favorable Results for Critical Situations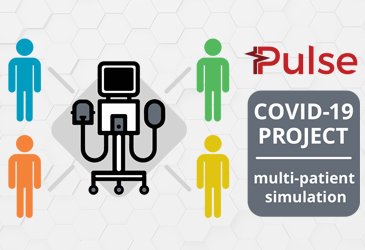 Shortly after the first wave of COVID-19 hospitalizations, the need for ventilators increased across the country and put strains on already limited supplies. In response to this medical emergency, Kitware funded a project to investigate the safety of connecting multiple patients to a shared ventilator.
Now that infections are on the rise again, this project has proven even more timely.
Kitware's research team developed a computational model to simulate varying scenarios in which two patients share one ventilator using our Pulse Physiology Engine platform. The study showed that patients with similar levels of lung function and comparable OSI were most likely to have satisfactory outcomes when paired to a single ventilator. Researchers did note that this should only be enacted in emergency situations where life-saving ventilators are in limited supply. More details about the results of this project can be found here.
---
"This study shows that the Pulse Physiology Engine can simulate realistic equipment mechanics and patient physiology for a variety of illness severities. Having the ability to leverage these capabilities during a pandemic provides valuable clinical information that can be used to inform medical treatment in resource-constrained situations."

Rachel Clipp, Ph.D., technical leader on Kitware's Medical Computing Team, and co-author of the study
---
Kitware's Pulse Physiology Engine
The Pulse Physiology Engine is a comprehensive human physiology simulator that drives medical education, research, and training technologies. The engine is C++ based, open source, and works with Windows, Mac, and Linux systems. Pulse can be used as a standalone application or integrated with simulators, sensor interfaces, and models of all fidelities.
If you are interested in using Pulse for your medical research, contact us at kitware@kitware.com. Partnering with Kitware will ensure that you are using the application effectively and getting the results you need. We can customize the application and tailor it to your specific project.
Our Medical Computing Team is composed of computer scientists, software engineers, and imaging experts. Specializing in the medical and biomedical industries, they provide collaborative research, development, and technology integration services for research centers, universities, and commercial companies. Learn more about the capabilities of our Medical Computing Team by visiting Kitware's Medical Computing page.