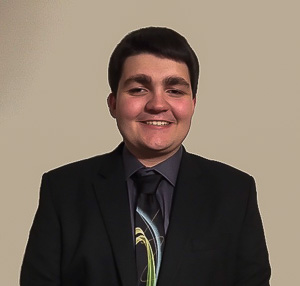 Stephen Crowell
R&D Engineer
Stephen Crowell is an R&D engineer on Kitware's Software Solutions Team located in Clifton Park, New York. Stephen is a participant of Kitware's Open Source Technology Program (OSTP), which will give him the opportunity to get hands-on working experience while concurrently earning a master's degree. This program allows Stephen to learn theoretical concepts while experiencing real-world working examples.
Prior to joining Kitware, Stephen was a software developer intern at Renaissance Electronic Services. He assisted with developing their mainline website as well as creating an internal website that allowed for clean testing data to be built for the Quality Assurance team.
Stephen received his bachelor's in computer science with a minor in mathematics from Rose-Hulman Institute of Technology in 2021.
Education
B.S. in computer science, minor in mathematics, from Rose-Hulman Institute of Technology, 2021
Get to Know Stephen
What made you want to become a Kitwarean? What originally drew me to Kitware was the ability to earn a master's and work at the same time. As I looked into Kitware more, I was amazed at the various technologies used and created. This was one of the first companies that I thought would be a good place to begin my professional career.
What do you love most about what you do? Being able to create new and useful technologies that make other people's lives easier is fulfilling and fun.
Share something interesting about yourself that is not on your resume. Before the pandemic, I spent most of my time outside of work mentoring a local high school robotics team. Being able to see high school students go from no knowledge to being able to describe some process to judges at a competition is simply amazing. With the pandemic going on, I have not been able to help as much as I would like to, but I plan to continue once life is back to "normal."