Ashleigh Smith: 2023 Women on the Rise Recipient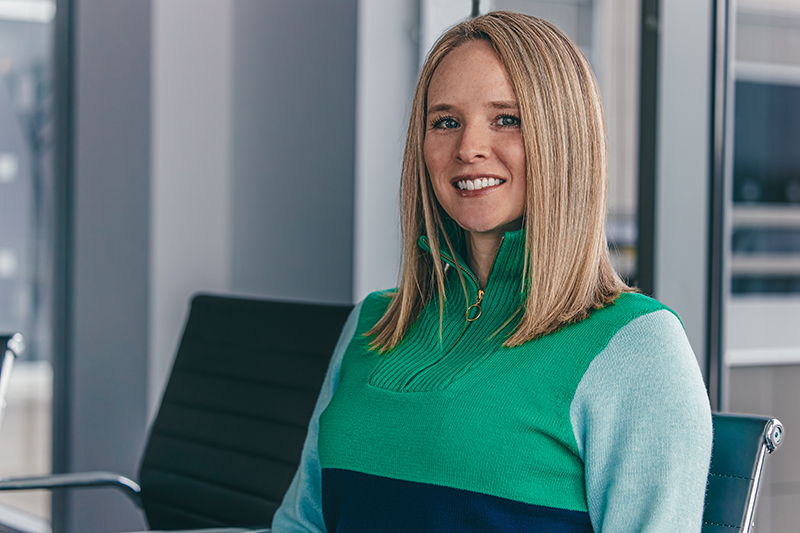 Ashleigh Smith, CPA, director of finance at Kitware, has been selected by the Albany Business Review as a 2023 Women on the Rise honoree. Women on the Rise celebrates local women who are rising stars in their industries; blazing a trail as the next generation of women leaders and are defining their mark on Capital Region business.
Ashleigh has more than 17 years of experience as a financial leader developing business strategies, providing operational guidance, and optimizing accounting and finance functions. During her tenure at Kitware, Ashleigh has played key roles in developing company goals and overseeing the organization's long-term financial health. She has a unique passion for corporate culture, communication, and relationship building that she has carried with her throughout her career. Her leadership and effective communication, coupled with her extensive knowledge of strategic business processes, have significantly contributed to Kitware as we've doubled our revenue to over $50 million and increased the number of states in which we have employees from three in 2016 to 28 in 2023.
Ashleigh's responsibilities increased over the years thanks to her excellent leadership skills and can-do attitude. She fosters a high-performing culture on the finance team, resulting in higher employee satisfaction, tenure, and productivity. In addition to her leadership role on the finance team, Ashleigh manages Kitware's administrative staff. Her additional responsibilities include leading research efforts associated with office expansions and remote/hybrid work, ensuring Kitware complies with state and local tax regulations.
Ashleigh oversaw the opening of Kitware's newest office in Minneapolis, Minnesota in January 2023 and secured new space for the Arlington, Virginia office in late 2022. These changes come on the heels of Kitware's significant 44,000-square-foot expansion at their headquarters in Clifton Park, New York in 2019, during which she also played an instrumental role. These strategic expansions have created the capacity for growth in those regions where the talent pools are high, as the competition for computer science researchers and developers is fierce.
One of the most impactful accomplishments Ashleigh achieved was her crucial role in Kitware's transition to an Employee Stock Ownership Plan (ESOP) in November 2020. Understanding Kitware had sunsetting shareholders, Ashleigh performed significant analysis to determine the most appropriate succession plan. While there were multiple paths forward, the most obvious succession strategy for Kitware was to transition to employee ownership to preserve the employee-centric culture. Throughout the transition, she managed the due diligence process of the sale, ensuring all financial records were complete, accurate, and available within the often aggressive deadlines. She created various forecast and cash flow financial models to provide to external parties and handled all of the valuation, accounting, and tax-related matters associated with the sale. Kitware is now one of only 310 ESOP companies headquartered in New York, providing employees with unique ownership opportunities.
Ashleigh is also involved in our community, having served as the Treasurer for the Brighter Choice Charter Schools, where she volunteered to share her financial expertise to allow other board members and organization management to effectively understand the financial position of the schools and strategize for future success. She also volunteered her time to teach a Junior Achievement program to local second-graders which is dedicated to educating students about entrepreneurship, work readiness, and financial literacy.
In addition to her exceptional accomplishments, Ashleigh is an excellent role model to all Kitware employees. She is a team player, always putting the success of the company before her personal gain. Ashleigh has true grit and never stops moving forward. Her energy and passion are evident in everything she does. We are proud to have her efforts recognized by the Albany Business Review and her peers, and all of us here at Kitware want to thank her for her hard work and dedication.