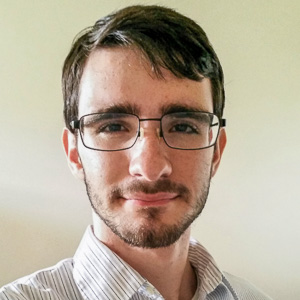 Daniel Riehm
R&D Engineer
Daniel Riehm is an R&D engineer who works remotely on Kitware's Computer Vision Team. He assists the team with finding solutions for real-world problems in areas such as 3D reconstruction, object-based change detection, feature detection, and motion pattern learning, and anomaly detection.
While attending school, Daniel held a variety of internships. At the University of Notre Dame, he worked on programming virtual reality tools to interface with a robotic arm. During his internship at Optum, Daniel worked on a web system for internal equipment requests. At his MathWorks internship, he spent most of his time with the Live Code Analysis team improving MATLAB's text editor. 
Daniel received his bachelor's degree in computer science from the University of Notre Dame.
Education
B.S. in computer science from the University of Notre Dame
Get to Know Daniel
What made you want to become a Kitwarean? I saw an opportunity to work on interesting problems while getting to stay in my home state of Minnesota. Kitware also seems to take care of its employees and the Kitwareans I interacted with throughout my interview process made me think I would get along with the people here.
Share something interesting about yourself that is not on your resume. I have played piano since elementary school, and have recently started composing my own pieces.