Kitware Announces the 2022 Recipients of its Open Door Scholarship Program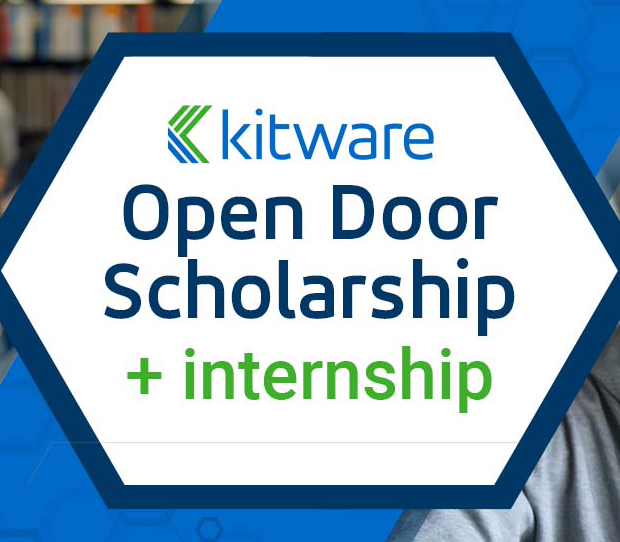 Kitware has awarded two Black high school seniors pursuing a computer science degree scholarship funds that will total $20,000
Clifton Park, New York. (July 14, 2022) – Kitware is pleased to announce the 2022 recipients of its Open Door Scholarship: Dreven Sesay from Troy High School in Troy, New York, and Justin Cleckley from Hillgrove High School in Powder Springs, Georgia. Kitware launched this scholarship program in 2021 to help create a more diverse and inclusive workplace and, ultimately, make a difference in the computing industry. The Open Door Scholarship program is for Black and African American high school seniors pursuing a degree in computer science.
Dreven and Justin will each receive a $5,000 scholarship for the 2022/2023 academic school year. In the fall, Dreven will be attending the SUNY University at Buffalo, and Justin will be attending the Georgia Institute of Technology. The scholarship can be renewed annually for a total of $20,000 over four years. Providing scholarship funds is only the first step toward opening doors for these students. Real-world experience is also crucial to starting a career in computer science. For that reason, each student will also be offered a paid summer internship at Kitware for the duration of their award.
The 2021 Open Door Scholarship recipients Emi Grady-Willis and Erika Abumere have completed their freshman years at the Massachusetts Institute of Technology (MIT) and University of Southern California (USC), respectively.
"With our first-ever scholarship recipients completing their freshman year of school, we are impressed by their accomplishments and honored to welcome our next set of students into the program," said Lisa Avila, co-founder and CEO of Kitware. "Being able to support these students on their journey and watch them grow is very rewarding for us."
The selection criteria for this program are predominately based on academic merit. Applicants need to demonstrate a passion for science and technology and provide a written statement about why they are interested in computer science. Kitware will be accepting Open Door Scholarship applications for the 2023-2024 academic school year in late 2022. Please visit the website for additional application requirements and to apply: kitware.com/scholarships.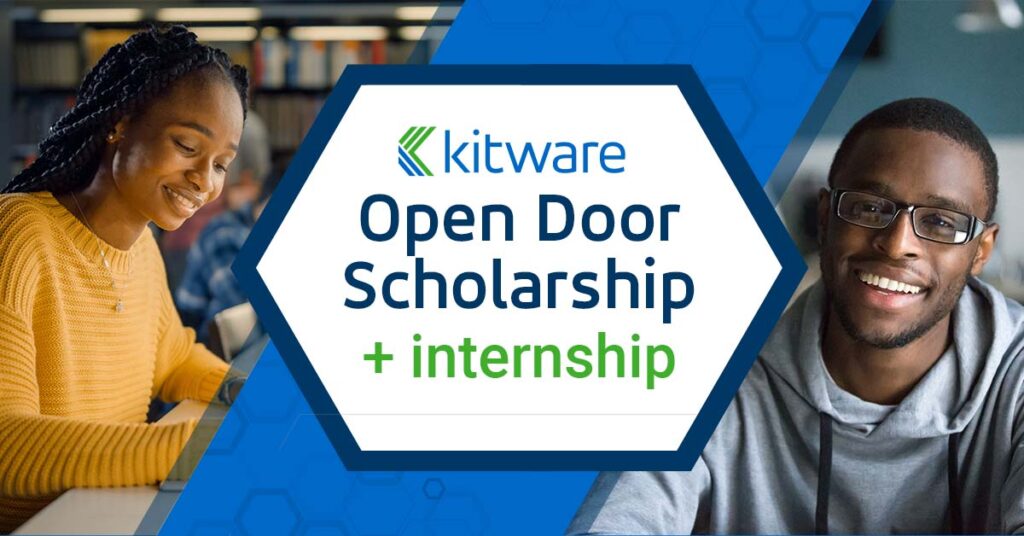 ---
About Kitware
Kitware collaborates with customers to solve the world's most complex scientific challenges through customized software solutions. Kitware delivers innovation by focusing on advanced technical computing, state-of-the-art artificial intelligence, and full-spectrum software solutions. Since its founding in 1998, Kitware has developed a reputation for deep customer understanding and technical expertise, honest interactions, and open innovation. We are proud to be a 100% employee-owned company. For additional information, please visit kitware.com. You can also follow us on Twitter, LinkedIn, and Facebook.
###