Kitware Meets with Radiological Professionals at RSNA 2021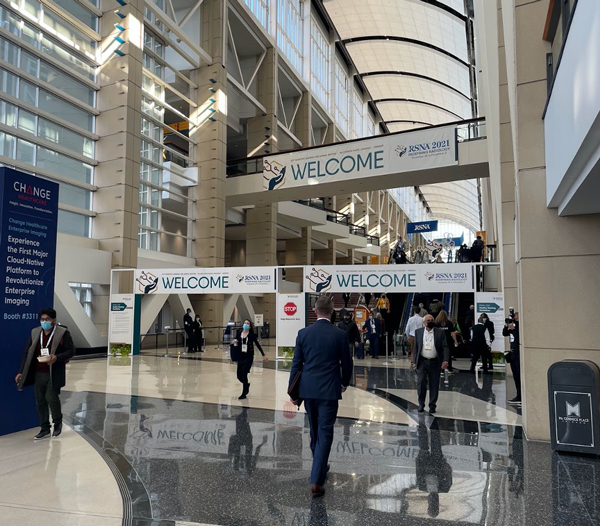 This year, Kitware sent two members of its Medical Computing Team to attend RSNA 2021, one of the largest gatherings of radiological professionals. Over the course of the three-day exhibition, Beatriz Paniagua, Ph.D., assistant director of medical computing, and Tim Thirion, a technical leader, visited more than 50 medical device vendors to reconnect with existing customers, discuss the latest technical challenges within the medical field, and build new relationships with prospective customers interested in Kitware's collaborative, state-of-the-art research and development process.
One of the highlights of building powerful open source platforms is knowing they are being used in cutting-edge medical imaging software that is advancing the industry. Beatriz and Tim encountered many companies using Kitware's medical toolkits and applications in novel radiological use cases, including The Insight Toolkit (ITK), The Visualization Toolkit (VTK) and its web visualization counterpart, VTK.js, and 3D Slicer. The team was able to discuss the advantages of customizing these tools by partnering with Kitware. Leveraging our advanced open source toolkits, Kitware is able to quickly build everything from prototype to full-fledged medical imaging software for our customers that are fully customized to your specific needs. This includes creating unique views, streamlining workflows, and more.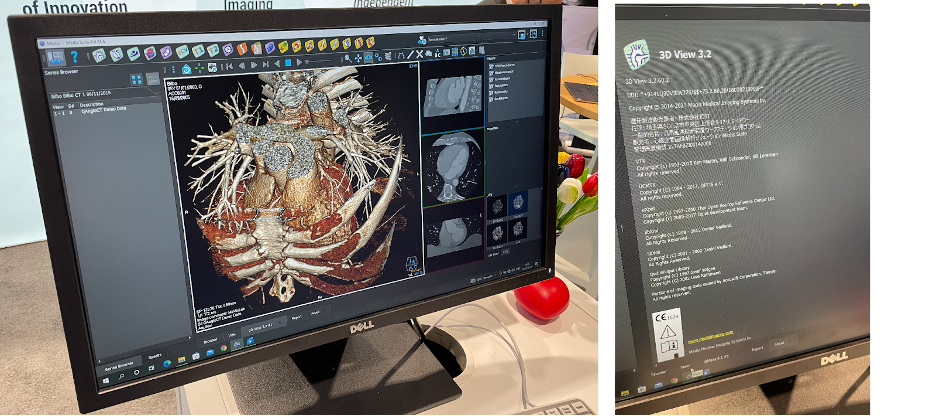 Beatriz and Tim also shared some of the other advantages of working with Kitware. Our novel research capabilities allow us to develop state-of-the-art research algorithms and technology that are both highly innovative and cost-effective. Kitware also has company-wide initiatives in incorporating artificial intelligence into solutions that may benefit from a more automated and intuitive process. This can be seen particularly with Kitware's ITK and MONAI toolkits, which are being actively developed and used in our current medical computing projects. One of our recently published studies uses MONAI's convolutional neural networks to automatically segment fractured femurs, as captured by computed tomography scans.
If you would like to learn how you can leverage Kitware's open source platforms for your novel research or medical software, request a meeting with Kitware's medical computing experts. You can also learn more about Kitware's medical computing capabilities by viewing our medical and biomedical areas of expertise.