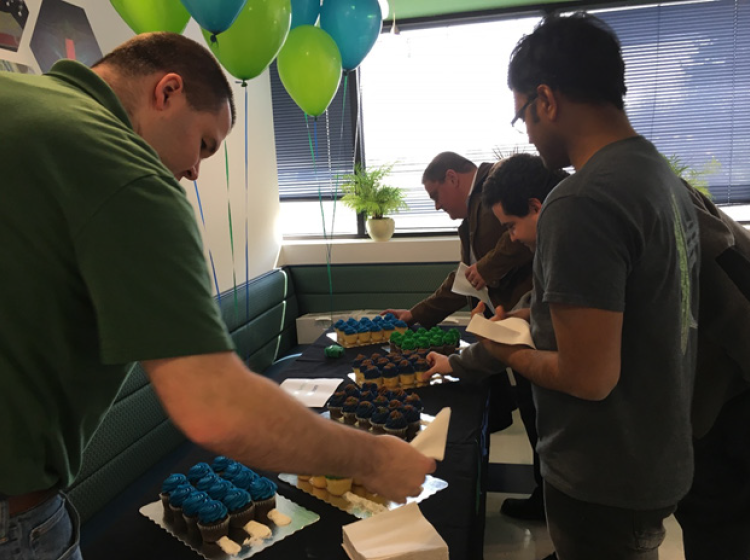 Kitware Turns 18
On March 5, 2016, Kitware turned 18. Throughout its offices in New York, North Carolina, New Mexico, and France, team members took the opportunity to show their Kitware spirit and enjoy some green-and-blue treats.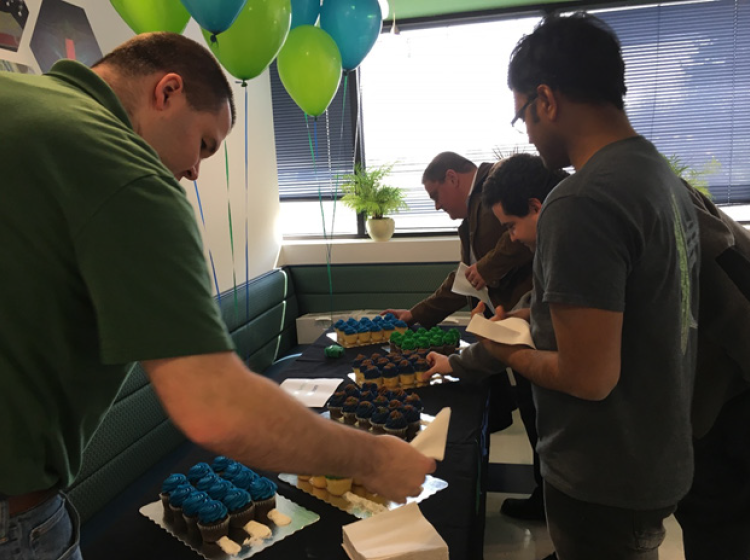 Five colleagues—Will Schroeder, Ken Martin, Lisa Avila, Charles Law, and Bill Hoffman—formed Kitware in 1998 around the Visualization Toolkit (VTK) and a commitment to practicing open source. Since this time, Kitware has grown to employ over 120 technical and administrative team members with expertise spanning high-performance computing and visualization, data and analytics, medical computing, computer vision, and software process, among other domains.
Kitware looks forward to many more years of providing open-source software solutions and working with collaborators to advance the state-of-the-art.
WACV Experts Weigh in on Video Analysis
Members of the computer vision team at Kitware traveled to Lake Placid, New York, for the Institute of Electrical and Electronics Engineers (IEEE) Winter Conference on Applications of Computer Vision (WACV). The conference featured plenary speakers from world-class institutions; workshops on applications in surveillance and transportation; and tutorials on deep learning and domain adaptation. Kitware increased its participation in the conference this year by exhibiting at and sponsoring the event.
Anthony Hoogs, Ph.D.; Matt Turek, Ph.D.; Arslan Basharat, Ph.D.; and Matt Leotta, Ph.D., represented Kitware at WACV. Hoogs co-organized the 2nd Workshop on Automated Analysis of Video Data for Wildlife Surveillance and served as one of the conference general chairs. The well-attended workshop offered insights into estimating wildlife populations through algorithms and tools.
Leotta also shared expertise on video data in his presentation on the paper "Open Source Structure-from-Motion for Aerial Video." In particular, he detailed how software Kitware developed offers enhanced feature tracking, loop closure, and bundle adjustment capabilities. Leotta is an author of the paper along with Eric Smith, Ph.D.; Matthew Dawkins; and Paul Tunison.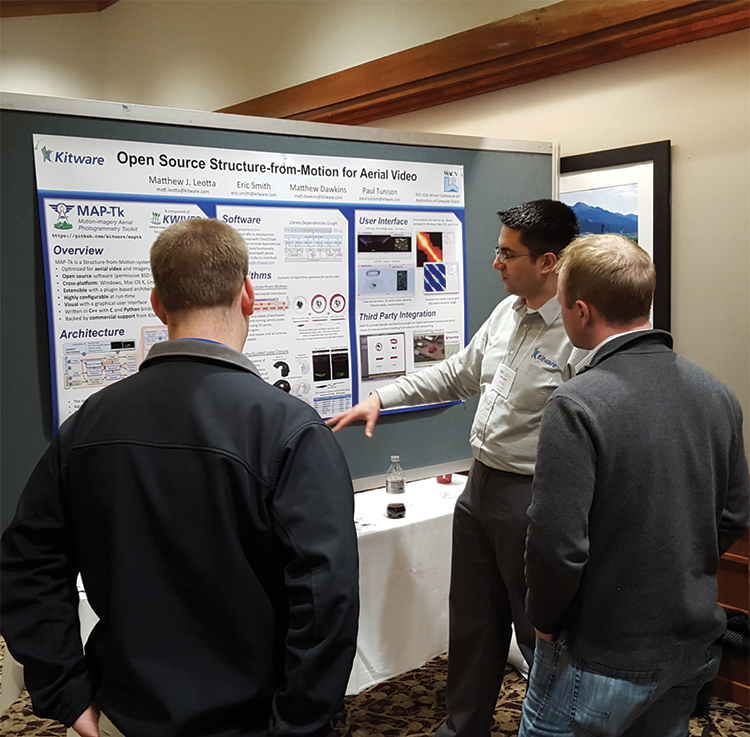 Goolge Summer of Code Selects Open Chemistry for Participation
Google Summer of Code (GSoC) announced Open Chemistry as one of its 180 participating organizations for 2016. For the program, members of the Open Chemistry development team will guide students through the process of contributing open-source code. Marcus Hanwell, a technical leader on the scientific computing team at Kitware, will serve as a mentor in this year's program. Hanwell has previous experience in the program not only as a mentor, but also as a student. In past years, he helped facilitate the participation of the Visualization Toolkit (VTK). VTK had a presence in the program in 2011, 2014, and 2015.
The Open Chemistry project employs cross-platform tools to advance the fields of computational chemistry and materials science. These tools include Avogadro 2 for editing and visualizing molecular data, MoleQueue for increasing access to computing resources from graphical applications, and MongoChem for storing collections of molecules. This year, GSoC project ideas for Open Chemistry aim to add support for biological data, representations, and visualizations in Avogadro 2; integrate cclib with Avogadro 2; and improve the performance of bond perception in Open Babel, which MongoChem utilizes for desktop cheminformatics.
List Recognizes Kitware Among Tech Services Companies
"Albany Business Review" published its list of technology services companies, and Kitware made the top ten for a second consecutive year. The list organizes companies based on the number of full-time employees they staff locally. With over 75 team members in its Clifton Park, New York, headquarters, Kitware ranked eighth.
Company-wide so far this year, Kitware has welcomed a Technical Leader, a research and development intern, and three research and development engineers. With plans for continued growth, Kitware is hiring for new technical and support positions, including ones located in the Capital Region of New York. Kitware attracts top talent by offering competitive benefits and many unique perks. One such perk is Wings Day—a monthly tradition at Kitware. For the March celebration, team members filled picnic tables outside of company headquarters to feast on a buffet of hot wings and other fried comfort foods.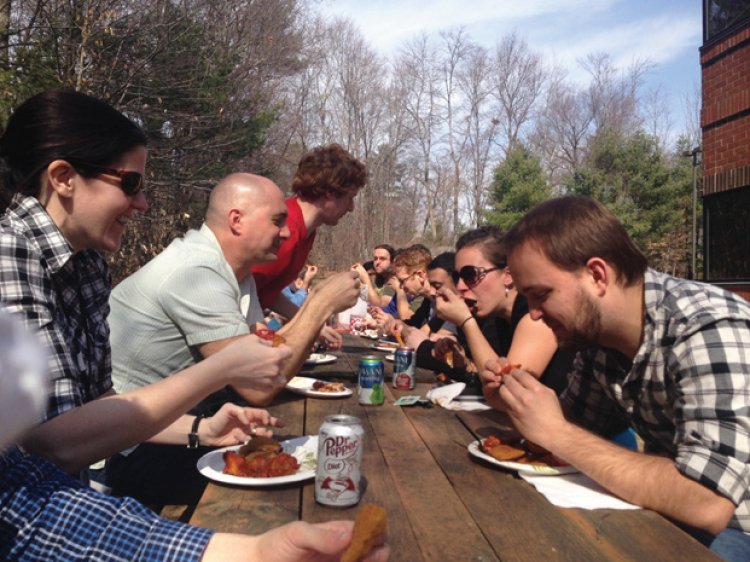 MICCAI Appoints Kitware Senior Leader to Board of Directors
The Medical Image Computing and Computer Assisted Intervention (MICCAI) Society named its new treasurer as Stephen Aylward, Ph.D., who serves as senior director of medical research and senior director of operations in North Carolina at Kitware. Aylward is a prominent figure in the medical computing community. He has taken part in the annual international MICCAI conference since its inaugural year in 1998. In recent years, he has served on the MICCAI board of directors and on MICCAI program committees. Aylward has also actively participated in the conference by presenting papers, coordinating the Young Scientist Publication Impact Award, and co-organizing workshops. He will continue his involvement in the conference this year.
In addition to his appointment as treasurer of the MICCAI board of directors, Aylward is an associate editor of the Society of Photographic Instrumentation Engineers (SPIE) "Journal of Medical Imaging" and "IEEE Transactions on Medical Imaging." He is also the treasurer of the Insight Software Consortium, an adjunct associate professor of computer science at the University of North Carolina at Chapel Hill, and an accomplished researcher. At Kitware, Aylward's research efforts center on vascular image analysis, computer-aided diagnosis, and low-cost ultrasound applications. To learn about the current work of Aylward and his team, please read "Kitware: Leading-Edge Ultrasound Research" on the Kitware blog at https://blog.kitware.com/kitware-leading-edge-ultrasound-research.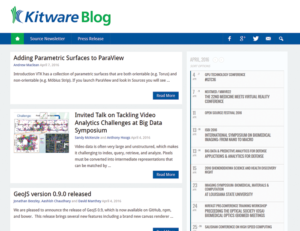 New Blog Unifies Content
Following the transition of its blog, Kitware redesigned the index pages on the websites for CMake, ParaView, and the Visualization Toolkit (VTK), among others. The redesigned pages prominently feature content from the blog.
Project Aims to Broaden Reach of Open-source System for Image Analysis
Kitware kicked off two National Library of Medicine (NLM) projects to increase synergy between Python and SimpleITK. The efforts to add support for Python in SimpleITK will improve performance and make the open-source, cross-platform system for image analysis easier to build, package, distribute, and install.
"Python is fundamental for open, transparent, and reproducible science," Jean-Christophe Fillion-Robin, a research and development engineer at Kitware, said. "By adding support for Python, we aim to increase the use of SimpleITK in the scientific Python community."
The projects seek to better integrate SimpleITK into the scientific Python ecosystem by enhancing SimpleITK packaging and data handling methods, respectively. To enhance packaging, Fillion-Robin is leading a team of experts at Kitware in developing an infrastructure that will permit the distribution of SimpleITK as a Python package. To make this distribution possible, the infrastructure will incorporate a new and reusable Python build tool that will enhance the sustainability of SimpleITK and simplify its installation process.
"Those looking to use SimpleITK for the first time will no longer need advanced knowledge of complex C++ application development," Fillion-Robin said. "This means that more members of the scientific Python community can take advantage of SimpleITK and its unique capabilities for processing large-scale images in two and three dimensions."
To refine data handling methods in SimpleITK, an interdisciplinary team from Kitware is working to bridge the system with Python libraries for handling images and arrays. Once completed, the effort will bolster the performance of SimpleITK scripts so that they transfer less data to and from the libraries to save time, decrease memory usage, and diminish the potential for performance bottleneck.
"SimpleITK can quickly develop scripts and full-scale applications that leverage the power of the Insight Segmentation and Registration Toolkit (ITK) to ingest image data and perform segmentation and registration," Patrick Reynolds, a research and development engineer  and the leader of the SimpleITK data handling effort at Kitware, said. "Our work will better facilitate the adoption of these scripts and applications into modern analytic workflows."
SimpleITK is a simplified layer built on ITK. It provides an extensive suite of software tools for use in rapid prototyping, education, and interpreted languages. To learn how to leverage SimpleITK and Kitware's software development services in fields such as high-performance visualization and medical computing, please contact kitware@kitware.com.
This material is based upon work funded in whole by two awards from the National Library of Medicine totaling $140,250.
Kitware Receives Top Workplaces Honor
The Albany "Times Union" included Kitware on its 2016 Top Workplaces list. The list named fifty companies in the Capital Region of New York. Kitware joined 24 other companies in the small employers category.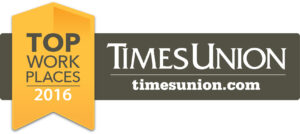 For consideration on the 2016 Top Workplaces list, Kitware participated in an employee feedback survey that WorkplaceDynamics, LLC, administered. The list of honorees appeared in an insert in the "Times Union" on April 10, 2016.  Will Schroeder, president and CEO of Kitware, accepted the honor at a reception in Scotia, New York.
"We are proud to receive a Top Workplaces award and appreciate the opportunity to recognize our one-of-a-kind culture," Schroeder said in a press release. "Our team members share a passion for a better future, and we nurture this passion inside and outside of our office walls. We participate in team charity runs, attend community events, and host activities ranging from technical lunches to wellness boot camps. These experiences bring us together to celebrate the challenging yet rewarding work we do to build and support solutions that are used worldwide to further scientific discovery and accelerate technical innovation."
To learn more about the award-winning culture at Kitware, please visit http://jobs.kitware.com. To read the full press release on the 2016 Top Workplaces list, go to the Kitware external blog.
New Employees
Louis Amore
Louis began an internship in Lyon, France. He attends Université Claude Bernard Lyon 1, where he specializes in computer science, image processing, three-dimensional animation, computer vision, and advanced programming.
Alex Bigelow
Alex joined the Kitware team in Clifton Park, New York, as a research and development intern. In working toward his doctorate, he studies data management and analysis at the University of Utah, where he received a bachelor's degree in computer science. He has experience as a research assistant for the Scientific Computing and Imaging (SCI) Institute at the university.
Lucie Macron
Lucie started at Kitware as an intern in the Lyon, France, office. She studies engineering at École Supérieure de Chimie Physique Électronique de Lyon. There, she specializes in image processing.
Chet Nieter
Chet became a member of the scientific computing team in Carrboro, North Carolina. Prior to joining Kitware, Chet was a senior software engineer at BAE, Systems Inc. He and his team developed and maintained video tracking software that searches wide-area motion imagery for moving vehicles.
Charles Gueunet
Charles joined Kitware in Lyon, France, as a research staff member. In pursuit of his doctorate, he studies scientific visualization at Université Pierre et Marie Curie. His research focuses on high-performance computing and contour tree algorithm issues.
Employment Opportunities
Kitware seeks talented, motivated, and creative individuals to fuel innovation, break down boundaries, and participate in meaningful work with impact. Kitware employees enjoy a collaborative work environment that empowers them to pursue new opportunities and challenge the status quo through novel ideas. In addition to providing an excellent workplace, Kitware offers comprehensive benefits including flexible hours; a computer hardware budget; health, vision, dental, and life insurance; short- and long-term disability insurance; immigration and visa processing; a relocation bonus; tuition reimbursement; and a generous compensation plan.
For descriptions of available positions, please take a look at http://jobs.kitware.com/opportunities.html.
Kitware Internships
Kitware internships provide college students with the opportunity to gain training and hands-on experience working with leaders in their fields on cutting-edge problems. Interns assist in developing foundational research and technology across five solution areas: high-performance computing and visualization, computer vision, medical computing, data and analytics, and quality software process.
Please submit resumes and cover letters through the online portal on the Kitware employment website.