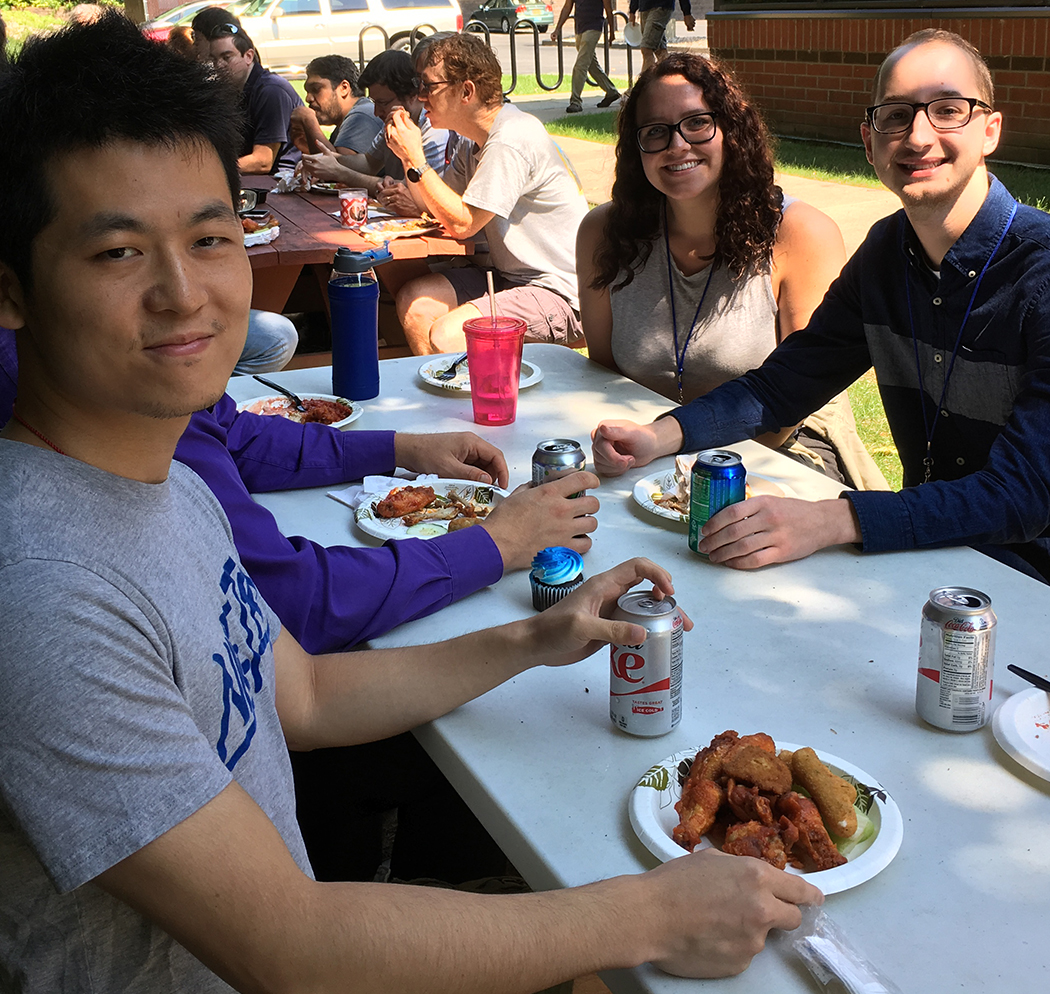 NVIDIA Index™ Plug-in for ParaView Gets Updated
NVIDIA Index™ is a commercial software that enables the use of graphics processing unit (GPU) clusters for real-time visualization of large volumetric and polygonal datasets. ParaView users became able to try Index™ for volume rendering in ParaView for the first time in 2015. Since then, new efforts have updated the plug-in to add support for volume rendering of unstructured grids.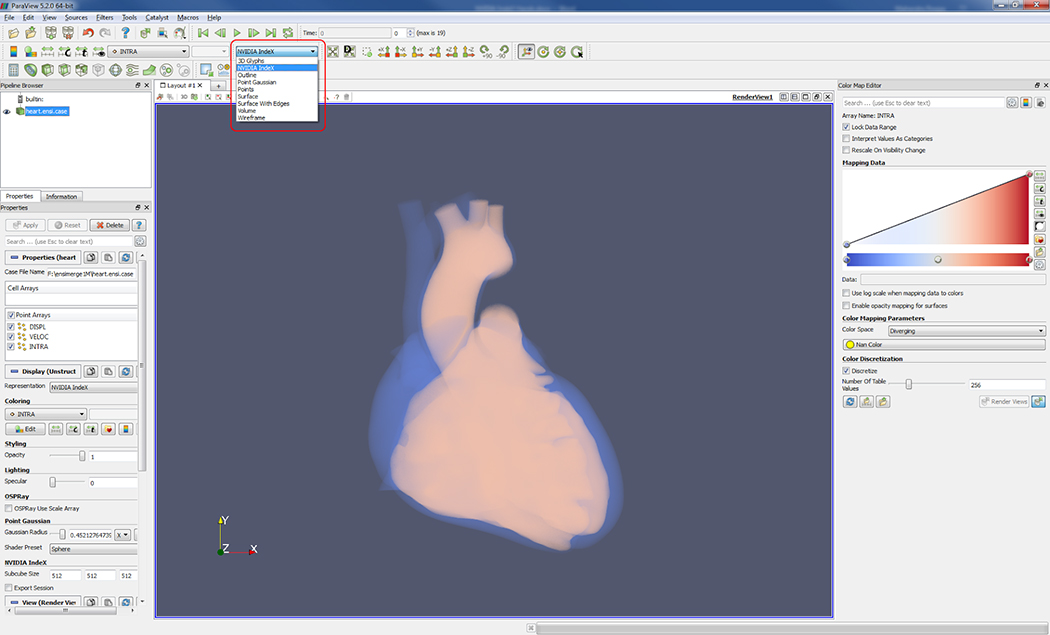 In addition, new licensing terms have made it easier to use the plug-in at no cost in several cases. More details on the latest Index™ update is available on the NVIDIA blog at https://blogs.nvidia.com/blog/2017/06/19/index-on-paraview.
Kitware Briefs at XPONENTIAL 2017
Kitware presented the brief "Linking Unmanned Systems, Visible and IR Video, Computer Vision, and Humans Together for Real-Time, Squad-Level, Battlefield Situational Awareness" at the Association for Unmanned Vehicles Systems International (AUVSI) XPONENTIAL 2017 conference. In the brief, Keith Fieldhouse, assistant director of computer vision, granted insight into support of squad-level activities from Kitware with contributions to unmanned systems, sensors and computer vision software. He discussed the intelligent integration of various platforms, sensors, software and humans to demonstrate the techniques, challenges and value that intelligent integration provides. The brief occurred Monday, May 8, 2017, from 4:30 to 5 p.m. CDT in room C140 of the Kay Bailey Hutchison Convention Center Dallas in Texas.
"Currently, our warfighters at the squad level do not have the tactical advantages available at the brigade level," Fieldhouse said. "We are developing capabilities to give squads extra sets of eyes on the ground and in the sky to provide actionable intel in real time without overloading warfighters with additional data."
Kitware and Interson Partner to Facilitate Portable Ultrasound
Kitware became an approved systems integrator for Interson ultrasound probes. Kitware established years of experience with the probes through projects for medical imaging research, commercial consulting and open-source software development.
"Interson is very happy to feature Kitware as a trusted integration partner for our USB ultrasound arrays," said Interson's Director of Systems Integration Bill Wiedemann. "Like many others, Interson has relied on Kitware and Kitware solutions over the past seven years."
For a Small Business Innovation Research (SBIR) grant from the National Institutes of Health (NIH), Kitware and its team used Interson probes to construct a proof of concept of a point-of-care ultrasound system. The team proposed the system to complement first responders as they locate internal bleeding on scene. The grant work applied a signal analysis algorithm that Kitware pioneered for tissue identification. Through follow-on work, the team intends to complete the system to intelligently assist first responders with probe placement, image interpretation and injury recognition.
"Point-of-care ultrasound systems that combine ultrasound probes with innovative machine learning algorithms and customized user interfaces will revolutionize in-field triage, in-home care and in-hospital monitoring," said Stephen Aylward, Ph.D., the Kitware senior director of strategic initiatives. "Interson probes provide the portability and advanced imaging capabilities at the price point that these systems require."
Aylward was a co-organizer of a workshop on point-of-care ultrasound for this year's Medical Image Computing and Computer Assisted Intervention (MICCAI) conference. The workshop included presentations and demonstrations that covered a variety of topics such as in-field assessment of traumatic brain injury and intuitive ultrasound guidance through augmented reality. To learn more about the workshop or Kitware point-of-care applications, please contact kitware(at)kitware(dot)com.
Portions of the research reported in this publication were supported by the National Institute Of Biomedical Imaging And Bioengineering and the National Institute of General Medical Sciences of the National Institutes of Health under Award Numbers R43EB016621 and R01EB021396. The content is solely the responsibility of the authors and does not necessarily represent the official views of the National Institutes of Health.
GPU Technology Conference Offers ParaView Lab
Chintan Patel, the senior product marketing manager at NVIDIA's Tesla Business Unit, discussed an opportunity to get to know ParaView in "ParaView Users – Bring Your Data to GTC, Gather Insights Like Never Before." As he details in the post at https://blogs.nvidia.com/blog/2017/04/26/hpc-visualization-gtc, this year's GPU Technology Conference (GTC 2017) featured a lab titled "Interactive HPC Volume Visualization in ParaView." Attendees of the lab learned about NVIDIA IndeX™. While the lab had example data, attendees could bring their own to explore.
Robert Maynard, a principal engineer at Kitware, joined Patel at the lab. Maynard also took part in a talk titled "Build Systems: Combining CUDA and Modern CMake" at the conference, which took place from May 8 to May 11, 2017, at the San Jose McEnery Convention Center.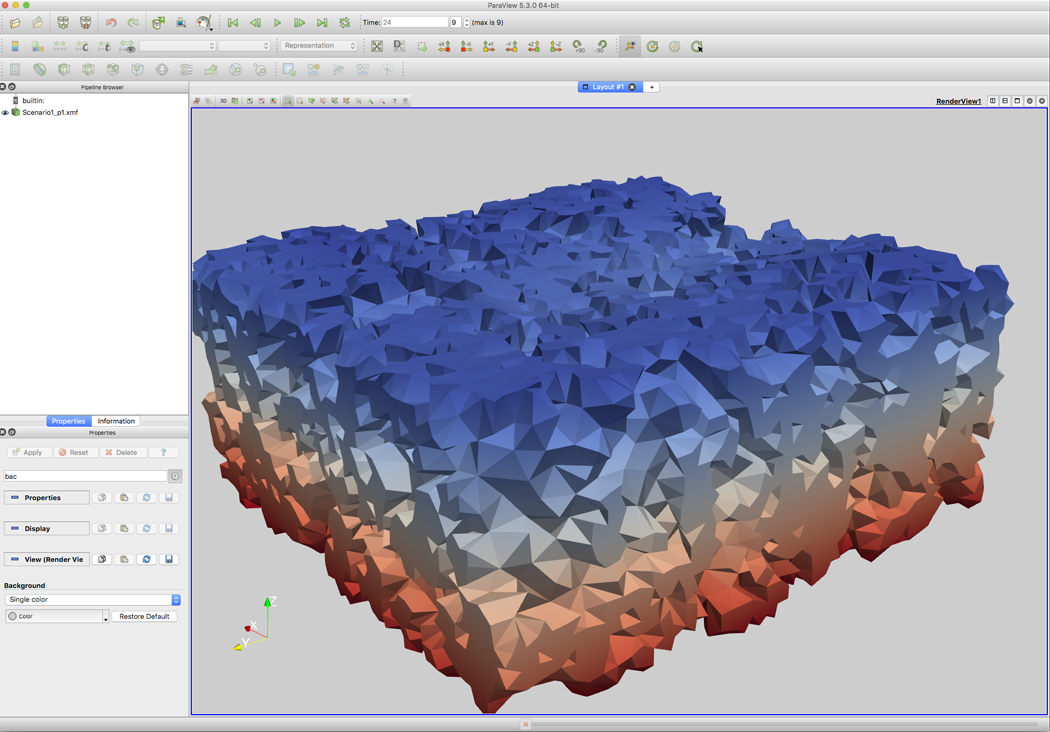 In addition to the "Interactive HPC Volume Visualization in ParaView" lab, ParaView was part of "HPC Visualization in Virtual Reality." This conference activity was a "Connect with the Experts" session. It occurred May 9, 2017. During the session, NVIDIA overviewed a ParaView plug-in for virtual reality.
Kitware Complements Leadership Transitions with Promotions
Kitware continued its transitions in team management and organizational structure with four promotions.
"This year, our offices in New York, North Carolina, New Mexico and France have undergone significant growth, particularly in data and analytics," said Lisa Avila, the president and CEO of Kitware. "We are happy to recognize the leadership of several team members as well as the contributions of our entire company."
Kitware recognized the leadership of Jeffrey Baumes, who the company promoted to director of data and analytics. Baumes joined Kitware in 2006, after he completed a doctorate in computer science. He has steered efforts such as XDATA and the Resonant software platform to fit industries that include defense, healthcare and energy. As director, Baumes will expand the software platforms and the technical strategy of the data and analytics team.
Stephen Aylward also started a new role as senior director of strategic initiatives. Aylward was senior director of medical research and senior director of operations in North Carolina. In 2006, he coordinated the startup of the Kitware office in this location. He has helped it to grow to over 40 team members and has guided several medical research efforts. In his new role, Aylward will plan and promote the trajectory of Kitware, fostering nascent technical developments and enriching synergies among Kitware software platforms and teams.
To further technical developments and synergies, Kitware named Andinet Enquobahrie director of medical computing. Enquobahrie has a doctorate in electrical and computer engineering as well as an MBA with a focus in technology evaluation and innovation. Since he joined Kitware in 2005, he has built and maintained relationships with collaborators, explored funding opportunities and led a team of research and development engineers to execute projects in image-guided intervention that influence fields from optometry to orthodontics. As director, Enquobahrie will guide the medical computing team as they continue to create algorithms and design software for academic researchers and commercial customers with the Insight Segmentation and Registration Toolkit (ITK) and 3D Slicer.
Kitware also made Matt Turek a director. Turek graduated with his doctorate in computer science and began at Kitware in 2007. He has worked with Anthony Hoogs, senior director of computer vision, to manage the computer vision team; increase its membership to more than 30; and maintain relationships with technical institutes, government agencies and leaders in satellite imagery. As a result of his ability to grow important customer bases, Kitware named Turek assistant director of computer vision in 2013. As director of computer vision, he will assume broader responsibility of the operation of the computer vision team.
DARPA Names Anthony Hoogs to ISAT Study Group
The Defense Advanced Research Projects Agency (DARPA) has named Anthony Hoogs to the Information Science and Technology (ISAT) Study Group for a three-year term beginning this summer. The group brings 30 of the brightest scientists and engineers together to identify new areas of development in computer and communication technologies and to recommend future research directions.
The ISAT Study Group was established by DARPA in 1987 to support its technology offices and provide continuing and independent assessment of the state of advanced information science and technology as it relates to the U.S. Department of Defense.
Earlier in this summer, Hoogs served as a general chair of the 2017 IEEE Conference on Computer Vision and Pattern Recognition (CVPR). CVPR is the premier annual conference for computer vision research. It had more than 5,000 attendees in 2017. At Kitware, Hoogs is the senior director of computer vision. He leads the computer vision team, which has more than 35 members, including 15 Ph.D.s.
New Jobs Website Opens for Business
Kitware reformatted its jobs website at https://jobs.kitware.com. The new layout displays current openings on the homepage, and it pairs down menu items. As it did for its company website, https://www.kitware.com, Kitware opted to utilize WordPress for its jobs website.
Along with the jobs website, Kitware greeted new team members. The company also embraced the return of three team members who formerly fulfilled internships. So far in 2017, over 15 interns have made a difference at Kitware.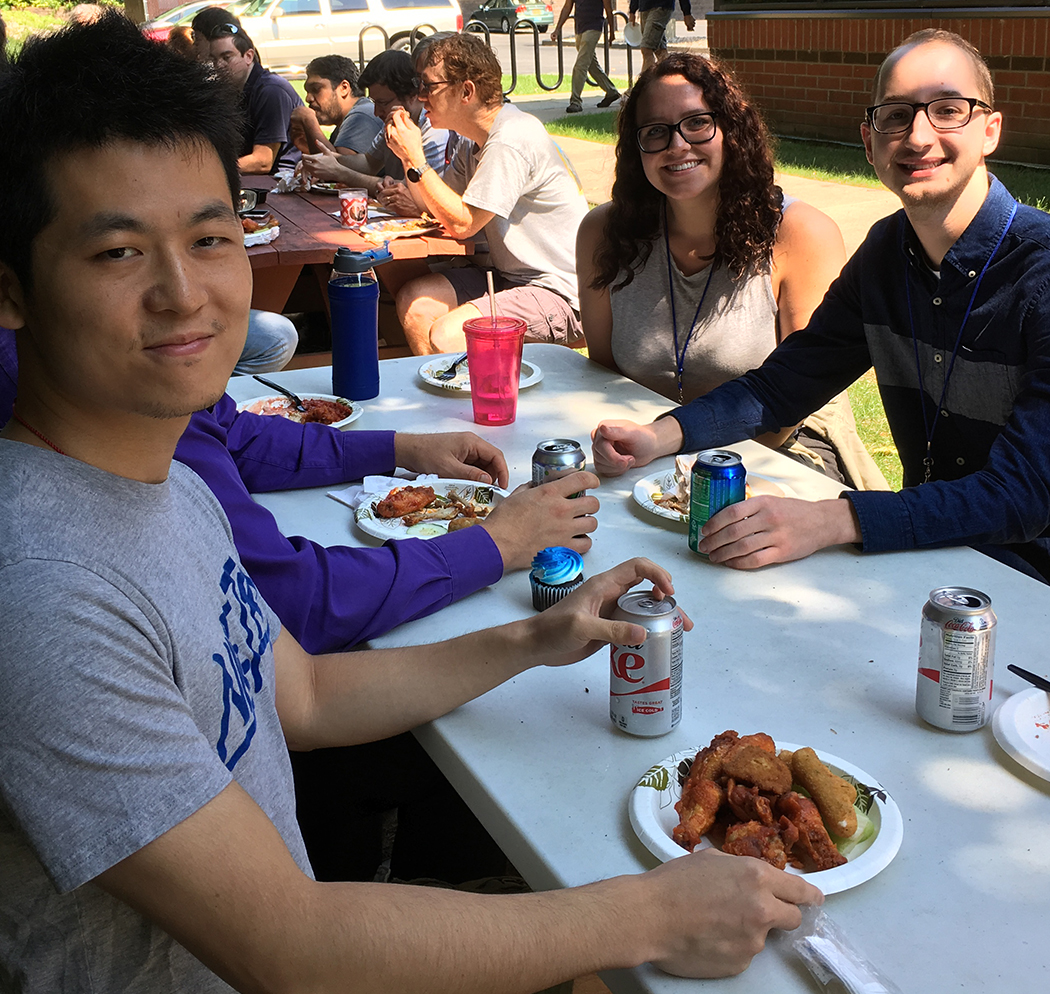 Kitware team members not only celebrated interns in August, but they set out to kayak near the company headquarters. Kitware posted pictures of the excursion on https://www.facebook.com/kitware. In addition to company celebrations and excursions, team members enjoy an award-winning work environment that empowers them to pursue their passions and perform meaningful work with impact. They also enjoy comprehensive benefits that include flexible hours; a computer hardware budget; health, vision, dental and life insurance; short- and long-term disability insurance; services for immigration and visa processing; tuition reimbursement; a relocation bonus; and generous compensation.
The following team members united or reunited with Kitware from May to September 2017.
David Owens
Owens joined Kitware as a systems administrator in Carrboro, North Carolina. He holds over 20 years of experience in information technology.
Bryan Garrant
The system administration team also added Garrant. He became a technical support specialist. While Garrant attended ITT Technical Institute, he focused on computer network systems.
Forrest Li
The medical computing team hired Li as an R&D engineer. He completed a graduate degree in computer science at the University of North Carolina at Chapel Hill.
Pierre Assemat
Assemat started a one-year internship in Carrboro. He studies electronics, computer science and robotics at École Supérieure de Chimie Physique Électronique de Lyon.
Jonathan Crall
Crall rejoined Kitware, where he previously interned. He currently pursues his doctoral degree in computer science at Rensselaer Polytechnic Institute (RPI).
Jason Parham
Kitware congratulated Parham, who rejoined the company. Like Crall, Parham previously interned with Kitware. He also pursues his doctoral degree at RPI. Parham's graduate work regards wildlife censusing.
John Westbrook
Westbrook added his knowledge of recruitment and career guidance to the human resources team. He is a human resources generalist, and he is part of the Triangle Society of Human Resource Management.
Nandini Seshadri
The business development team brought in Seshadri as a proposal specialist. She has received recognition for her writing and her skills in debate.
Caroline LaFleche
LaFleche came to the computer vision team as an annotation specialist. Her background involves mathematics and computer science.
Adrien Beaudet
Kitware welcomed Beaudet as an operation support specialist. He brings knowledge of financial management to his position in compliance and contracts.
Thomas Hastings Greer
Greer moved from an intern to an R&D engineer in Carrboro. He wrote a blog post on his initial experience as an intern at https://blog.kitware.com/pythonic-callbacks-and-iteration-in-vtk.