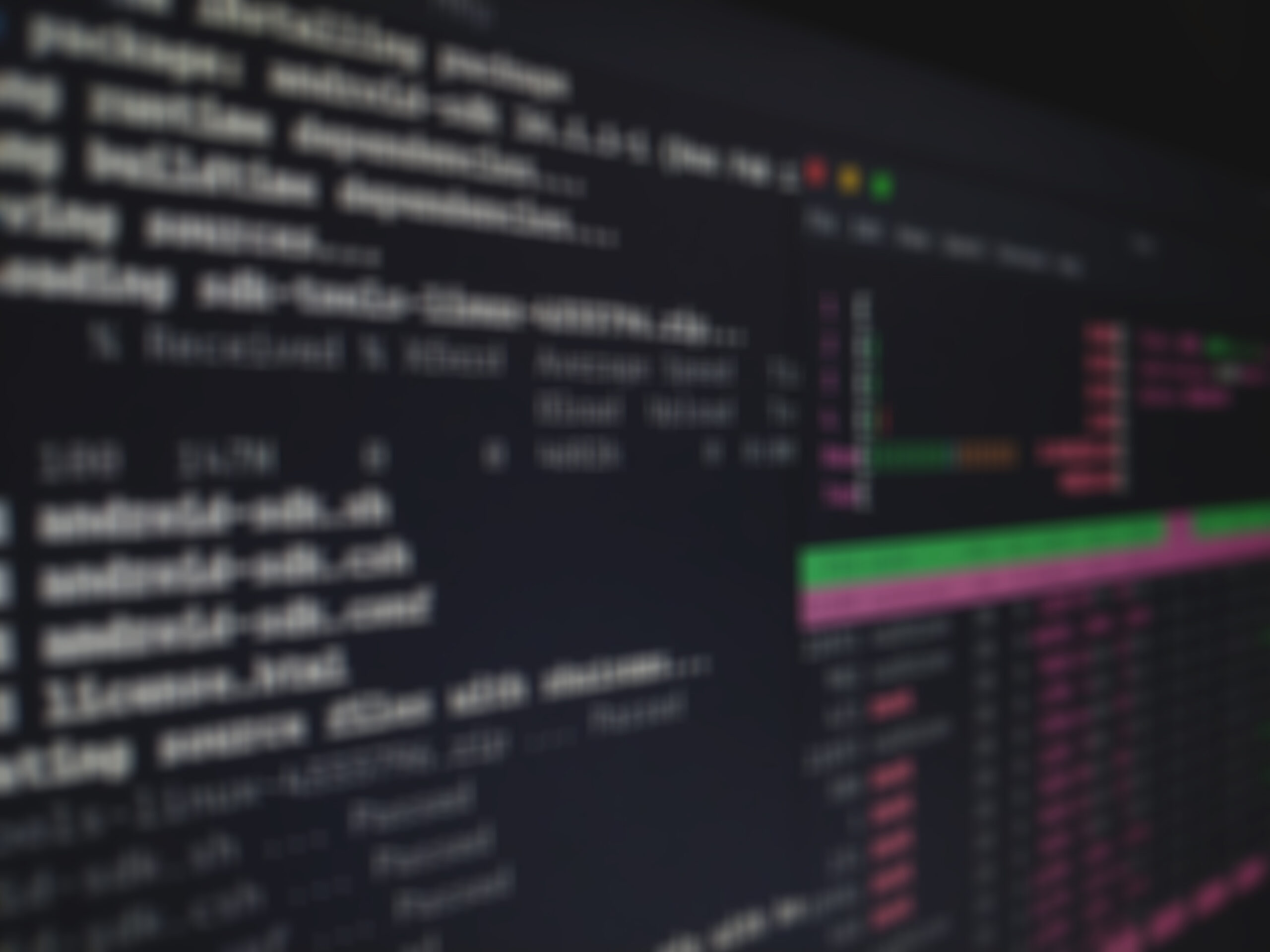 Kitware Keeps Growing
Throughout the summer, the new Kitware headquarters continued to sprout in Clifton Park, New York. Its key differentiators from the current headquarters include a single-building layout; more natural light; an auditorium that connects to a kitchen; and showers for team members to use after boot camp workouts, yoga sessions, etc. After Kitware moves to the new headquarters, it will have over 60,000 square feet of office space in the U.S.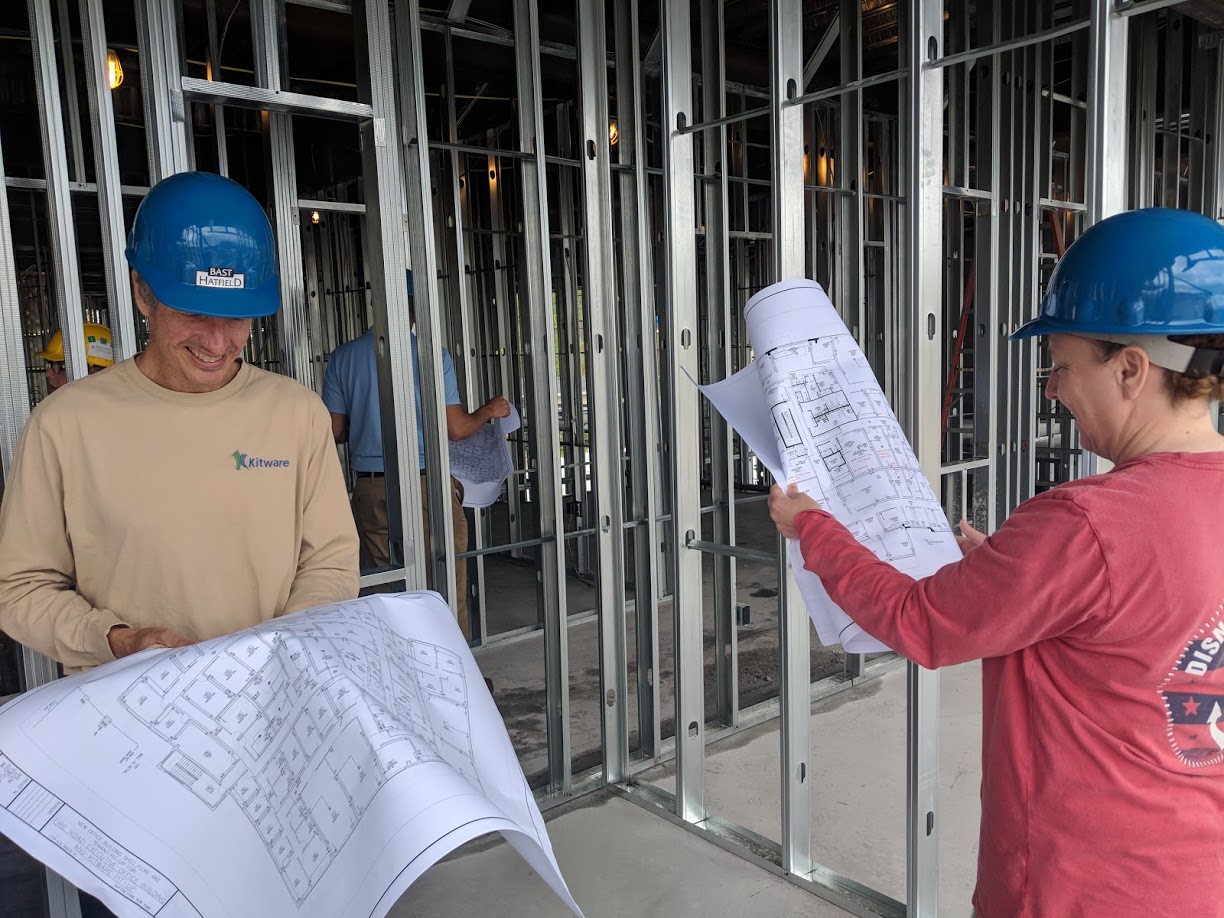 The company already increased its geographic footprint this year, as it leased an office at 411 North Fairfax Drive, Suite 302, Arlington, Virginia. Multiple team members have relocated to the suite, and Kitware has advertised job postings for the office on https://jobs.kitware.com.
As the "Who We Are" section of the website indicates, "Each person at Kitware brings something special to the table." Since Issue 42 of the Kitware Source publication, the following team members came to Kitware's table: Ian Sacklow (systems administrator), Kyle Edwards (junior technical staff member), Kristen Rinaldi (compliance manager), Alessandro Genova (R&D engineer), Meaghan Hickey (human resources generalist), Jared Tomek (UX/UI designer), William Hicks (senior R&D engineer), Emmett Hitz (R&D engineer), Lauren MacPherson (annotation specialist), Cameron Johnson (R&D engineer) and Maryann Olstad (annotation specialist). Former interns Ameya Shringi and Taylor Cook became R&D engineers, and Preston Law, Jordan Blue, Max Hoffman, James Hoctor and Reilley Blue returned for internships. Several interns came to Kitware for the first time, including Shreeraj Jadhav, Patrick Avery, David Russell, Adam Romlein, Joshua Beard, Deirdre Kelliher, Brian LaFleche, Wesley Turner, Tyler Burse, Matthew Purri, Zhixin Li and Bhavan Vasu.
In Carrboro, North Carolina, the office gained Matthew Phillips (staff R&D engineer), Riley Johnson (intern), Brian Clipp (staff R&D engineer), David Joy (R&D Engineer) and Pablo Hernández-Cerdán (intern). Across the Atlantic Ocean in Lyon, France, Kitware hired Michael Migliore, Matthieu Zins and Nick Laurenson as R&D engineers. The team also brought in Charly Griot, Gabriel Devillers, Youness Hamdi and Edern Haumont for internships.
As CEO Lisa Avila notes in the blog entry "Spring Promotions Bloom at Kitware," Kitware's growth "was made possible by the professional development of our team, which has allowed us to expand our technical expertise, scientific impact and customer base." To recognize their development, the company promoted Meredith Lapati to lead contracts administrator, Tim Thirion to technical leader, Deepak Chittajallu to principal engineer, Adrien Beaudet to operation support specialist, Kimberly O'leary to accountant, Chris Harris to principal engineer, Kellie Corona to data informatics analyst and David Stoup to principal engineer. From software development to process improvement, these team members have brought unique skills and abilities to Kitware. Summaries of their promotions are available on https://blog.kitware.com/spring-promotions-bloom-at-kitware.
Offices Cater Free Courses on Software Platforms
Kitware dished out a sequence of courses on the Visualization Toolkit (VTK), ParaView and CMake at its headquarters in Clifton Park, New York. The courses ran from March 13 to March 15, 2018.
With a mix of sessions that ranged from basic to advanced, the VTK and ParaView courses spoke to first-time and experienced users. The initial sessions toured the fundamental features and capabilities of the software, and the later sessions re-examined them with data for medical visualization, geoscience and computational fluid dynamics.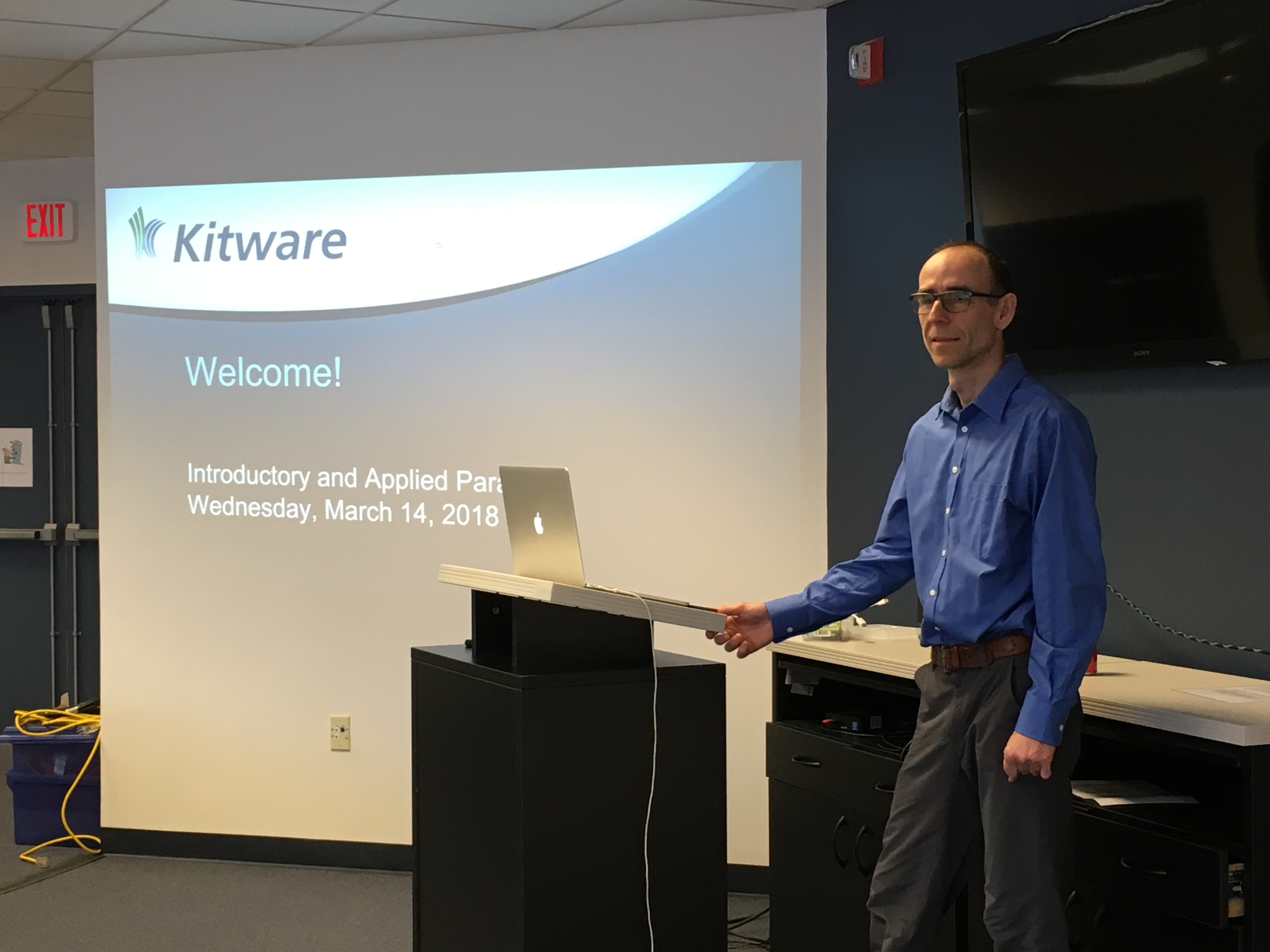 Kitware devoted the third course to Modern CMake. The course taught attendees how to install CMake, create files, build systems and test software. Looking ahead, modern features in CMake will be part of VTK 9.0. As a result, language wrapping in VTK will become more compartmentalized, and the bulk of dependencies for third-party libraries will get updated and imported in a unified manner. In addition, the number of global variables that represent a module's state will reduce. Kitware aims to release VTK 9.0 before 2019.
Down in Carrboro, North Carolina, VTK was a primary topic of a course on biomedical image analysis. Exercises taught attendees how to read a Digital Imaging and Communications in Medicine (DICOM) dataset; annotate a slice of a medical image; and create a 3D volume rendering through ray casting, shading, cropping, clipping, etc. Along with VTK, the course had exercises on 3D Slicer and the Insight Segmentation and Registration Toolkit. These exercises addressed subjects such as tractography, dynamic analysis and image filtering. Kitware posted material from the exercises on https://data.kitware.com under the "Courses" collection.
CMake Developer Opens the Floor for Q&A
Principal Engineer Robert Maynard made a special appearance on Reddit in June 2018 for an Ask Me Anything (AMA) on CMake. With support from Chief Technical Officer Bill Hoffman and Staff R&D Engineers Zack Galbreath and Chuck Atkins, Maynard fielded numerous questions on syntax, Modern CMake, reference documentation, precompiled header support, Lua, performance and other matters.
"The AMA was an excellent new way for us to engage with users and developers who have different levels of experience with CMake," Maynard said. "I can see us doing more AMAs down the road."
To read the questions and replies, please see http://redd.it/8sie4b.