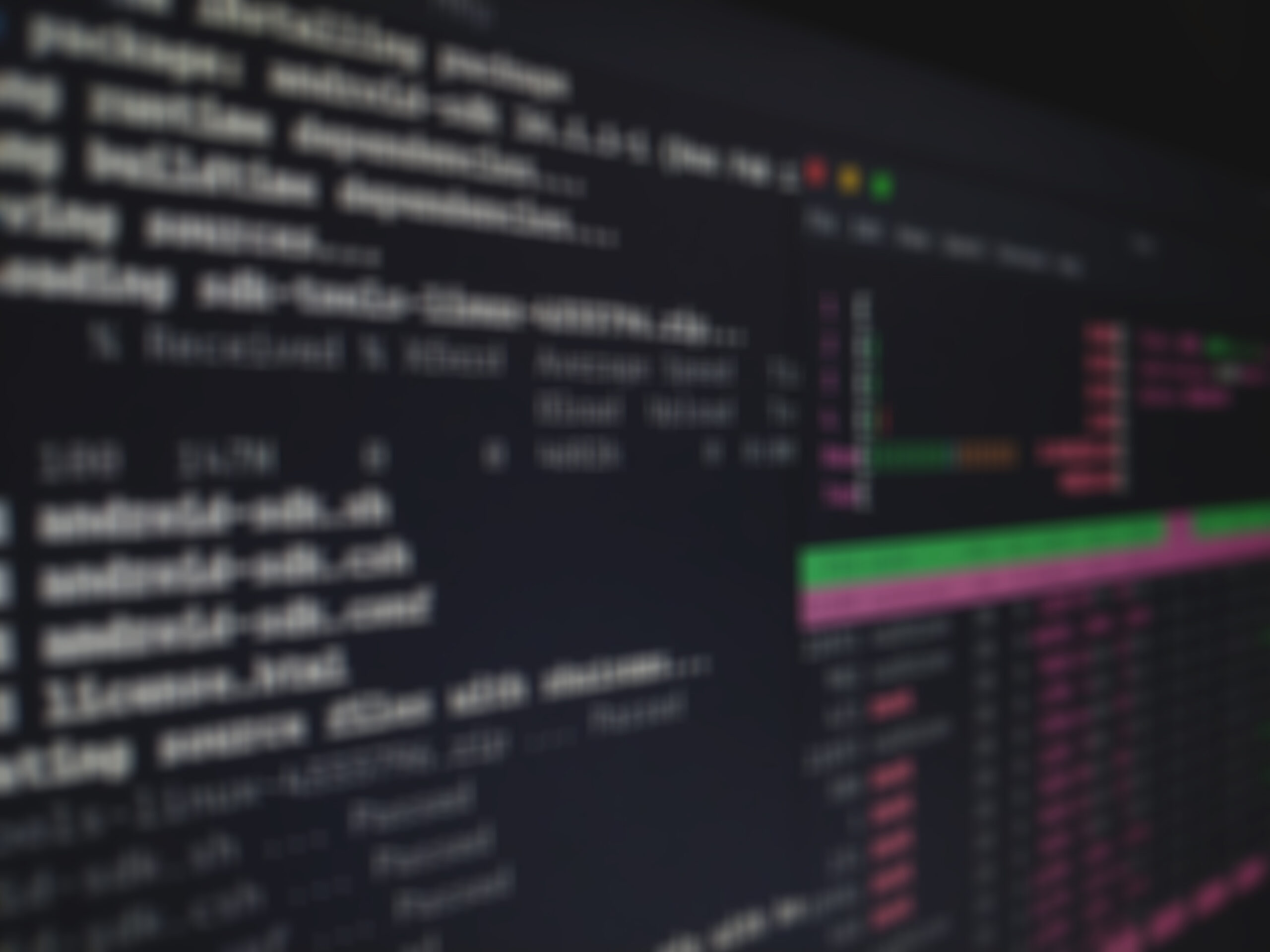 Quantifying Lung Cancer Markers
Kitware has announced a $202,762 STTR award from the National Institutes of Health to develop a computational method for longitudinal image analysis.
The project is a collaboration between Kitware and three world-class research institutions: Rochester Institute of Technology (RIT), The University of North Carolina at Chapel Hill (UNC), and University of Pittsburgh. It is co-led by Dr. Nathan Cahill of RIT and Dr. Marc Niethammer of UNC Chapel Hill's Department of Computer Science.
Over this two-year project, Kitware's research will focus on the continued development of the geometric metamorphosis algorithm that it pioneered with Dr. Niethammer at UNC. This algorithm facilitates longitudinal image analysis by capturing and quantifying pathology-specific changes regarding disease growth and infiltration, while also compensating for background motion in patient scans taken over time. Most current techniques do not distinguish diseases that spread by displacing healthy tissue from diseases that spread by infiltrating healthy tissue; however, distinguishing those types of changes can be vital to disease diagnosis and treatment monitoring. Furthermore, most current techniques do not de-couple background motion (e.g., respiratory motion) from disease change. Therefore, they provide an imprecise estimate of disease change.
While geometric metamorphosis is applicable to the longitudinal study of nearly any type of focal pathology, this project will focus on one of the most challenging and important clinical tasks: the detection and diagnosis of subtle lung lesions that may be pre-cursor to the development of lung cancer. To pursue this clinical goal, the geometric metamorphosis algorithm will be integrated with more accurate models of lung motion developed by Drs. Nathan Cahill and Maria Helguera at RIT. Additionally, Drs. Kyongtae Ty Bae and David Fetzer, Radiology Faculty in the Department of Radiology at the University of Pittsburgh, will provide clinical guidance and data throughout the development and evaluation of these techniques.
Kitware expands Santa Fe Office
Kitware's Santa Fe, New Mexico, office has moved to 1800 Old Pecos Trail, Suite G, Santa Fe, NM 87505. The new office offers a larger work environment with 1600 square feet, three offices, a conference room, a collaboration room, a kitchen, and a real data closet to facilitate a high-speed connection to Kitware's headquarters in New York.
The move follows the recent addition of two new employees to Kitware's Santa Fe office and an increase in the number of meetings held with collaborators in the area. The new office location will allow Kitware to grow by an additional five employees in Santa Fe and to host larger collaborative meetings. Having a larger presence in the area will improve Kitware's ability to offer local training courses on its most popular open-source packages such as the recent CMake course offered in March and the upcoming VTK / ParaView course that will be offered in May.
For more information and to register for the upcoming course, visit http://training.kitware.fr/browse/56.
Neurosurgery Simulation Tool for AVMs
Kitware has announced $1,932,231 in funding from the National Institutes of Health (NIH) to develop and validate its neurosurgery simulation tool for the treatment of arteriovenour malformations (AVMs). This project is a collaborative effort between Kitware, Rensselaer Polytechnic Institute (RPI), the Department of Computer Science and the Department of Neurosurgery at the University of North Carolina (UNC), Arizona State University (ASU), and Professor Nikos Chrisochoides.
Cerebral AVMs affect millions of people around the world. The surgical resectioning of AVMs is one of the most complex surgeries involving brain vasculature. Due to the risk and complexity of AVM surgery, neurosurgeons need to be highly trained. The use of a realistic and approach-specific simulator will significantly improve the training process by allowing surgeons to have hands-on experiences without jeopardizing the health of patients.
The project's team has extensive expertise in clinical neurosurgical procedures, computational mechanics, computer graphics, meshing algorithms, human factor studies, and real-time simulation. Dr. Suvranu De from RPI, Dr. Dinesh Manocha from UNC, and Dr. Andinet Enquobahrie from Kitware are co-Principal Investigators for the project.
For the project, the team of collaborators aims to build a clinically-realistic and well-validated neurosurgical simulator that can effectively model vascular structures and non-linear deformations that occur during the surgical treatment of AVMs. The project's technical development includes anatomical modeling and volumetric meshing of vascular structures. It also involves combining FEM biomechanical modeling with fluid simulation, as well as integrating GPU-based implementations for real-time simulation.
VTK Accepted in Google Summer of Code 2014
Kitware is pleased to announce that the Visualization Toolkit (VTK) has been accepted to participate in Google Summer of Code (GSoC) 2014. This is VTK's second acceptance to the program, which fosters student participation in open-source communities.
Out of 371 applications, 190 open-source projects were selected to be a part of GSoC 2014. The program not only gives students the opportunity to work on real-world software projects with mentors in the field, but it introduces the mentoring organizations to talented new developers.
Kitware looks forward to another productive and rewarding experience this summer after the success of GSoC 2011. For VTK's participation in GSoC 2011, Tharindu De Silva's proposal "Implement Select Algorithms from IEEE VisWeek 2010 in VTK" and David Lonie's proposal "Chemistry Visualization" were selected. De Silva focused on implementing a selection of the most popular algorithms from IEEE VisWeek 2010 in VTK. Lonie improved support for rendering standard molecule representations. The following year, Lonie was hired as an R&D engineer on Kitware's Scientific Computing team.
More information regarding VTK's participation in the program can be found on http://www.google-melange.com/gsoc/org2/google/gsoc2014/vtk, and example projects are located on the VTK GSoC 2014 Wiki page: http://www.vtk.org/Wiki/VTK/GSoC_2014.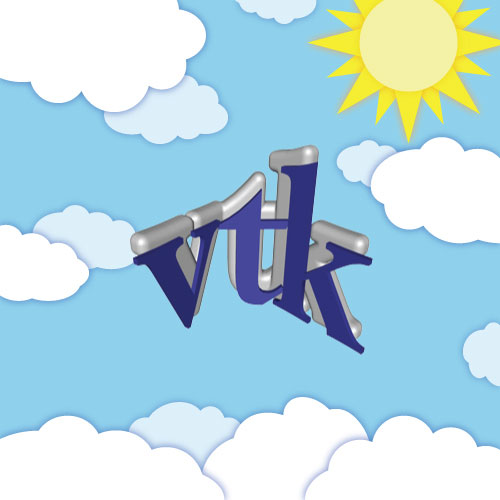 Kitware Receives Funding to Develop an Open-Source Application using S/TEM
Kitware has announced a new Department of Energy SBIR Phase I award to develop an open-source platform for materials reconstruction using scanning transmission electron microscopes (S/TEM).
Scanning transmission electron microscopes have advanced the state-of-the-art in the field, facilitating the 3D characterization of materials at the nano and mesoscale. The importance of this type of 3D characterization has extended to a wide class of nanomaterials including hydrogen fuel cells, solar cells, industrial catalysts, new battery materials, and semiconductor devices. While there currently exists a large quantity of capable instrumentation, the rapidly expanding demand for high-resolution tomography is bottlenecked by software that is tailored to lower-dose, biological applications rather than higher-resolution, materials applications.
To address this bottleneck, Kitware will collaborate with Cornell University on the SBIR project "Open-Source Visualization and Analysis Platform for 3D Reconstructions of Materials by Transmission Electron Microscopy." During Phase I of the project, the team will develop and test a fully functional, freely-distributable, open-source S/TEM package. This package will incorporate a modern user interface that enables the alignment and reconstruction of raw tomography data. The S/TEM package will also provide advanced 3D visualization and analysis that is specifically optimized for materials applications.
Dr. Marcus D. Hanwell, a Technical Leader on Kitware's Scientific Computing team, will serve as the Principal Investigator for the project.
Kitware Hosts CMake Tutorial
Kitware hosted an on-site training course titled "Project Lifecycle Management with the CMake Family of Tools" in Santa Fe, NM, on March 4, 2014. Through a set of tutorials and exercises, the course provided developers with an in-depth examination of how CMake works and how it can be used to efficiently write scripts for small to larger projects.
Objectives of the course included understanding the basics of CMake, learning how to configure simple and complex projects, becoming familiar with CMake's new advanced features, and integrating CMake with CPack, CTest, and CDash.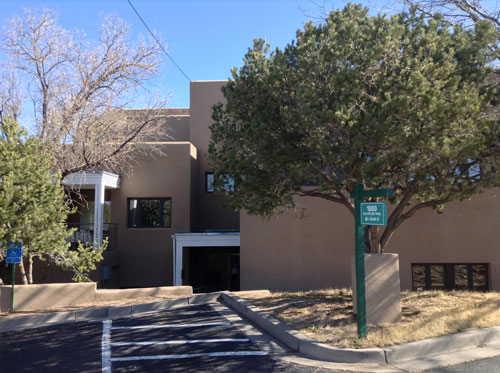 New Computer Vision Webinars
Kitware hosted two live webinars in January. The first webinar, "A Minimum Error Vanishing Point Algorithm and Its Applications," was based on the paper "A Minimum Error Vanishing Point Detection Approach for Uncalibrated Monocular Images of Man-made Environments" by Yiliang Xu, Sangmin Oh, and Anthony Hoogs. The webinar outlined the vanishing point algorithm, which was published in CVPR 2013, as well as how it relates to camera calibration, surveillance, robot navigation, and scene understanding.
The second webinar, "Building Large-scale Multimedia Search Engines," was based on the paper "Multimedia Event Detection with Multimodal Feature Fusion and Temporal Concept Localization" by Sangmin Oh, Scott McCloskey, Ilseo Kim, Arash Vahdat, Kevin J. Cannons, Hossein Hajimirsadeghi, Greg Mori, A.G. Amitha Perera, Megha Pandey, and Jason J. Corso. It showcased work designed to help users find videos of queried events such as flash mobs.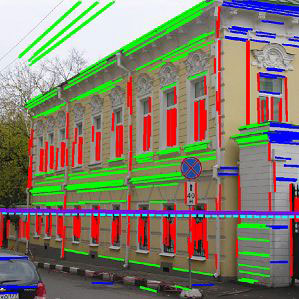 Locating anatomical structures in ultrasound images
In a research effort funded by the National Institutes of Health, Kitware teamed with InnerOptic to develop a new approach to help novice users analyze ultrasound images in order to locate specific anatomical structures. The team's approach is based on developing a set of template video sequences that depict particular anatomical structures captured by an expert user. During an examination, the video sequence created by the novice operator is continually compared to these templates in order to identify the target anatomical structures.
One challenge faced by the research team during this effort was access to sample clinical ultrasound video sequences. Although ultrasound images are readily available, the full video sequences are rarely retained. Even if this data did exist, these video sequences would have been captured by an expert operator and, therefore, would not accurately represent a video sequence captured by an inexperienced user. Accordingly, the team created a new, annotated database of ultrasound videos, which were acquired on three different phantom datasets. This ultrasound video database was designed to mimic the challenges of clinical data without having to request that clinicians alter their existing protocol in order to collect this data from patients. This video database has been made publically available in order to help researchers evaluate and compare similar recognition approaches.
The team's research was recently published in the October issue of Medical Image Analysis. In addition, the team has released the detection algorithm as part of the open-source software package TubeTK.
Pathology Visions 2014 Best Poster
At the 2013 Pathology Visions conference in San Antonio, Texas, Kitware's digital pathology work was recognized in Sharon E. Fox's poster "Remote Eye-Tracking for Quantitative Assessment of Whole Slide Image Viewing." Dr. Fox's poster, which was co-authored by Dr. Charles Law at Kitware Inc. and Dr. Beverly E. Faulkner-Jones at Beth Israel Deaconess Medical Center, won Best Poster by a Resident. Kitware's digital pathology work, led by Dr. Law, was leveraged for the client-server digital pathology system and supported fast web-based viewing over standard networks.
The poster details how advanced digital image software can be used to aid pathologists. For the research, Dr. Fox used a Tobii T-120 eye tracker and a client-server digital pathology system to analyze subconscious patterns of gaze and attention as pathologists viewed digital whole slide images (WSI). The patterns help researchers understand how pathologists interact with WSI software, including various interface options, as part of the diagnostic decision making process.
Kitware Attends Inria Industry meeting
Members of Kitware SAS presented Kitware's expertise in visualization, data processing, and modeling at the February 11, 2014, Inria Industry Meeting. Inria (the French Institute for Research in Computer Science and Automation) and Lyonbiopôle held the meeting in partnership in Lyon, France. The meeting highlighted the relationships between data modeling, analysis, and management in the development of health products.
Kitware Gives Back to Ronald McDonald House Charities
Kitware's Clifton Park, NY, and Carborro, NC, offices held a fundraiser in February. The fundraiser continued Kitware's tradition of supporting the needs of its communities, as all of the proceeds were donated to Ronald McDonald House Charities (RMHC).
The fundraiser consisted of selling baked goods and HEARTS to support the RMHC program "Help With All Your Heart." RMHC helps seriously ill children and their families through programs, grants, and scholarships, as well as Ronald McDonald Houses, Family Rooms, and Care Mobiles. In total, Kitware raised over $500 for the charity.
Awards and Promotions
Rusty Blue received an award for his 10 years of service at Kitware. Dr. Blue joined Kitware in January 2004 as an R&D Engineer with expertise in visualization and haptics. Dr. Blue has continued his contributions to the field of haptics at Kitware. His work has also involved 3D structured light systems for reconstructing 3D environments. In 2011, Dr. Blue became a Technical Leader on the Computer Vision team.
Utkarsh Ayachit has been promoted to the position of Distinguished Engineer. Mr. Ayachit drives a number of
projects including SBIRs, grants, and commercial projects, and he is the lead developer and caretaker of ParaView. Mr. Ayachit is also the original developer of ParaViewWeb.
Bob O'Bara has been promoted to Assistant Director. Mr. O'Bara is leading one of the fastest growing areas at Kitware: pre-processing, simulation preparation, and modeling. He is also well known for his customer interaction skills.
Aashish Chaudhary has been promoted to Technical Leader. Mr. Chaudhary has demonstrated great business development and project management skills. He leads Kitware's climate data analysis and visualization efforts.
From the Business Development Team, Casey Goodlett moves into a Technical Leadership position. Dr. Goodlett has made many valuable additions to Kitware over the last several years including contributing to and, in many cases, leading important commercial customer relationships.
Joachim Pouderoux, at Kitware SAS in Lyon, France, is now a Technical Expert. Dr. Pouderoux has shown significant expertise in scientific visualization, specifically in meshing and rendering. He has also driven important customer relationships.
New Employees
Jonathan Beezley joined the Kitware team in the Clifton Park, NY, office as a Scientific Computing R&D Engineer. He earned his B.S. in Physics from the University of Nebraska at Lincoln in 2001. He later received his Ph.D. in Applied Mathematics from the University of Colorado at Denver. Prior to joining Kitware, Jonathan worked as a Post-Doc at ERFACS and Météo-France, studying covariance modeling of deformed stationary fields.
Heather James joined the Kitware team in the Clifton Park, NY, office as the Business Development Manager. She received her B.S. in Marine Science from Texas A&M University. Before becoming a part of the Kitware team, Heather served as the Manager of Technology and Innovative Applications at UTC Aerospace Systems. She has also worked for Shafer Corporation/Air Force Research Laboratory, as well as Science and Technology International/BAE Systems Spectral Solutions.
Employment Opportunities
Kitware is seeking talented and motivated individuals to fill open positions. Interested applicants are encouraged to visit our employment site at jobs.kitware.com and submit a resume and cover letter through our online portal.