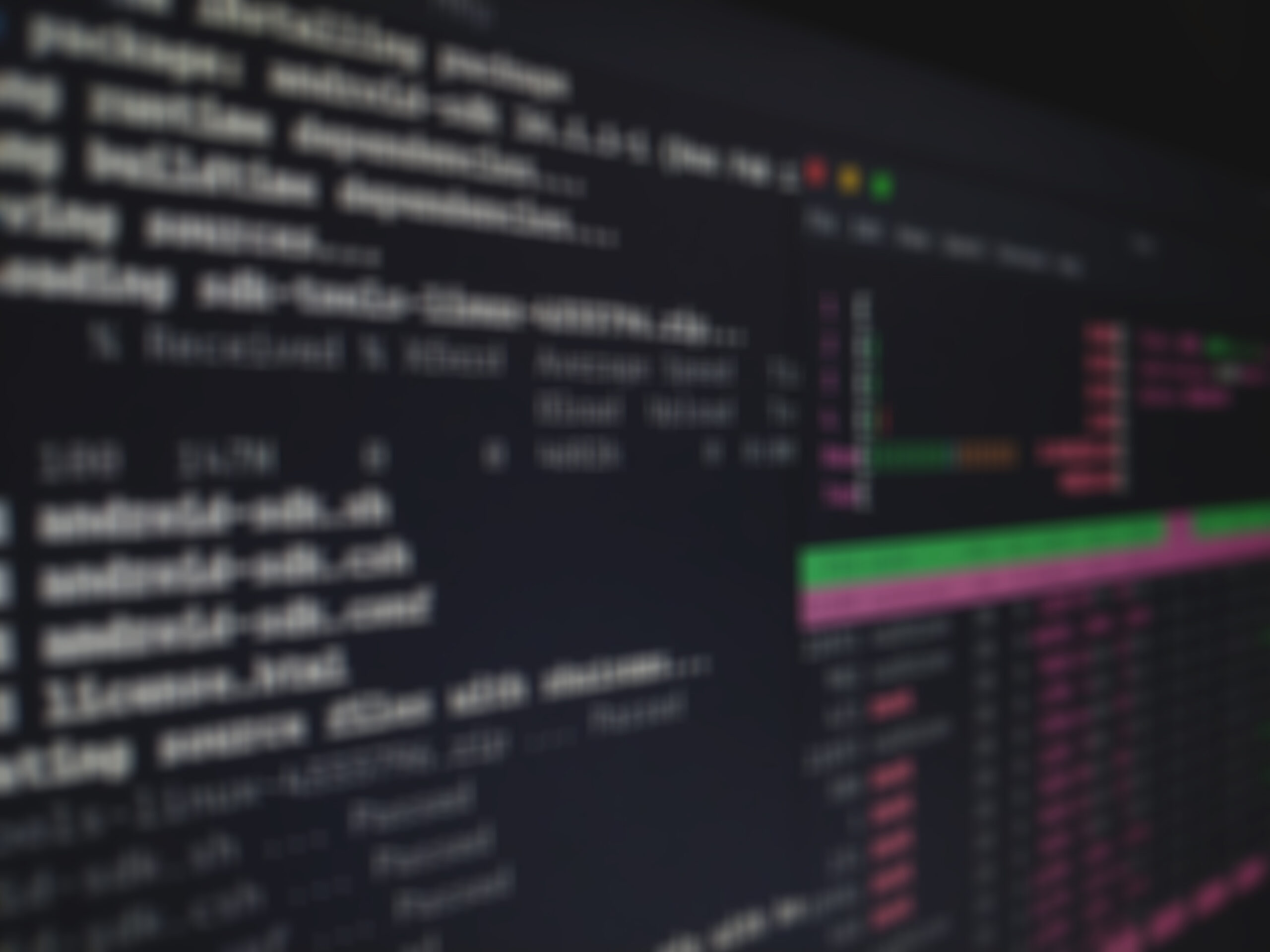 Kitware Exhibits Advancements at Supercomputing 2013
Kitware exhibited recent work in HPC, data analysis and visualization, and modeling & simulation at Supercomputing 2013 (SC13) in Denver, CO. At the conference, Kitware provided interactive demonstrations to showcase state-of-the-art technology for immersive, interactive visualization. Such technology includes immersive VR with ParaView. In collaboration with Intel, Kitware also presented its vision for a parallel universe. The presentation focused on scientific computing at extreme scale.
For SC13's Exhibitor Forum Series, Utkarsh Ayachit presented "Tools for Data Analysis and Visualization at Exascale." The presentation highlighted the Visualization Toolkit (VTK) and ParaView, as well as collaborative efforts on the Data Analysis at Extreme (DAX) toolkit, developed by Sandia and Kitware, and the Portable Data-Parallel Visualization and Analysis Library (PISTON), developed by LANL. In addition, Kitware's David E. DeMarle, along with W. Alan Scott, Li-Ta Lo, and Kenneth Moreland, taught a "Large Scale Visualization with ParaView" tutorial. The tutorial presented the architecture of ParaView, as well as the fundamentals of parallel visualization. It included hands-on lessons and detailed guidance in visualizing the massive simulations that run on today's supercomputers.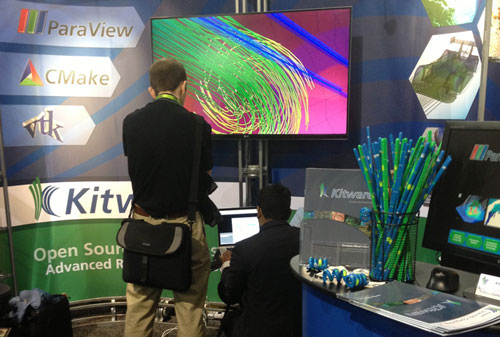 Kitware's Technology Forms Foundation of Give a Scan Website
Kitware and the Lung Cancer Alliance (LCA) announced the launch of a new and improved website for the Give a Scan program in December. The program is the first CT donation program that allows people to donate CT scans and metadata directly to an open data archive for lung cancer research. The new website is a portal that provides researchers access to patient-provided scans and supplementary information for use in lung cancer investigations, and will accelerate the pace of research. By having access to larger collections of openly available images and clinical histories, researchers can better collaborate on all aspects of lung cancer including precancerous conditions, risk assessment, early detection and diagnosis, and treatment. Both patients and researchers can contribute to Give a Scan's database.
The launch of Give a Scan's new website is supported by LCA, Siemens, and Kitware. The site is powered by Midas, Kitware's open-source data management system.
Andinet Enquobahrie Talks about Open Source Software at IDEAS Symposium
Andinet Enquobahrie, Kitware's Assistant Director of Medical Computing, presented a talk on the role of open source-software in surgical simulation at the Innovation, Design, and Emerging Alliances in Surgery (IDEAS): Virtual Surgery Symposium. The symposium took place at the Beth Israel Medical Center in Boston, MA, this past November. The goals of the symposium were to provide a comprehensive update regarding state-of-the-art technology in virtual surgery and to bring together surgeons, engineers, and educators to collaboratively discuss challenges and opportunities in the field.
Andinet presented during the session titled Disruptive Technologies in Virtual Surgery. During his presentation, he provided an overview of open-source tools and detailed current virtual surgery projects at Kitware. He also discussed how technological advancements in medical imaging, image registration algorithms, visualization technologies, and haptics systems are helping to increase the adoption of virtual surgery systems.
CEO Will Schroeder gives Talk at Neurosurgical Simulation Symposium
Will Schroeder, Andinet Enquobahrie, and Ricardo Ortiz attended the 2nd Annual Neurosurgery Simulation Symposium in early November. The symposium took place at The Mount Sinai Medical Center in New York, NY, and was hosted by the center's Department of Neurosurgery. The symposium's attendees included those from fields such as mechanical engineering, applied mathematics, brain surgery, and computer sciences.
At the symposium, Will presented on "Open Source Approaches to Simulation." The presentation detailed an introduction to Kitware's software processes and explained the significance of open science in the creation of simulation technologies. Other presentations included "Simulation in Aviation" by Christopher Broom, "Simulation and Imaging in Medicine" by Suvranu De, and "Business Models for Surgical Rehearsal" by Joshua B. Bederson.
Luis Ibáñez Receives Awards at VISTA Expo & Symposium
Luis Ibáñez, a Technical Leader at Kitware, received two vxJourney VistA Webinar Awards during the recent 2013 VISTA Expo & Symposium in Seattle, WA. These awards, which recognized his webinar presented earlier in the year entitled "GT.M interface to NodeJS," were in the Record Hours Watched and the Best Webinar – Community Choice categories. The Record Hours Watched award is granted to the webinar that is watched the most times out of those submitted to the symposium, while the Best Webinar – Community Choice award is based on a vote among members of the VistA community.
In the webinar, Luis describes work by Rob Tweed and David Wicksell to integrate Node.js with GT.M and, thus, provide a server-side Javascript interface into the M database and language. This is important given that there are hundreds of healthcare applications representing millions of lines of code written in M, yet there are only a small (and decreasing) number of developers proficient in M. By providing a more modern Node.js interface into M, the community can attract some of the hundreds of thousands of Javascript developers into this area. The new interface is being used in Database and Web Development classes at the State University of New York in Albany to attract the next generation of developers into healthcare application development.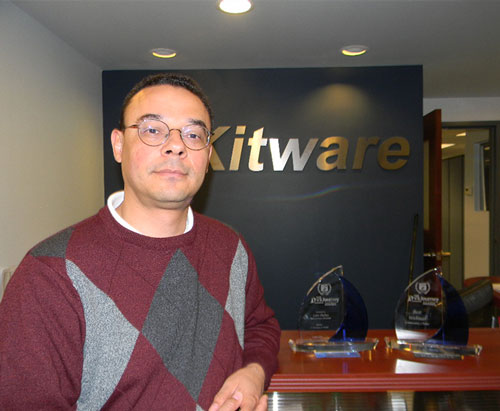 ITK Celebrates Its 14th Birthday
The Insight Segmentation and Registration Toolkit, known as ITK, celebrated its 14th birthday in November with a code base. The dedicated ITK development team, working both locally in the Kitware Clifton Park offices and web
conferencing in from around the world, submitted 34 patches over the course of the day, and shared stories of the early days of the ITK project.
According to Kitware's Luis Ibáñez and Matt McCormick, the future of ITK includes enhancing support for ARM architectures and advancing infrastructure in order to keep pace with upstream third party libraries. The members of Kitware's team also project that, in the future, ITK will not only develop thread pools that will improve the application of many-core architectures, but the software will also offer reliable interpreted language wrapping for all platforms, as well as methods of recognizing contributions from the community and upgraded documentation in design, architecture, and algorithms.
Winter Promotions at Kitware
Dr. Andinet Enquobahrie has been promoted to Assistant Director of Medical Computing at Kitware. Dr. Enquobahrie joined Kitware in 2005. Prior to his promotion, he was a Technical Leader with a focus on image-guided intervention and surgical simulations projects. In his new role, Dr. Enquobahrie will continue to lead projects in image-guided therapy, while also providing cross-team coordination for hiring, staffing, mentoring, and project management activities in Medical Computing.
New Employees
Cory Quammen
Cory joined the Kitware team at the Carrboro, NC, office as an R&D Engineer. He earned his B.A. in Computer Science from Gustavus Adolphus College, where he graduated summa cum laude. He later received an M.S. in Computer Science from the University of North Carolina at Chapel Hill. Prior to joining Kitware, Cory was a research assistant at UNC in the Deptartment of Computer Science.
Sandy McKenzie
Sandy joined the Kitware team in Clifton Park, NY, as a Communications Specialist. She received her bachelor's degree in communication and media studies with a minor in sociology from Fordham University. Sandy also completed a master's degree in public relations from the S.I. Newhouse School of Public Communications at Syracuse University.
Employment Opportunities
Kitware is seeking talented, motivated, and creative individuals to fill open positions. As one of the fastest growing software companies in the country, we have an immediate need for software developers and researchers, especially those with experience in scientific and medical computing.
Interested applicants are encouraged to visit our employment site at jobs.kitware.com and submit a resume and cover letter through our online portal.