October 2013 Source: Kitware News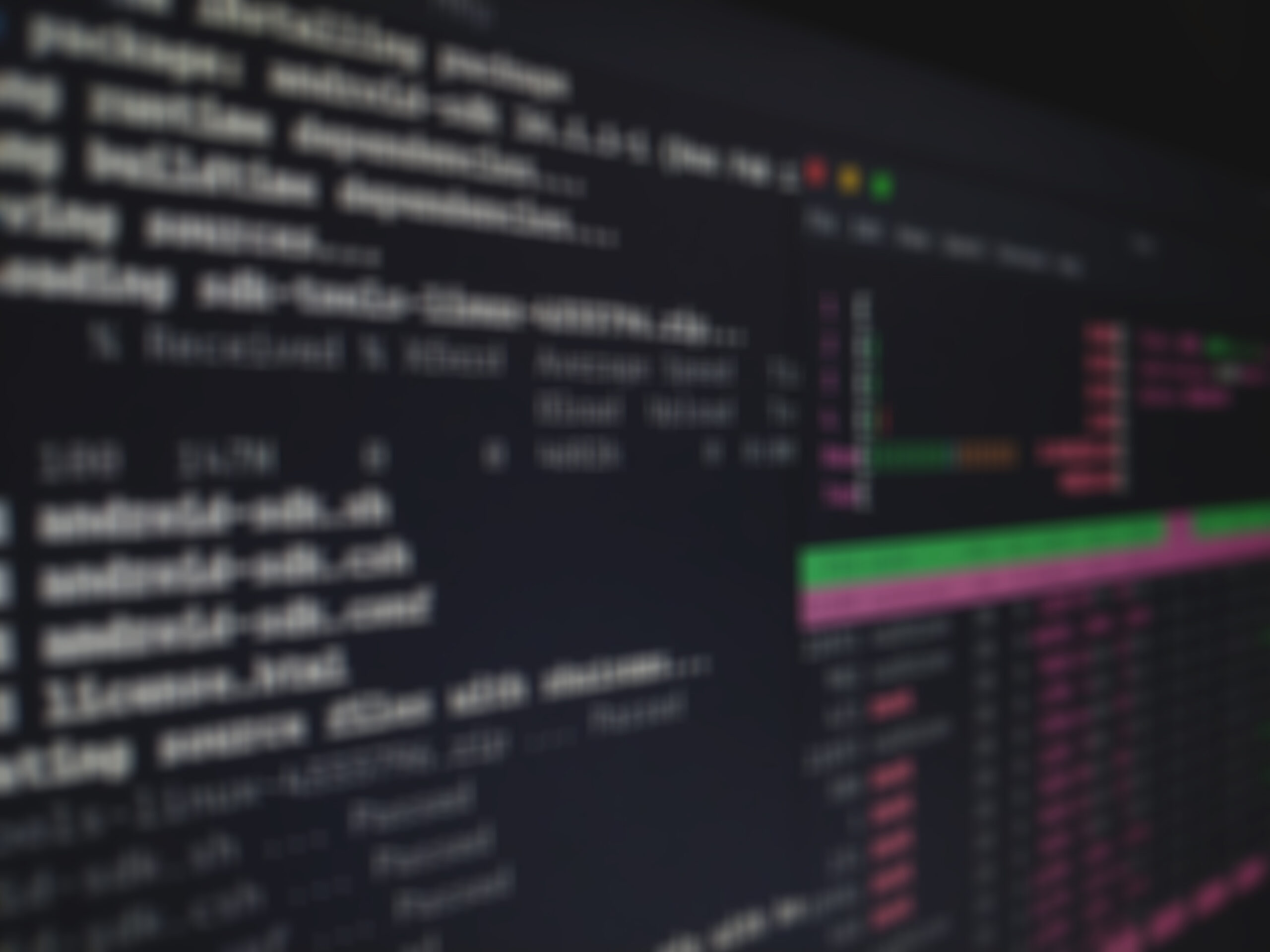 Inc 5000 List – Six Years Running
For the sixth consecutive year, Kitware is on the Inc. 5000 list, spurred on by our successful open-source business model and collaborative work. The Inc. 500|5000 list is an exclusive ranking of the nation's fastest-growing private companies.
"Making the Inc. 5000 list for six years in a row is a testament to the excellent people at Kitware and their dedication to the work we do," said Will Schroeder. "Kitwareans are contributing and making an impact in a variety of open-source and technical communities, and our growth has empowered us to explore new opportunities."
In a stagnant economic environment, Kitware was able to grow competitively and create new jobs at both our New York and North Carolina offices, as well as open a new office in New Mexico.
New Award to Improve Air Force Video Analyst Workflows with VIRAT
Kitware received a new broad agency announcement (BAA) award from the Air Force Research Laboratory to integrate our Video and Image Retrieval and Analysis Tool (VIRAT) functionality with the agency's Planning & Direction, Collection, Processing & Exploitation, Analysis & Production, and Dissemination experimentation environment (PCPAD-X). Integration of these two tools will improve analyst performance in exploiting Full Motion Video (FMV).
FMV exploitation is currently very labor intensive, and often involves teams of people monitoring a single video feed to extract the value for the primary mission. There are a number of drawbacks to this approach as it requires analysts to monitor the video feed and "call out" events for another analyst to record. The monitoring analysts focused on finding mission-specific elements of interest may overlook other events and objects of interest to other parties. In addition, the communication of events between shifts of analysts on a particular mission, or to outside entities, is cumbersome and may result in non-standard, fragmented descriptions of events and other salient information.
We have developed a powerful FMV exploitation capability that addresses a number of drawbacks to the current process. The VIRAT tool, developed primarily under DARPA funding, automatically processes FMV in real-time to extract and record elements of interest, including moving targets and events, or objects that match a specific appearance model.
For this project, VIRAT will be integrated with PCPAD-X to extend its capabilities to increase analyst productivity, provide an improved user interface and more standardized communication and recording mechanisms, and include a state-of-the-art object tracking system for automatically detecting unusual events in the data using normalcy models.
This work is supported by the Air Force Research Laboratory (AFRL) under Contract No. FA8750-13-C-0107. The views, opinions and/or findings contained in this report are those of the author(s) and should not be construed as an official AFRL position, policy, or decision unless so designated by other documentation.
Exhibiting at Supercomputing 2013
From November 18-21, Kitware will be exhibiting at Supercomputing 2013 in Denver, Colorado. Supercomputing is the leading conference for the high-performance computing (HPC) community. At this year's event, Kitware will be exhibiting at booth 4207, giving several presentations and participating in the tutorial session.
As part of the weekend tutorial series, there will be a "Large Scale Visualization with ParaView" Tutorial on Sunday, November 17 from 8:30 am – 12:00 pm. The tutorial will be taught by Dave DeMarle, W. Alan Scott, Li-Ta Lo, and Kenneth Moreland. This tutorial presents the architecture of ParaView, an open-source turnkey application for analyzing and visualizing large data sets in parallel, and the fundamentals of parallel visualization. Attendees will learn the basics of using ParaView for scientific visualization with hands-on lessons. The tutorial features detailed guidance in visualizing the massive simulations run on today's supercomputers and an introduction to scripting and extending ParaView.
On Tuesday, as part of the "Parallel Universe" set of talks at the Intel Theater (booths 2501 and 2701), Kitware will give a short talk on large-scale data visualization and analysis. Following up on that talk, as part of the Exhibitor Forum Series on Wednesday, Utkarsh Ayachit will present a talk titled "Tools for Data Analysis and Visualization at Exascale." This talk will provide greater detail and insight following the Intel presentation. It will focus on new approaches to visualization and analysis that will scale to the next generation of computers.
This session will highlight the Visualization Toolkit (VTK) and ParaView, the leading open-source tools for scientific visualization and analysis. It will also cover the collaborative efforts on the Data Analysis at Extreme (DAX) toolkit and Portable Data-Parallel Visualization and Analysis Library (PISTON), and how to leverage these next-generation paradigms with VTK and ParaView to move your work to the exascale. Further, the session will detail the business benefits of basing a custom solution on open-source tools, such as avoiding vendor lock-in and leveraging a community's software maintenance skills.
We will also be showcasing and demonstrating some of our latest work at the Kitware booth. The demos will include interactive marching cubes using DAX; interactive browsing of large histology databases over the web; and immersive, six-degree-of-interaction with scientific data sets in ParaView. A schedule of the demos and material will be posted on the Kitware website closer to the show.
Be sure to stop by the Kitware booth to learn more about our current cutting-edge work, discuss our current employment opportunities, and pick up some Kitware swag!
U.S. Air Force Research Lab Award to Extend Bender Toolkit
Kitware received a new Phase I SBIR award from the U.S. Air Force Research Laboratory to advance the Bender toolkit. The project aims to reduce the time required for anatomical model pose manipulation and for simulating anthropomorphic changes, such as an increase in body-mass index (BMI).
The Bender improvements will be a multi-stage process, beginning with extending the toolkit to make use of freely available libraries of pose and motion data. Next, the user interface will be broadened to support the specification of changes in regional fat or muscle volumes so that the BMI of the model can be changed. Ultimately, real-time, GPU-based surgical simulation methods will be integrated to speed the computation of realistic anatomic dynamics.
The Phase I effort will include replacing the dual-quaternion skinning capabilities already implemented in Bender with Kitware's multi-grid solver in order to improve speed and reduce memory requirements while also providing more accurate motion models. This work will build upon the linear and non-linear finite element modeling (FEM) solvers in the "Simulation Open Framework Architecture" (SOFA) toolkit for surgical simulation.
The primary result of this Phase I exploration and the planned Phase II development effort will be an intuitive program for performing voxelized anatomical model rigging, manipulation, and resampling.
This work is supported by the Air Force Research Laboratory under Contract No. FA8650-13-C-6444. The views, opinions and/or findings contained in this report are those of the author(s) and should not be construed as an official Department of the Air Force position, policy or decision unless so designated by other documentation.
NIH Phase II SBIR Award to Develop Open-Source Digital Pathology System
Kitware recently won a new $1M Phase II SBIR from the National Institutes of Health to enhance and further deploy its open-source digital pathology system. On the heels of a successful Phase I SBIR project, the Kitware team and our collaborators will improve their digital pathology system and web portal to facilitate a large pathology network, bringing pathology into the digital realm already enjoyed by other medical specialties and scientists. The inexorable push toward digital data acquisition has not yet taken hold in pathology, but with this open-source system, pathologists will see benefits such as easy annotation and markup of whole slide images, flexible data archival and sharing, telepathology, 3D visualization and informatics, and education.
As part of the Phase II effort, new development will be focused on the architecture and web portal, formalizing an analysis framework and related tools, and generating new digital pathology content for both educational and reference purposes. The data-centric architecture will provide the foundation for data ingestion and processing of whole slide images (WSI), and support web-based display on a variety of devices including mobile devices. With that foundation, the team will develop a web portal that will enable users to upload, share, search, and view WSI. The web portal will also be the basis for the Digital Pathology Journal that will enable dissemination of results, including large and distributed images with annotations.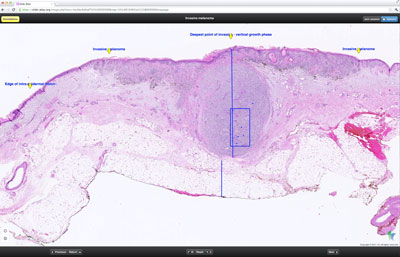 Digital pathology client application running on a Macbook Air laptop computer, showing annotation of some standard parameters for melanoma micro-staging & specimen reporting.
"We are excited to bring this capability to pathologists and drive the field forward," said Dr. Charles Law, Principal Investigator on the project. "We have already worked with six institutions to deploy the system for teaching purposes, and are thrilled by the results. The residents who have used the system have found it intuitive to use and say that it enriches their learning experience; they can readily collaborate with each other, and ultimately, will be able to work with pathologists throughout the country."
Research reported in this publication was supported by the National Institute Of Biomedical Imaging And Bioengineering of the National Institutes of Health under Award Number R44EB013518. The content is solely the responsibility of the authors and does not necessarily represent the official views of the National Institutes of Health.
New Award to Develop Advanced Sparse Bundle Adjustment System
Kitware announced new Phase I SBIR funding from the U.S. Air Force Research Laboratory to develop innovative software for performing sparse bundle adjustment for full motion video (FMV) and wide-area motion imagery (WAMI).
Sparse bundle adjustment (SBA) is a technique for refining 3D scene geometry and the parameters of relative camera motion using images taken from different viewpoints. This technique has existed since the 1950s, but it is only in the past decade that the computational resources required to perform large-scale spare bundle adjustment have become available and practical to use.
Existing open-source toolkits for SBA are slow and focus on large collections of unordered images. Significant optimizations can be made for SBA by exploiting properties found in aerial video, particularly temporal continuity. These optimizations are available at all stages of the camera calibration pipeline, from feature detection and matching to SBA itself.
With this new Phase I funding, Kitware will develop an SBA system targeted for aerial video that will produce state-of-the-art camera calibration accuracy in a fraction of the time compared to current unordered image collection software. A variation of the techniques developed under this project can also be used to construct a streaming SBA solution for live video. Furthermore, relaxation of the specific constraint that bundle adjustment accuracy be optimal over all images could enable real-time, streaming video feeds onboard military vehicles for intelligence, surveillance, and reconnaissance (ISR) systems.
To achieve these goals, Kitware will leverage its world-renowned computer vision expertise, algorithms, and open-source libraries to perform feature detection, feature matching, and sparse optimization.
"We're excited for the opportunity to improve a well-known yet under-utilized functionality and make a significant impact on video analyst workflows," said Matthew Leotta, Principal Investigator on this project. "An additional benefit is that our newly-developed system will build upon open-source software and our developed SBA toolkit will also be released to the public as open source."
This work is supported by the Air Force Research Laboratory under Contract No. FA8650-13-M-1694. This contract was approved on September 5, 2013 with FY 13 funds. The views, opinions and/or findings contained in this report are those of the author(s) and should not be construed as an official AFRL position, policy, or decision unless so designated by other documentation.
New Employees
Scott Wittenburg
Scott Wittenburg joined our Santa Fe, NM office as an R&D Engineer. He studied at the University of New Mexico, where he earned his B.S. and M.S. in Computer Science. Scott has extensive experience as a consultant developer, working on a variety of projects, including an NSF Partnerships for Innovation grant to do calibration and real-time warping of HTML5 Video and Canvas applications when projecting onto arbitrary, non-planar surfaces.
Dan Lipsa
Dan Lipsa joined Kitware as an R&D Engineer at our Clifton Park, NY office. Dan earned his Ph.D. in computer science from Swansea University in the UK. His thesis was on the visualization of foam simulation data. Prior to joining Kitware, Dan worked as Senior Software Engineer for the Ecora Corporation in Portsmouth, New Hampshire.
Tristan Coulange
Tristan Coulange joined our office in Lyon, France as an R&D Engineer. He qualified as an informatics and research engineer in Centrale Lille (France) in 2012, then extended his scope of expertise with an Informatics Master at Lyon University. The Informatics Master specialized in image treatment and algorithmic geometry.
Internship Opportunities
Kitware Internships provide current college students with the opportunity to gain hands-on experience working with leaders in their fields on cutting edge problems. Our business model is based on open source software—an exciting, rewarding work environment.
Our interns assist in developing foundational research and leading-edge technology across six business areas: supercomputing visualization, computer vision, medical computing, data management, informatics and quality software process. To apply for an internship, please visit our employment site at jobs.kitware.com and submit a resume and cover letter through our online portal.
Employment Opportunities
Kitware is seeking talented, motivated, and creative individuals to fill open positions in all of our offices. As one of the fastest growing companies in the country, we have an immediate need for software developers and researchers, especially those with experience in scientific computing.
At Kitware, you will work on cutting-edge research alongside experts in the field, and our open source business model means that your impact goes far beyond Kitware as you become part of the worldwide communities surrounding our projects.
Kitware employees are passionate and dedicated to innovative open-source solutions. They enjoy a collaborative work environment that empowers them to pursue new opportunities and challenge the status quo with new ideas. In addition to providing an excellent workplace, we offer comprehensive benefits including: flexible hours; six weeks paid time off; a computer hardware budget; 401(k); health, vision, dental and life insurance; short- and long-term disability, visa processing; a generous compensation plan; yearly bonus; and free drinks and snacks.
Interested applicants are encouraged to visit our employment site at jobs.kitware.com and submit a resume and cover letter through our online portal.