Orthanc and VolView: Integrating Cinematic Volume Rendering Into a PACS Web Interface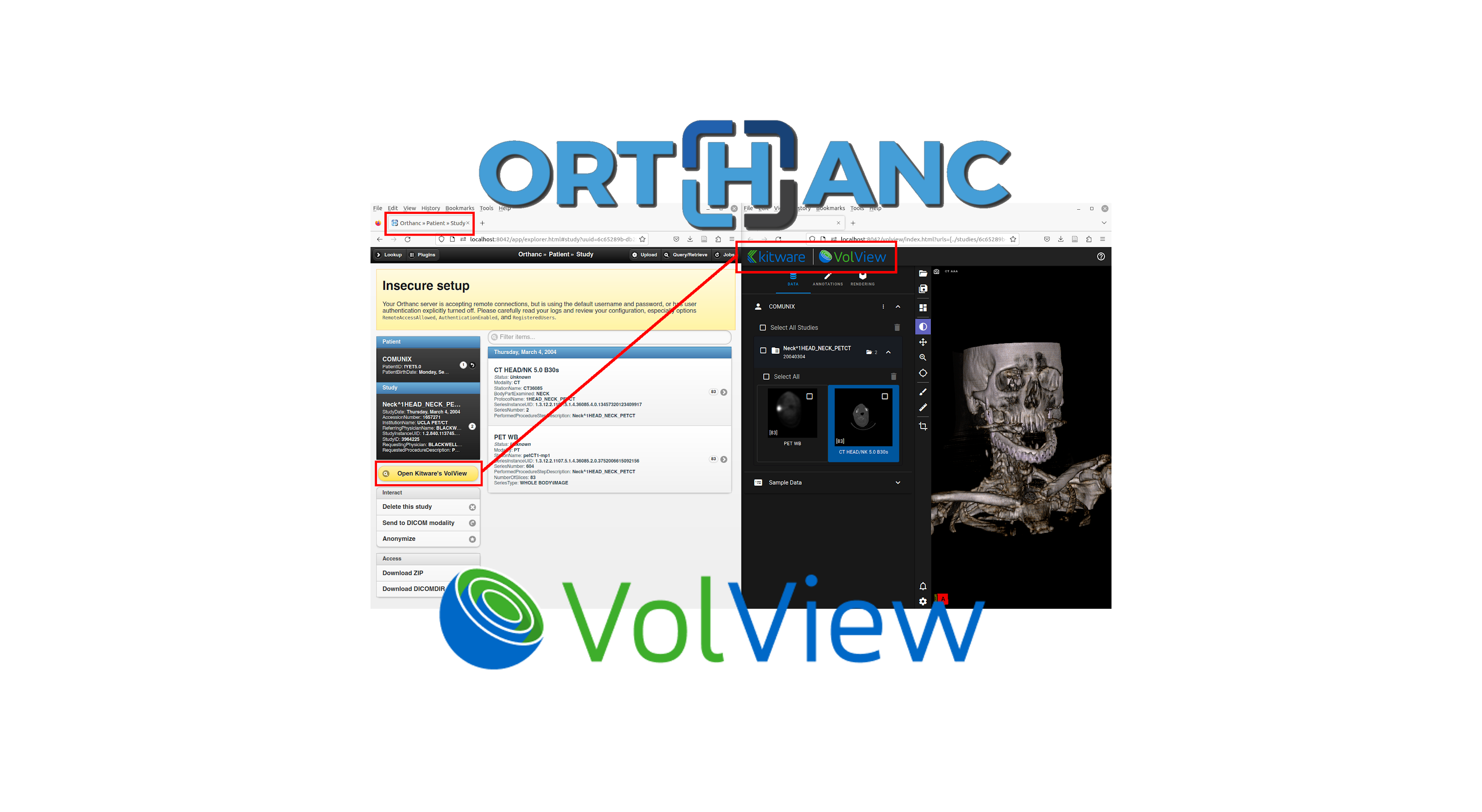 Sébastien Jodogne, the creator of the Orthanc, has integrated VolView into Orthanc to smoothly provide interactive 3D visualizations of DICOM instances. With a single click, VolView is now accessible from the Orthanc Explorer and Orthanc Explorer 2 Web interfaces.
Orthanc is a lightweight, free and open-source PACS server that originates from the University Hospital of Liège (Belgium). It is now actively maintained by the Orthanc Team company and continuously extended by Sébastien Jodogne's research lab at the Université Catholique de Louvain (UCLouvain, Belgium). The mission of the Orthanc project is to openly share technical knowledge about medical imaging, including about artificial intelligence.
VolView is an open-source radiological viewer designed for clinical professionals. With VolView, you can have a deeper visual understanding of your data through interactive, cinematic volume rendering. VolView can easily present your local and Orthanc-hosted data in standard radiological formats, enhanced by cinematic 3D renderings. Since VolView runs in your browser, you don't need to install software and your data stays securely on your machine.
Using Orthanc and VolView
How to install the plugin
The VolView plugin is now part of the official Windows installers (starting with release 23.3.4), as well as of the official Docker images, of Orthanc. Check out the official homepage of Orthanc for further information: https://www.orthanc-server.com/download.php
Full technical instructions to compile and install the VolView plugin are available in the Orthanc Book: https://book.orthanc-server.com/plugins/volview.html
Collaborative open source for medical imaging
This collaboration between Prof. Jodogne and Kitware is an outstanding example of how open-source software enables innovation that impacts clinical care. It notably illustrates how different open-source communities and their associated projects can work together in order to provide a consistent, interoperable ecosystem for healthcare, to the benefit of hospitals, physicians, companies, researchers, and patients.