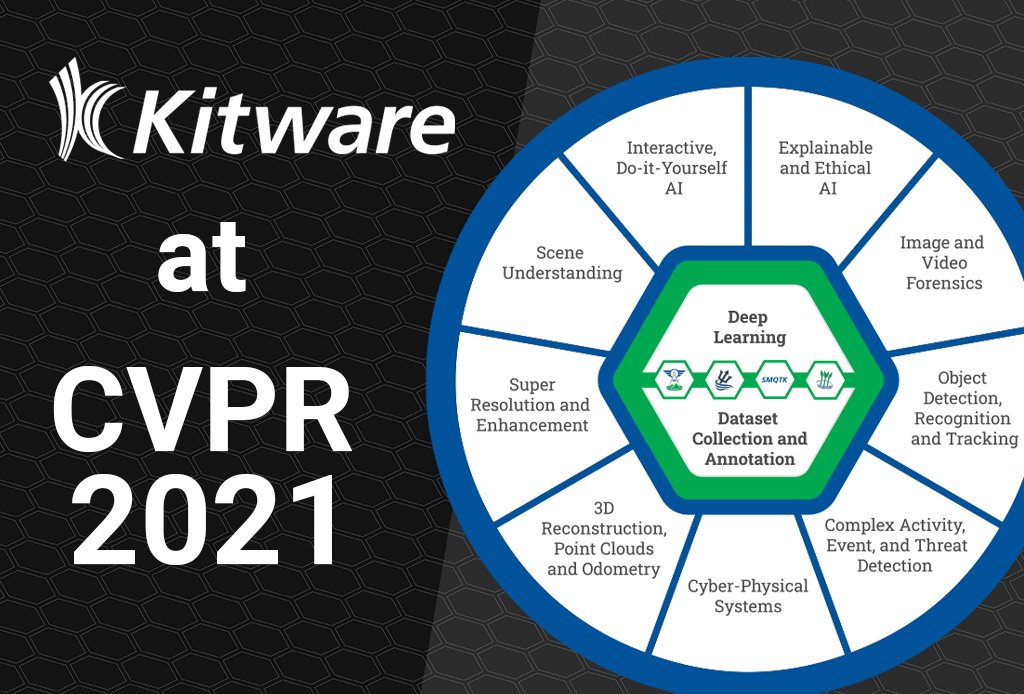 Kitware is looking forward to connecting virtually with the computer vision community at the IEEE/CVF Conference on Computer Vision and Pattern Recognition (CVPR) this year. CVPR 2021 brings together professionals with computer vision, machine learning, and artificial intelligence backgrounds. As long-standing supporters of this conference and its community, Kitware is proud to be a sponsor of CVPR 2021, sponsor of the EarthVision workshop, and presenting at the media forensics workshop. We are also proud to announce that we had a paper accepted this year. During the conference, we will also be demonstrating our computer vision expertise through our open source toolkits, VIAME and TeleSculptor. For more information on how you can connect with Kitware at CVPR this year, please visit our event hub.
Event Details
Scott McCloskey, one of Kitware's assistant directors of computer vision, is co-organizing the Workshop on Media Forensics on June 19. Arslan Basharat, another assistant director of computer vision at Kitware, is on the technical committee for this workshop. This full-day workshop includes experts from around the world presenting the latest research on detecting image and video manipulations, biometric results falsification, misrepresentation/spoofing, and more. With the emergence of more sophisticated machine learning and computer vision techniques, these specialists will discuss the importance of advancing media forensics – an area in which Kitware has world-class expertise and multiple R&D programs. We are continually developing and evolving our algorithms and techniques to improve automatic detection of image and video manipulation for malicious purposes.
In addition to our main conference sponsorship, Kitware is also sponsoring the full-day EarthVision: Large Scale Computer Vision for Remote Sensing Imagery Workshop held on June 19. Matt Leotta, a technical leader for Kitware's Computer Vision Team, is also serving on the technical committee for this workshop. Earth observation and remote sensing depend on computer vision, machine learning, and signal/image processing. Together, they provide large-scale, homogeneous information about processes occurring at the Earth's surface, which can greatly impact human society, economy, industry, and the planet. Kitware has a number of projects in satellite imagery analysis, and this workshop aligns with Kitware's belief that fostering collaboration between the computer vision and Earth observation communities will advance the automated interpretation of remotely sensed data.
We are proud to have a paper accepted at CVPR 2021. Titled, "Discovering Hidden Physics Behind Transport Dynamics," the goal of this paper is to estimate the underlying physics of advection-diffusion equations, expressed as velocity and diffusion tensor fields. We propose a learning framework (YETI) building on an auto-encoder structure between 2D and 3D image time-series, which incorporates the advection-diffusion model. You can listen to our paper presentation on Wednesday, June 23 from 10 pm to 12:30 am. This paper was co-authored by Stephen Aylward, senior director of strategic initiatives at Kitware.
Though the conference is virtual again this year, we will still be able to demonstrate Kitware's computer vision expertise with CVPR attendees. We plan to highlight our open source toolkit, Video and Image Analytics for the Marine Environment (VIAME), developed in partnership with the NOAA National Marine Fisheries Service. VIAME is a do-it-yourself artificial intelligence toolkit that enables users to create different object detectors, full-frame classifiers, image mosaics; and perform rapid model generation, image and video search, and methods for stereo measurement. Originally targeting marine species analytics, it now contains many common algorithms and libraries, and is also useful as a generic computer vision library outside of underwater image and video.
We also plan to feature another one of our open source toolkits, TeleSculptor, a cross-platform desktop application for photogrammetry. It was designed with a focus on video collected from unmanned aerial vehicles. TeleSculptor can handle geospatial coordinates and can make use of metadata from GPS and IMU sensors. The software can also work with non-geospatial data and with collections of images. TeleSculptor uses Structure-from-Motion techniques to estimate camera parameters as well as a sparse set of 3D landmarks. It uses multiview stereo techniques to estimate dense depth maps on key frames, and then fuses those depth maps into a consistent surface mesh which can be colored from the source imagery.
Since 2014, Kitware has been a leader in computer vision deep learning. Deep learning plays an essential role in everything we do, and it has allowed us to dramatically improve object detection and tracking, object recognition, scene understanding, and content-based retrieval. Kitware's Computer Vision Team recognizes the value of leveraging our advanced computer vision and deep learning capabilities to support academia, industry, and the DoD and intelligence communities.
Our technical areas of focus include: Deep learning; Interactive do-it-yourself AI; Explainable and ethical AI; Object detection, recognition and tracking; Complex activity, event, and threat detection; Cyber-physical systems; Dataset collection and annotation; Image and video forensics; 3D reconstruction, point clouds, and odometry; Super resolution and enhancement; Scene understanding. We also continuously explore and participate in other research and development areas for our customers as needed.
We partner with many academic institutions, such as Harvard, Massachusetts Institute of Technology, Cornell University, and the University of California. We also work with various government agencies, such as the Defense Advanced Research Project Agency (DARPA), Air Force Research Laboratory (AFRL), the Office of Naval Research (ONR), Intelligence Advanced Research Projects Activity (IARPA), and the U.S. Air Force.
Kitware remains focused on advancing computer vision, machine learning, and artificial intelligence research. Our open source business model allows us to evolve and adapt these areas sustainably and affordably using open Intellectual Property (IP) terms.
Our Computer Vision Work
Kitware has developed and deployed an operational Wide Area Motion Imagery (WAMI) tracking system for intelligence, surveillance, and reconnaissance in theatre, providing analysts with exploitation capabilities that connect people with sensors and platforms. Our work with DARPA has led to extensive research, development, and deployment of methods to more accurately identify and track objects and people, with the capability of delivering this information directly to the soldiers on the ground. Our work on the Visual Global Intelligence and Analytics Toolkit (VIGILANT), funded by AFRL via the Small Business Innovation Research program, is a collaborative effort to develop object detection in satellite imagery. Together with the Rochester Institute of Technology's Digital Imaging and Remote Sensing and Real Time Vision and Image Processing Labs and the Middlebury Institute of International Studies at Monterey, James Martin Center for Nonproliferation Studies, we have been working to improve object-based change detection and unstructured change detection.
To learn more about Kitware's computer vision work, you can email us at computervision@kitware.com. We look forward to engaging with this community and sharing information about Kitware's ongoing research and capability development in computer vision and deep learning.
Join Kitware's Computer Vision Team
When you join Kitware, you create customized software solutions that change the world. You utilize cutting-edge research methods, like deep learning and high-performance computing, to solve the world's biggest challenges. When you work at Kitware, you are saving lives and improving the world. And we think that deserves some above-average rewards. Working at Kitware means enjoying an excellent benefits package, six weeks of PTO, flexible work schedules, and more. Kitware also invests in your career and empowers your passion. And did we mention that Kitware is 100% employee-owned?
If you are looking for a career opportunity and would like to join the Kitware team, view our current computer vision openings and apply today!