Kitware Fuels Pediatric Surgery Planning Project with $1.5 Million Award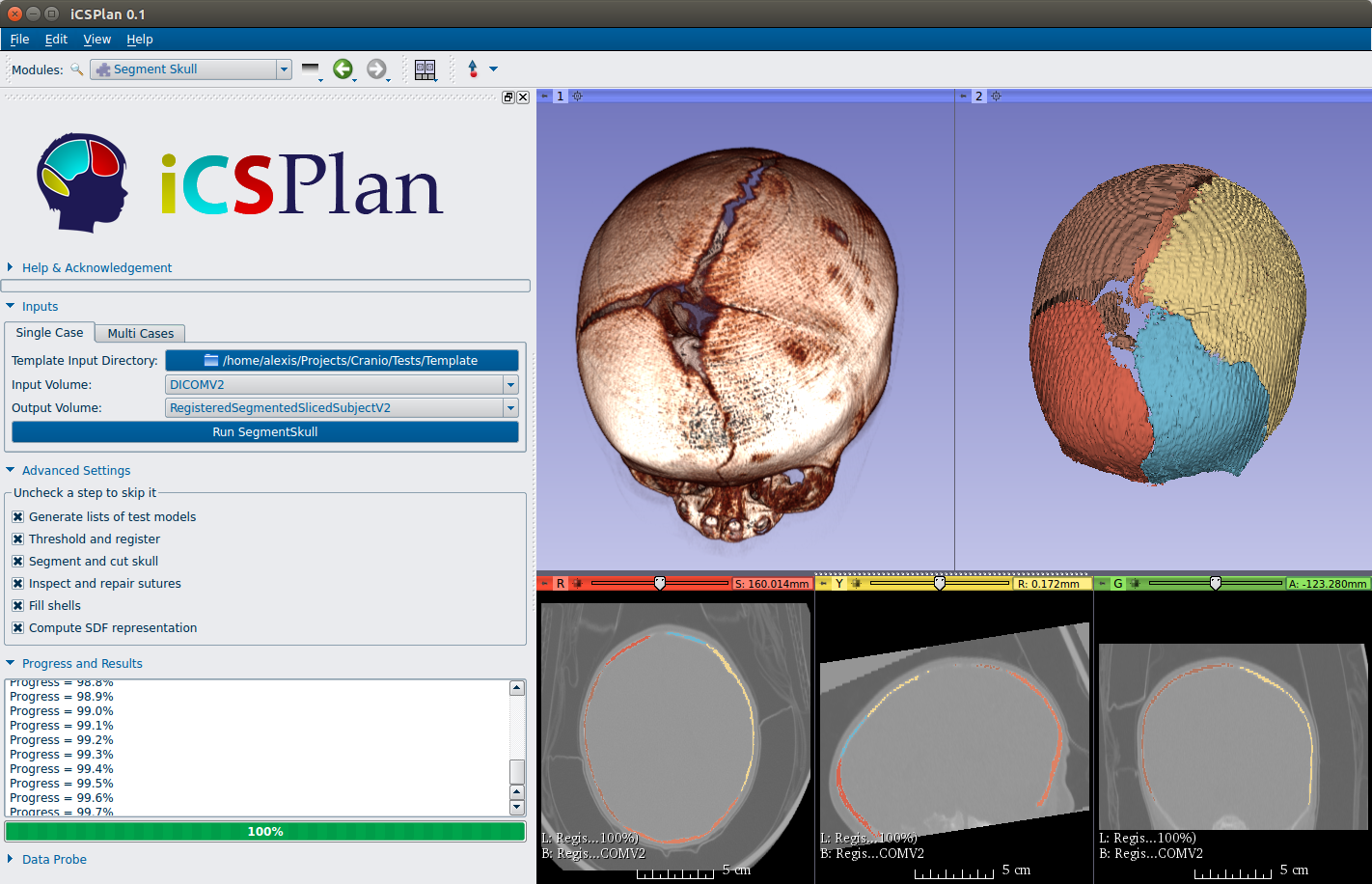 Intelligent software system will aid surgeons in devising plans to treat craniosynostosis.
Kitware announced a Phase II award from the National Institutes of Health to help surgeons plan and evaluate treatment for craniosynostosis. Craniosynostosis is a medical condition in which cranial sutures prematurely fuse during prenatal development. The resulting deformations can cause elevated intracranial pressure, brain growth impairment, and developmental deficiency in pediatric patients.
"Surgeons face tough decisions in treating craniosynostosis," said Andinet Enquobahrie, a principal investigator on the project and the assistant director of medical computing at Kitware. "While the condition can inflict blindness, decrease motor skills, and reduce cognitive function, treatment options are often invasive and present risks such as blood loss. Currently, methods for planning and evaluating treatment are subjective and fail to adequately account for potential variations in patient anatomy."
To provide surgeons with an objective and reproducible solution, a team from Kitware and Children's National Health System is developing an intelligent cranial surgical planning system, known as iCSPlan. Unlike other systems, which base treatment plans on average cranial shapes, iCSPlan measures each patient's cranium and compares it to over 300 computed tomography (CT) scans of crania without synostosis. Based on statistical analysis, iCSPlan determines the ideal cranial shape.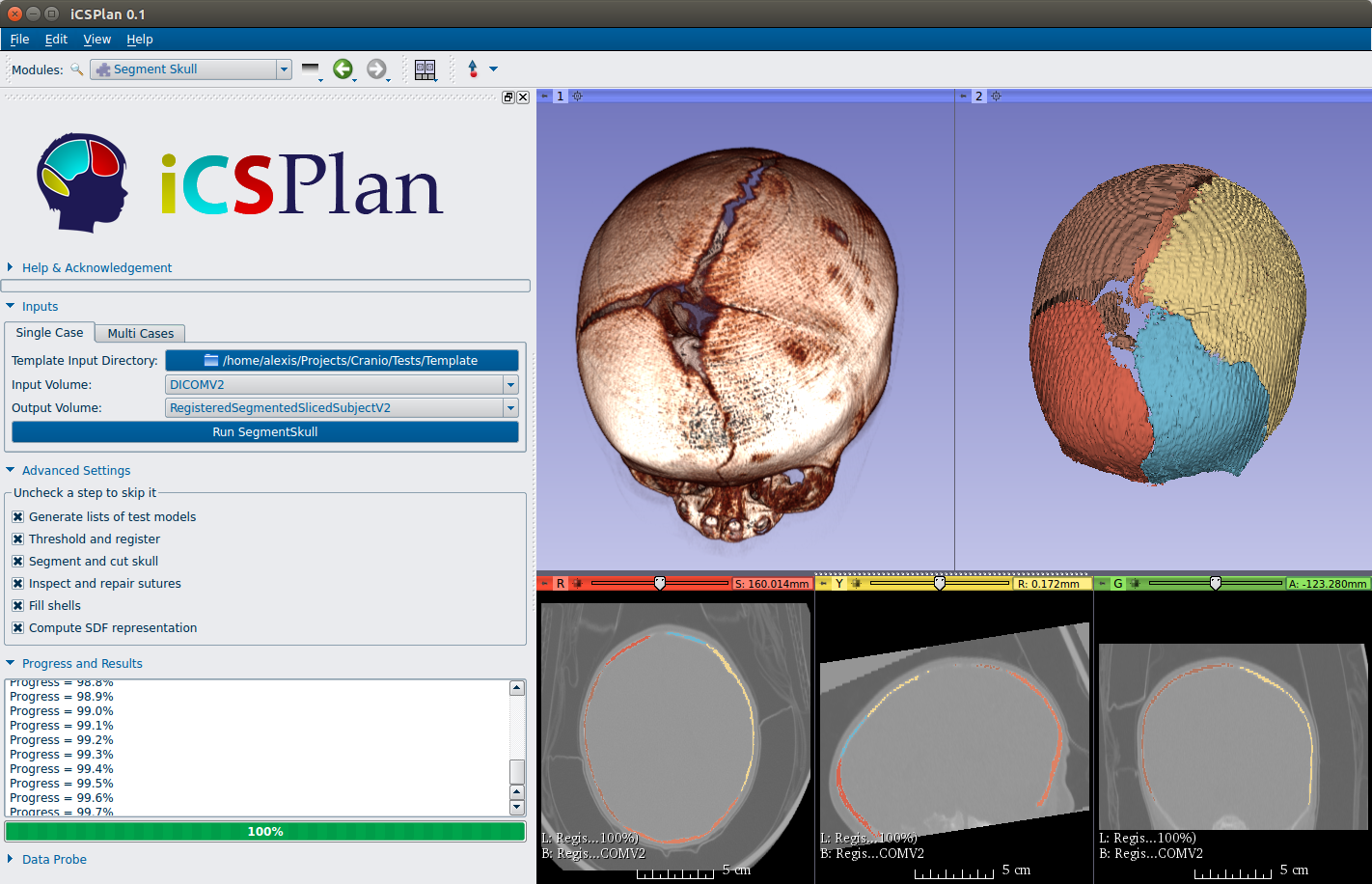 "The Phase I proof-of-concept study successfully achieved its aims and provided a solid understanding of the challenges and opportunities of cranial vault remodeling," said Marius George Linguraru, Ph.D, a principal investigator on the project from the Sheikh Zayed Institute for Pediatric Surgical Innovation at Children's National. "In the Phase II effort, we will improve iCSPlan and conduct a clinical feasibility study at Children's National under the supervision of Division Chief, Plastic and Reconstructive Surgery, Gary Rogers, M.D."
To assist surgeons in evaluating treatment options, iCSPlan generates quantitative and anatomically segmented cranial maps using modules from 3D Slicer. The team will extend iCSPlan to create additional visualizations that will interactively guide surgeons in virtually repositioning crania.
"3D Slicer is an open-source medical imaging application and a powerful resource for rapidly prototyping surgical planning software," Enquobahrie said. "Its flexible architecture has allowed us to create an intuitive interface for iCSPlan."
The team will enable iCSPlan to complete two additional tasks. The first is to analyze postoperative three-dimensional photography data, the collection of which does not expose patients to harmful radiation. The second is to account for any brain development that occurs in the period between diagnosis and postoperative data collection.
In addition to participating in collaborative research with organizations such as Children's National, Kitware offers consulting services to support toolkits and applications including 3D Slicer. To learn more about leveraging Kitware medical computing expertise, please contact kitware@kitware.com.
Research reported in this publication was supported by the Eunice Kennedy Shriver National Institute Of Child Health & Human Development of the National Institutes of Health under Award Number R42HD081712. The content is solely the responsibility of the authors and does not represent the official views of the National Institutes of Health.