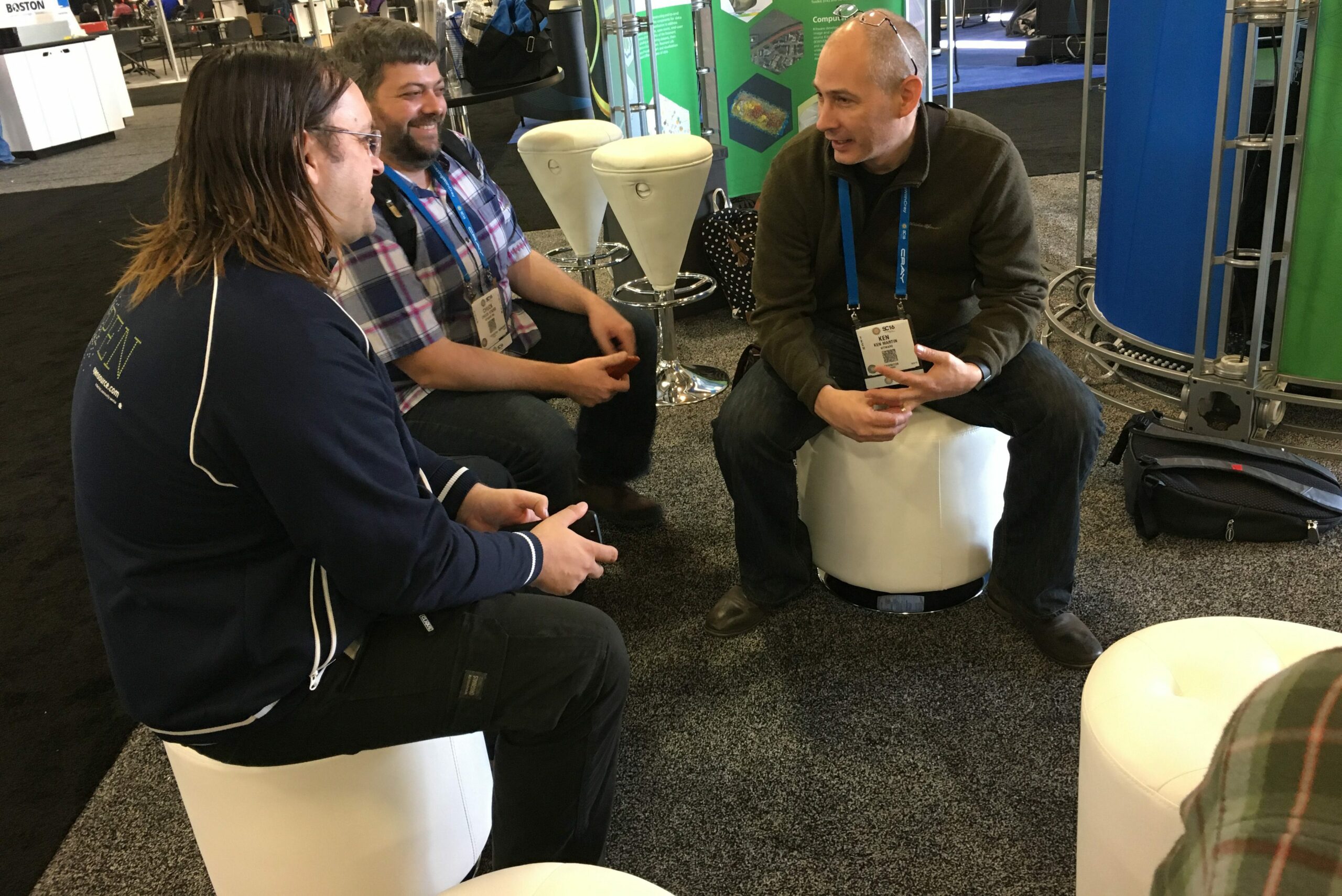 Kitware and Intel® Further Maximize Rendering Efficiency
Kitware and Intel® updated the Visualization Toolkit (VTK) and ParaView as well as OpenSWR and OSPRay to push the Software Defined Visualization initiative. The work builds on efforts by Kitware, Intel®, and the Texas Advanced Computing Center (TACC) to integrate OpenSWR and OSPRay with VTK and ParaView.
"VTK and ParaView offer open-source solutions for analyzing and visualizing data, which the OpenSWR and OSPRay renderers enhance," said David DeMarle, a lead developer of VTK at Kitware. "The combination of the solutions with the renderers provides an especially powerful path toward visualizing extreme-scale scientific problems with massive supercomputers."
Kitware released ParaView 5.0 in conjunction with The International Conference for High Performance Computing, Networking, Storage and Analysis (SC) in 2015 as the first official release to include OpenSWR and OSPRay. The successor to ParaView 5.0, version 5.1, more tightly coupled OSPRay with ParaView and added the ability for users to quickly swap between rasterizing and ray tracing images with the same type of surface mesh data. Version 5.1 also brought ray tracing to ParaView on Microsoft Windows. At this year's SC event, Kitware not only demonstrated these advancements, but it discussed new versions of VTK and ParaView.
"I am particularly excited about the OSPRay based volume rendering modes in VTK 7.1 and ParaView 5.2," DeMarle said. "OSPRay is a lot faster than VTK's internal software volume renderer, and the fact that surfaces and volumes coexist in the same ray-traced context opens up new possibilities for visual effects. OSPRay now enables volumetric shadows and, more generally, makes volumetric participating media feasible."
OpenSWR also features state-of-the-art rendering capabilities, which initial benchmarks on the Trinity supercomputer at Los Alamos National Laboratory demonstrated earlier this year. The run used only a fraction of the supercomputing machine during the system shakedown period to render scenes up to 1.1 trillion triangles. Since then, Intel® has contributed OpenSWR to the open-source Mesa implementation of the OpenGL standard. In the recently released Mesa 13.0.0, OpenSWR gained significant optimizations.
"When evaluating whether to update to the recent Mesa 13.0.0 release from the 12 series, we measured nearly a two-times increase in rendering performance with OpenSWR on Intel® Haswell central processing units (CPUs) and almost a four-times increase on next-generation Intel® Xeon Phi™ coprocessor, or 'Knights Landing' (KNL), platforms," said Chuck Atkins, a staff research and development engineer at Kitware who contributes to ParaView, CMake, and Mesa. "The dramatic increase in measured performance made the decision an easy one. As soon as Mesa 13.0.0 became available, we updated our ParaView build processes to incorporate it. We are now actively deploying Mesa 13.0.0 at partner institutions and customer sites."
Under a new Intel® Parallel Computing Centers project, Kitware and TACC will collaborate to optimize the full code path of ParaView for in situ processing. This important use case directly couples visualization and rendering with simulation codes.
"We are thrilled to partner with Kitware and Intel® to advance in situ capabilities for many-core processors," said Dr. Paul Navrátil, the manager of scalable visualization technologies at TACC. "The Stampede-KNL system at TACC will be the perfect test bed for developing effective strategies that fully utilize the capabilities on upcoming KNL systems like Trinity, Cori, and Stampede 2."
ParaView Adds Award to Accolades
On behalf of the ParaView development community, Kitware accepted an HPCwire Editors' Choice award for "Best HPC Visualization Product or Technology" this year at The International Conference for High Performance Computing, Networking, Storage and Analysis (SC16), in Salt Lake City, Utah. Last year, ParaView won the HPCwire Readers' Choice award in the same category.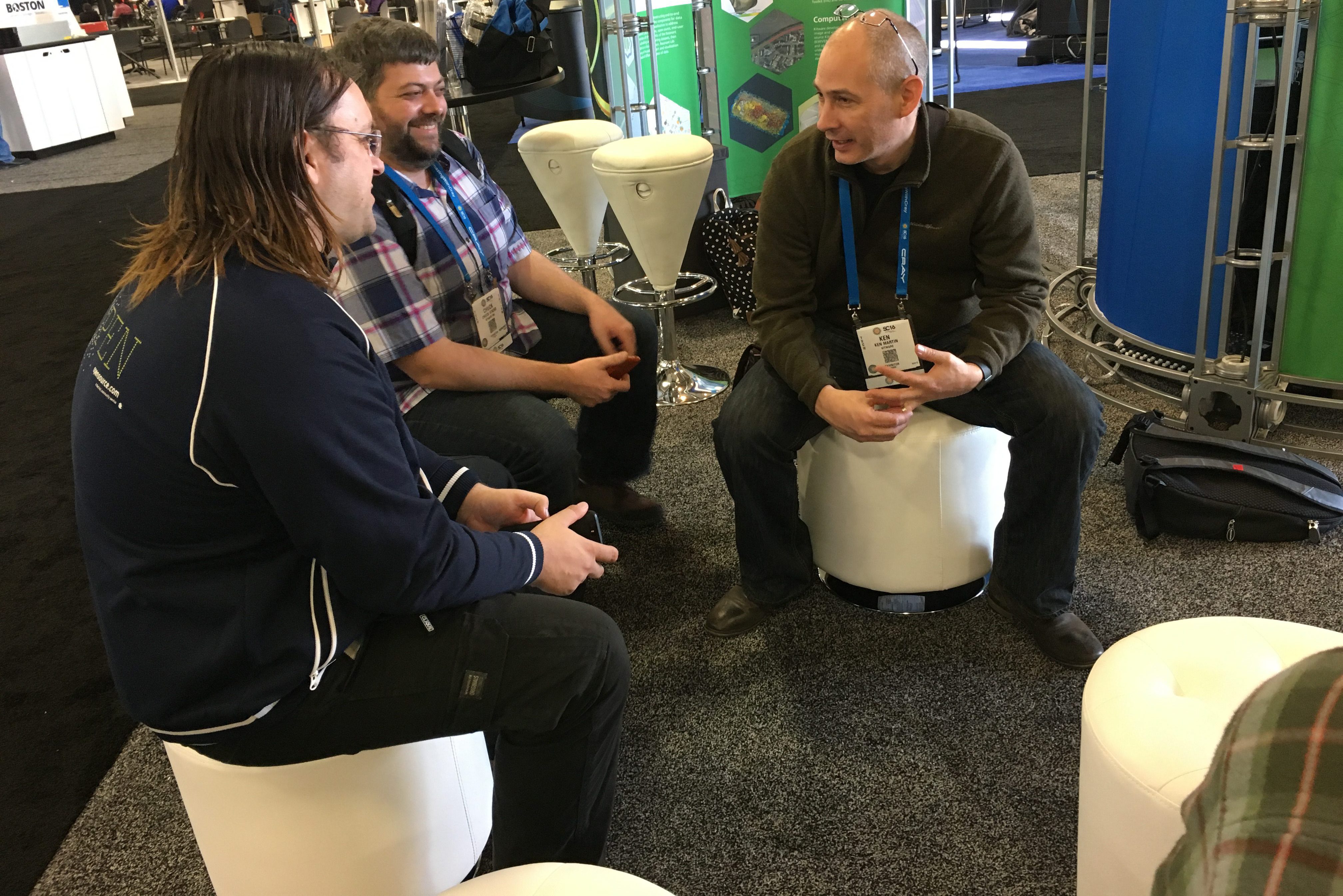 Kitware acknowledged the efforts of the development community and noted its appreciation of the award in a press release. The company published the press release on its external blog at https://blog.kitware.com/kitware-receives-honor-in-2016-hpcwire-readers-and-editors-choice-awards. In addition to the press release, Kitware posted pictures from its booth at SC16 on its external blog. In total, twenty team members attended the event. This is the largest number of attendees that Kitware has sent to the conference to date.
Kitware Encourages Participation in Medical Imaging Workshop
To reflect the commitment of Kitware to accelerate the pace of research and development in academia and industry, Senior Director of Operations – North Carolina Stephen Aylward helped to create Workshop: Live Demonstrations at the medical imaging conference of the international society for optics and photonics (SPIE Medical Imaging) in 2009. Following this time, he has played a role in organizing the workshop for the conference.
The live demonstrations aim to compliment the podium and poster presentations of the main conference. These presentations feature recent research in medical imaging topics such as image processing, digital pathology, tomography, computer-aided diagnosis, and ultrasound. From 2009 to 2016, the workshop attracted more than one thousand attendees from academia and industry, who witnessed over one hundred demonstrations on a range of medical imaging advancements from algorithms, to robotic systems, to medical device prototypes.
While the organization of the workshop has passed to new hands, it will continue to host outstanding demonstrations. This year, the workshop will take place on Tuesday, February 14, 2017, in Orlando, Florida. Those who plan to attend SPIE Medical Imaging should consider taking part. Instructions on how to present a demonstration or participate as an attendee are available at http://www.kitware.com/workshops/SPIE_CAD_2017.html.
At the conference, several members of Kitware will showcase their work through activities such as poster presentations, a tutorial, and an oral presentation. The subjects of this work include craniosynostosis, scientific reproducibility, pediatric surgery, biomedical research, and temporomandibular joint osteoarthritis. Kitware has posted additional details at https://blog.kitware.com/events/spie-medical-imaging-2017.
Donations Rise for Toys For Tots
Kitware participated in the Toys For Tots program at its Clifton Park, New York, and Carrboro, North Carolina, offices. The company has participated in the program for numerous years. As it did in 2015, Kitware increased its number of donations and exceeded its goal. The company aimed to collect 80 toys this year in New York. It collected close to 100 toys in this location and around 25 toys in North Carolina.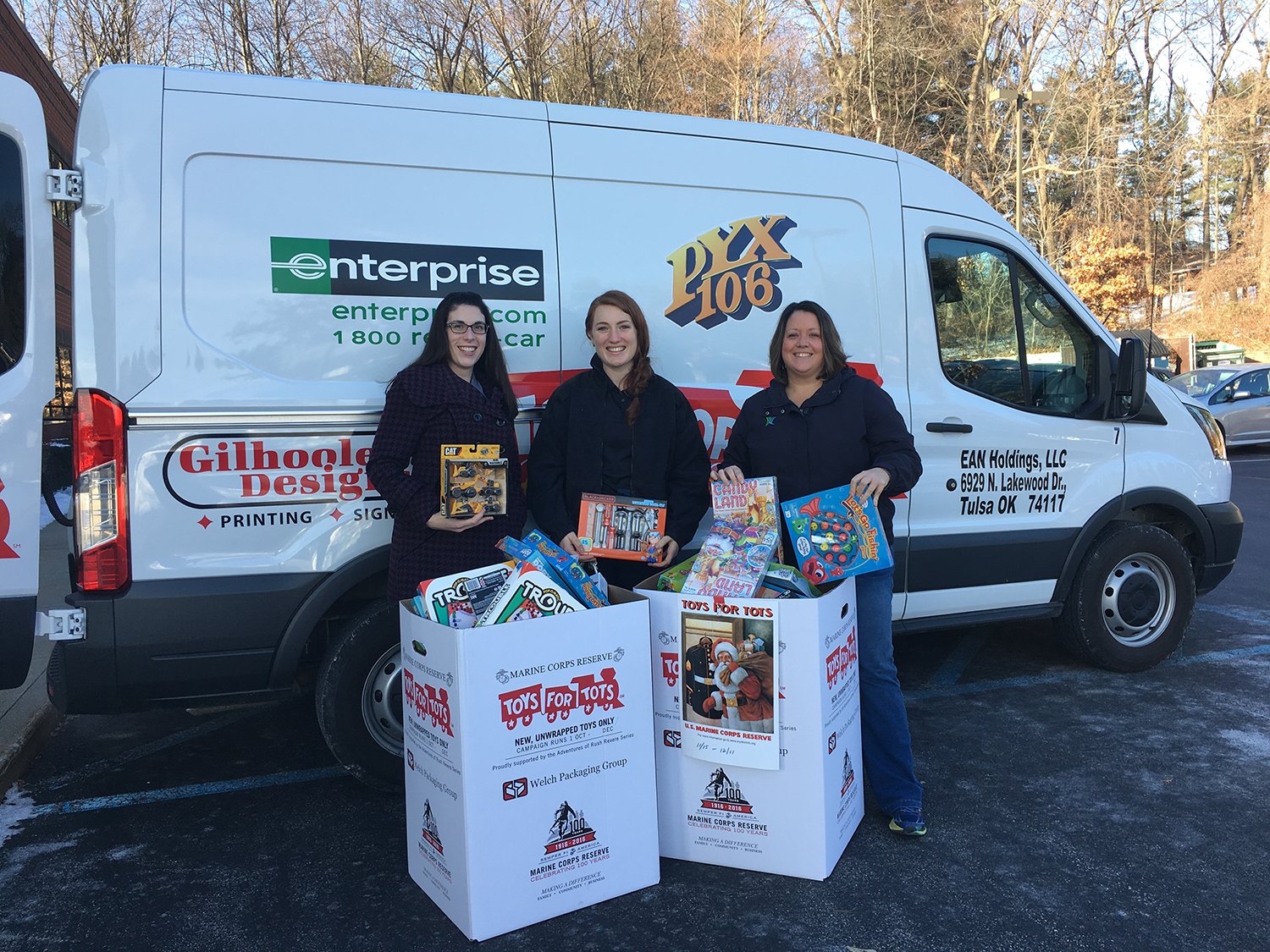 New members join Team
Kitware hired the following team members. The company introduced these members on Facebook and published their bios on its website at http://www.kitware.com/company/team_alphabetical.html.
Sam Petrocelli
Petrocelli joined the computer vision team as an R&D engineer. His skills involve stereo thermal imaging, machine learning, point cloud processing, and visualization.
Shusil Dangi
Dangi began an internship in medical computing. He currently studies imaging science at Rochester Institute of Technology for his doctoral degree.
John Moeller
Moeller added expertise in developing algorithms for machine learning, deep learning, and computational geometry to the computer vision team. He participated in the doctoral forum at the 2016 Society for Industrial and Applied Mathematics International Conference on Data Mining.
Sam Horvath
Horvath brought experience in optical coherence tomography, laser and camera optics, and stereo vision to the medical computing team. She completed her doctoral degree in robotics in September 2016 at Carnegie Mellon University, where she also received her Master of Science.
Jeff Hall
Hall embarked on his role as the director of human resources. He holds a Bachelor of Arts in Psychology from the University of Rochester and an MBA from Empire State College.
Louise Weiler
Weiler filled the position of annotation specialist on the computer vision team. For a former engagement, she developed an application to track student grades, as they progressed through a two-year training program.
Kellie Corona
Corona started as an annotation specialist in Clifton Park, New York. Prior to joining Kitware, Corona worked as a research assistant at the University of North Carolina at Chapel Hill, where she completed her doctoral degree in Physics in May 2016.
Kimberly O'Leary
O'Leary joined Kitware as an accounting specialist. In previous roles, she completed financial reviews, performed profit analyses, managed client contracts, and coordinated invoices and payroll.
Deepak Sharma
Sharma started an internship in computer vision. He studies computer science at the University of Rochester, where he works as a student lab instructor.
Aimee Núñez
Núñez became a member of the computer vision team at Kitware. She works at the company headquarters as an annotation specialist.
Bryon Bean
Bean took on a position in software development for an internal finance system. In addition to experience in the creation of mobile and web applications, he brought skills in graphic design to Kitware.
Ameya Shringi
Shringi commenced an internship at the company headquarters in pursuit of his Master of Science. He attends Rochester Institute of Technology, and he has completed coursework in machine learning and parallel programming, among other areas of computer science.
Kitware continues to seek talented, motivated, and creative individuals to develop and deliver cutting-edge software products and services. Team members enjoy an award-winning work environment that empowers them to pursue their passions and perform meaningful work with impact. In addition to a stimulating environment, Kitware provides comprehensive benefits that include flexible hours; a computer hardware budget; health, vision, dental, and life insurance; short- and long-term disability insurance; services for immigration and visa processing; tuition reimbursement; a relocation bonus; and generous compensation.
Kitware also offers internships to current college students. Internships provide students with opportunities to gain training and hands-on experience, as they work with leaders in their fields on cutting-edge problems. Kitware has posted additional information on open jobs and internships on its employment website. Those who want to learn more can visit http://jobs.kitware.com/opportunities.html.