Successful Demonstration of Kitware's Rare and Adverse Events Trainer at Children's National Hospital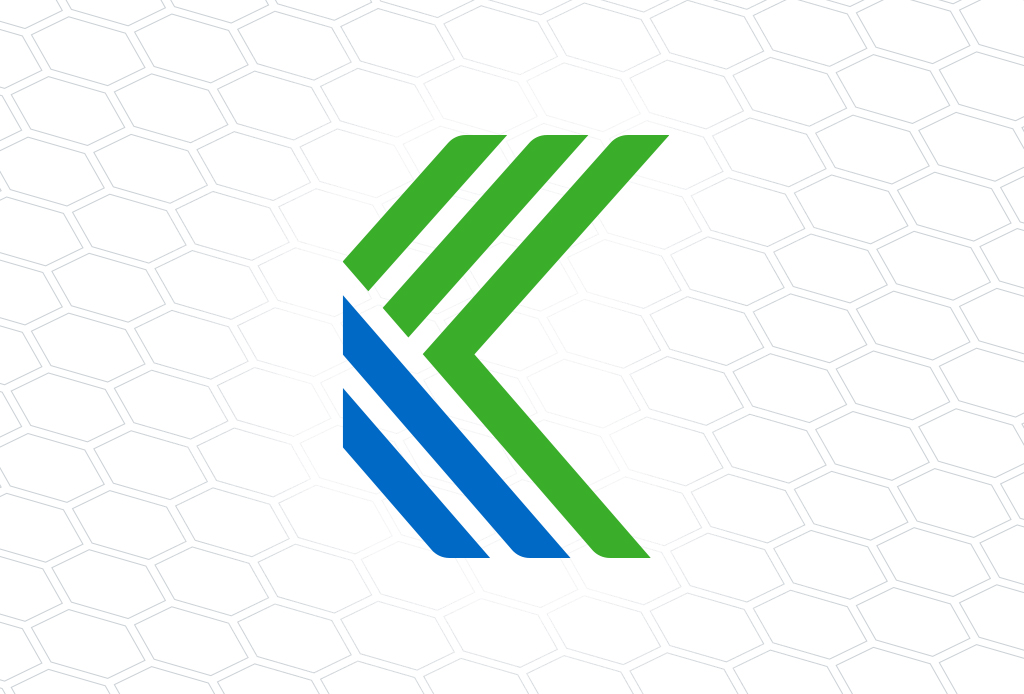 To conclude our first year of work on the multi-year, NIH grant for Rare and Adverse Events, Kitware visited Children's National Medical Center (CNMC) in Washington D.C. to gather feedback on our surgical simulator. Through this grant, we aim to improve practicing surgeons' proficiency and resilience by simulating adverse events that can occur during laparoscopic cholecystectomy (gallbladder removal). Though these events occur rarely, the consequences of a poor response can be disastrous. This project is being completed in collaboration with the University at Buffalo. The Children's National Medical Center and University of Texas Southwestern Medical Center are participating as the end-user advisory group.
Our goal for year one was to prototype the Critical View of Safety in the Unity real-time development platform with the simulation components powered by Kitware's interactive Medical Simulation Toolkit (iMSTK). Rachel Clipp, Ph.D., Technical Leader at Kitware and principal investigator for this grant, along with Harald Scheirich, Staff Research and Development Engineer at Kitware and the lead software developer, were hosted by Dr. Kevin Cleary at CNMC. Our team was able to obtain feedback on the prototype simulator from eleven surgeons and two engineers.

Building the Surgical Simulator
iMSTK is a C++ library for the rapid prototyping of surgical simulations. This project leverages the first version of our Unity interface for iMSTK to enable real-time physics-based simulation in Unity's easy-to-use authoring environment. We improved the grasping with haptic feedback in iMSTK for this project and imported realistic anatomy and laparoscopic tools into the Unity environment. In addition to iMSTK, we integrated Kitware's Pulse Physiology Engine, an open source computational physiology engine, for dynamic patient feedback during medical simulation. Pulse's Unity Asset allowed for quick integration of patient vital signs during the simulated procedure.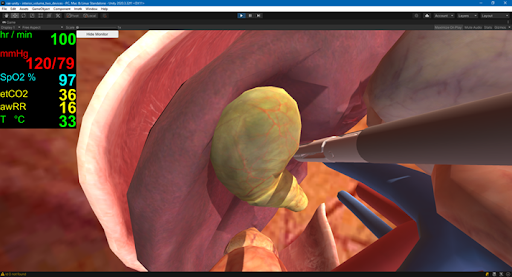 The key elements of this first milestone were presenting reasonable anatomy in the area of the critical view, incorporating the laparoscopic tools, and allowing users to manipulate the gallbladder with the tools with haptic feedback. The hardware consists of two 3D-Touch haptic devices connected to custom couplers to simulate the laparoscopic instruments.
Advisory Group Feedback
Rachel first gave an introductory talk, "Medical Modeling and Simulation using Open Source Platforms." The team then demonstrated the simulator to the group. We received valuable and fairly consistent feedback: the general look and literal feel of the gallbladder were perceived as accurate. However, the registration of the virtual tools to the real-world scene, the camera angle, and the grasping ability were noted as problematic. This version only used very simple geometry for the laparoscopic tool tip and did not implement two components at the end for grasping. Additionally, the tissue is not "pinched" when the surgeon uses the tool to grasp, which led to confusion as to whether they successfully grasped tissue.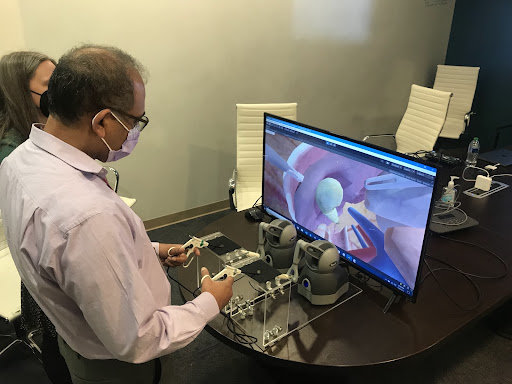 Planned Improvements
In Year 2 of this project, we plan to address the feedback from our end-user advisory group. The team also plans to extend the virtual scene to include a larger view of the anatomy. We will also begin to implement the user workflow and corresponding interface and finalize our module designs.
About Kitware's Medical Computing Team
Kitware's Medical Computing Team is an expert in surgical simulation for medical training. Our team comprises computer scientists, software engineers, computational modelers, and imaging experts who have been working with medical and biomedical customers for more than 20 years. We can provide support throughout your entire project, from determining feasibility to deploying solutions across a wide range of computing environments to contributing to the regulatory submission. We operate as an extension of your team and truly get to know your specific challenges and needs. If you're interested in learning more or would like to schedule a meeting with our Medical Computing Team, please email us at kitware@kitware.com.
Acknowledgment
This work was supported by The National Institutes of Health (NIH), the National Institute of Biomedical Imaging and Bioengineering (NIBIB), project Surgical Simulator for Improving Proficiency and Resilience, R01EB031808.