Kitware and UNC Receive NIH Award to Predict Stroke Outcomes Using 3D Models of Brain Blood Vessels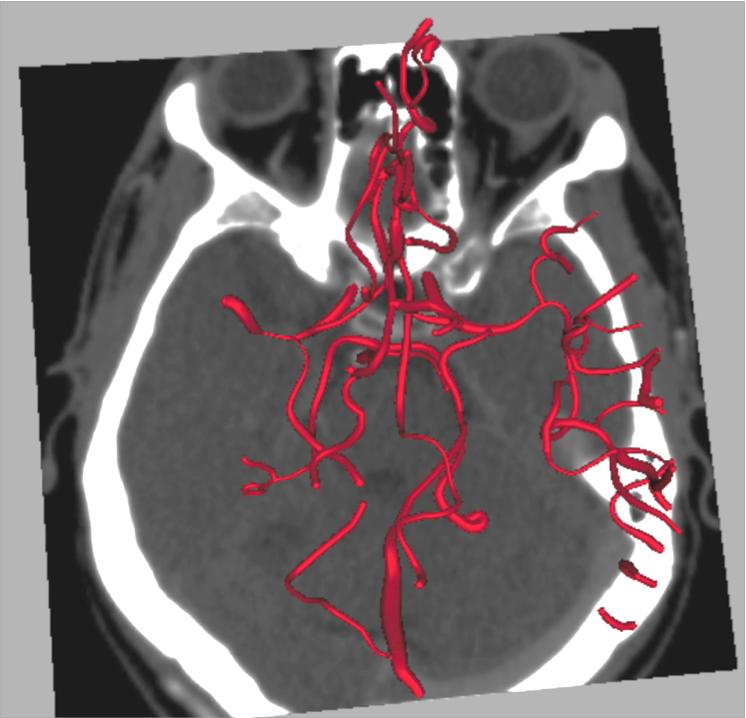 System will advance unexplored research area of quantitative vascular analysis.
Every 40 seconds, someone in the United States has a stroke. For some stroke patients, standard therapy can lead to swift and complete recovery. For others, the same treatment can be ineffective and may even lead to further brain hemorrhage. Recent clinical research suggests that the presence of subtle brain blood vessels, known as leptomeningeal collaterals, may be a strong predictor of the effectiveness of traditional thrombolytic therapy for treating acute stroke patients; however, existing methods for detecting those vessels involve digital subtraction angiography (DSA), which is an invasive and risky procedure that requires guiding a catheter from the groin along blood vessels through the body to reach and image the vessels in the brain.
Kitware and The University of North Carolina at Chapel Hill (UNC-Chapel Hill) have teamed up to develop a computer-aided diagnosis system that automates collateral vessel status assessment using non-invasive and low-risk computed tomography angiography (CTA). To accelerate the pace of their collaboration, the National Institutes of Health (NIH) has awarded Kitware $150,000 to develop and test a prototype of Kitware's system. The project is jointly led by Dr. Stephen Aylward, Director of Operations in North Carolina at Kitware, and Dr. Yueh Lee, a leading neuroradiologist and researcher at UNC-Chapel Hill Department of Radiology.
"This work brings together a strong yet diverse team to integrate clinical imaging with advanced image analysis algorithms and deliver a solution that can bridge research and clinical practice," Aylward said.
Three-dimensional (3D) models of the vessels in a brain reveal the effects of a stroke. The number and distribution of vessels is asymmetric across the hemispheres of the brain.
The project will build on a decade of collaborative vascular modeling research at Kitware and UNC-Chapel Hill. Upon completing the effort, the team aims to present the computer-aided diagnosis system as a foundation for precision medicine research in acute stroke patients. This research can help physicians create personalized, targeted treatments by identifying subtle yet important differences between patients.
"In addition to driving acute stroke research, the project will open the door for numerous pre-clinical and clinical investigations and applications for other neurovascular conditions such as sickle cell disease, moyamoya disease, aneurysms, post-traumatic stress disorder, traumatic brain injuries, concussions, and neuro-degeneration," Aylward said.
As part of the effort, Kitware will release algorithms for vessel modeling and analysis as open-source software. This software builds on the Insight Segmentation and Registration Toolkit (ITK) and the 3D Slicer application for medical data visualization. Both ITK and 3D Slicer are freely available, open-source software that are developed and supported by Kitware and used in medical image analysis research and commercial products.
In addition to participating in collaborative research, Kitware offers consulting services to groups that seek to build commercial systems using ITK, 3D Slicer, and Kitware's expertise in vessel
quantification and other medical technologies. To learn more about how your company or research group can leverage Kitware's expertise, please contact Stephen Aylward at kitware@kitware.com.
The NIH grant referenced in this statement is supported by the National Institute of Neurological Disorders and Stroke (NINDS) under Award Number R41NS086295. The content of this statement is solely the responsibility of Kitware and does not represent the official views of the NIH or NINDS.