Transform Your Medical Imaging with Kitware's Comprehensive Suite of Advanced Visualization Solutions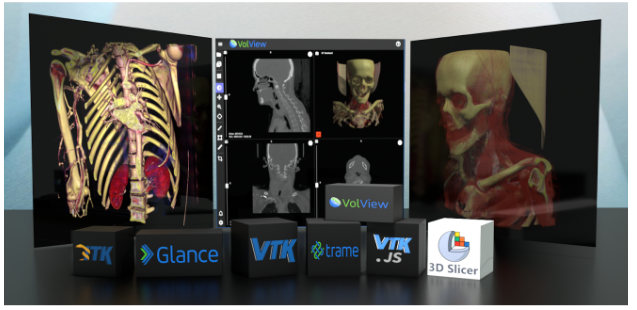 Are you looking to develop visualization applications with cutting-edge medical imaging technology?
Kitware can help you realize your product. We have an extensive track record of developing medical visualization applications and scientific software development platforms using web technologies (VTK-js, Trame, VolView, Glance, ITK-Jupyter-widgets, ITK-wasm) as well as native desktop toolkits (VTK, ITK, 3D Slicer, Paraview and their customizations).
VTK and VTK-js include best-in-class 3D medical visualization techniques such as customizable cinematic volume rendering, enhanced lighting, and transfer function editing, demonstrated through our implementation in VolView and 3D-Slicer that can further enhance the user experience and workflow in radiological and diagnostic applications. Our platforms can leverage modern immersive technologies such as OpenVR, OpenXR, and WebXR to create virtual and augmented reality (VR/AR) interfaces. Some latest examples include deployment on light-field displays such as the Looking Glass using VolView and head-mounted displays (HMDs) using 3D Slicer.
We support a broad range of technologies such as application development in C++, Python, C#, and Javascript and user interface development in Qt, WPF, React, and Vue. Additionally, trame is our Python-based integration framework that enables non-web developers to create powerful, complex client-server web applications supporting large-scale data processing and visualization. Whether you want to deploy platform-agnostic web apps or develop highly efficient and responsive desktop applications that can be deployed on clinical workstations, we can support you in leveraging our versatile open-source platforms to achieve your product. We can work with you in many different ways, whether it is rapid development of usable/viable prototypes, improving usability, optimizing performance and troubleshooting latency issues, or providing training and support for leveraging and making the most out of our various high-quality open source platforms.
As you explore options for your visualization product development strategy, consider how collaborating with Kitware can provide a unique advantage to help you bring your innovative technology to market. We will be demonstrating these and other technologies at the RSNA conference. If you are attending RSNA, please stop by our booth #4367 for an in-person discussion or request a meeting with our technical experts for a virtual consultation.